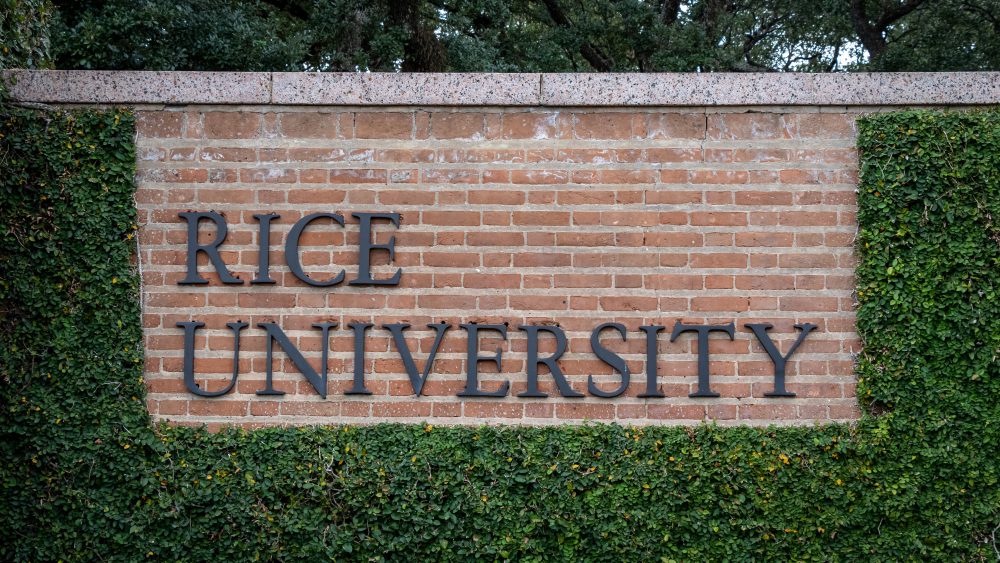 As the University of Houston prepares to close its LGBTQ Resource Center this week – in order to comply with a new Texas law that bans diversity, equity and inclusion programs at public colleges and universities in the state – another Houston school that is not bound by the constraints of Senate Bill 17 is offering to help fill the void.
Rice PRIDE, a school-affiliated organization that supports and advocates for LGBTQ+ students at Rice University, a private school, extended an invitation this week to students at public colleges and universities in the Houston area and elsewhere in Texas. In a Monday post on Instagram, the group offered honorary membership to LGBTQ+ students who would like to attend Rice PRIDE events or utilize resources provided by Rice's Queer Resource Center.
"I am so thankful of Rice being willing to open their doors for that," said University of Houston student Kaitie Tolman, the president of GLOBAL, an LGBTQ+ organization on campus. "That means the world, because that temporarily gives us a safe space, even if we have to go to a rival school for it."
UH announced earlier this month that it was closing both its LGBTQ Resource Center and Center for Diversity and Inclusion this Thursday, in order to be compliant with Senate Bill 17. The law, authored by Republican state Sen. Brandon Creighton of Conroe and passed earlier this year by the Texas Legislature, is set to take effect Jan. 1 and stipulates that DEI programs cannot be created or continued at public institutions of higher learning, or else they will lose out on critical state funding. It also prohibits the use of diversity statements on faculty applications and bans mandatory DEI training for university students and employees.
Proponents of the law have said DEI programs are exclusive and politically charged, while members of the LGBTQ+ community have said it's an attack on their civil rights and could result in discriminatory treatment against them.
Rice PRIDE said in its Instagram post that it is "extremely saddened" by the closure of DEI offices as a result of Senate Bill 17. It also said the resources provided by those offices, such as informational materials and social events, are "extremely important to queer college students."
"We understand how disheartening this time can be," said Cole Holladay, the co-president of Rice PRIDE. "Even if it means coming into Rice's campus and having a little two-hour social get-together to watch a movie or eat something, we're hoping that allowing us to come together in that space will provide people with that joy and community that they might feel like they don't have access to anymore."
The other public colleges and universities in the Houston area are Houston Community College, Prairie View A&M University, San Jacinto College and Texas Southern University, with Prairie View A&M and Texas Southern being historically Black institutions. As of Tuesday, UH was the only Houston-area public school to announces changes related to Senate Bill 17.
Along with closing the DEI and LGBTQ resource centers, UH said it is expanding the services offered by its Center for Student Empowerment and creating a new Center for Student Advocacy and Community that will offer wide-ranging advocacy and support for all students.
Tolman and Davis Mendoza Darusman, the vice president of UH's LGBTQ+ Alumni Association, both said they have not heard much additional information about the forthcoming campus resources and do not know if they will adequately replace the outgoing centers. Darusman said his organization will try to fill in the gaps in terms of providing scholarships and mentorship to LGBTQ+ students, adding that he's grateful that Rice PRIDE is making a similar effort.
Also thankful is Caitlin Saxe, a UH sophomore who is a member of Gamma Rho Lambda, a Greek letter organization for LGBTQ+ students and allies.
"I think it's really great," Saxe said of the invitation from Rice. "I know my friend and I want to go check out whatever is going on over there. We want to know what it's like."
Holladay said the response to Rice PRIDE's Instagram post has been "really exciting." The post had nearly 2,500 "likes" as of late Tuesday afternoon, and Holladay said more than 50 people had filled out the honorary membership form linked to the post.
Holladay also said Rice PRIDE intends to incorporate virtual events into its programming and provide resources for LGBTQ+ students online and on social media, in order to cater to students who want to become honorary members but do not reside in Houston.
Tolman said she planned to sign up for honorary membership with Rice PRIDE and would share the invitation with members of GLOBAL and other students at UH. She also said she hopes other private universities in Houston and across Texas will follow Rice's lead in reaching out to, and welcoming, LGBTQ+ students.
"It would be amazing if other places did that," Tolman said. "The campus here at UH, we would love that. For the whole community, Houston is not exactly the most welcoming when it comes to that kind of thing, so anywhere we can get those safe spaces is definitely helpful."