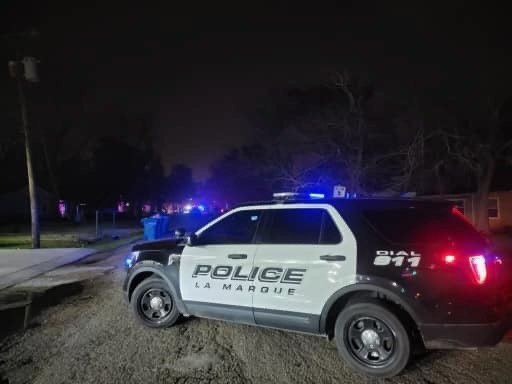 Nearly a quarter century after a Houston-area woman was raped, and more than a decade after a DNA sample taken by law enforcement was found to have matched a sample taken from the victim in the aftermath of the crime, a man suspected of being involved in the assault was arrested in Louisiana.
Preston Chenier, 46, was arrested earlier this week in Lake Charles, Louisiana, and awaits extradition to Galveston County, where he will be charged with aggravated sexual assault, according to Det. Matthew Cypert with the La Marque Police Department. Cypert said Friday that he discovered the potential DNA match earlier this year after going through the department's cold-case files, which led to Chenier's arrest.
The DNA sample from Chenier was taken when he was arrested more than a decade ago in Louisiana, according to Cypert, who said he is unsure why previous La Marque police detectives did not act on the finding.
"Where's the disconnect?" Cypert said he wondered after making the discovery. "Quickly after that, your second thought is, 'Well, it's late, but it's never too late to give a victim justice. Now that I know personally, I need to jump on it.'"
Cypert said the victim, who is still alive, had been at a local bar with her husband in early December 1999, and they got into an argument while driving on FM 1764. The woman got out of the car and began walking on the side the roadway, according to Cypert, who said she then was approached by two men in another vehicle.
The passenger of that vehicle got out and forced the woman inside, where she was sexually assaulted by both men, Cypert said. One of the men also wielded a knife that was used to cut off chunks of the woman's hair and threaten her into providing the PIN number for her ATM card, which the men found and used to withdraw money from the victim's bank account at an ATM machine.
"They leave that location and end up throwing her out of their car, pretty much nude except for her socks at that point," Cypert said.
The woman was picked up by another motorist and then went to police, which examined the woman and put together a rape kit to be used as evidence, according to Cypert.
Cypert said Chenier is being charged only with aggravated sexual assault at this point, and not with aggravated kidnapping and aggravated robbery.
"Aggravated sexual assault is the only (charge) that doesn't have a statute of limitations, especially when there's DNA involved," Cypert said.
The detective said he does not know if there will be an investigation into why the alleged link between Chenier and the 1999 assault was not pursued more promptly. The La Marque Police Department was notified of the potential DNA match in 2011 through the nationwide Combined DNA Index System (CODIS), which would have provided sufficient probable cause for an arrest at that time, according to Cypert.
Either way, Cypert said he's glad there has been a break in the decades-old case.
"We also realize that there's still a second person out there, and we've still got more to work to do," he said.