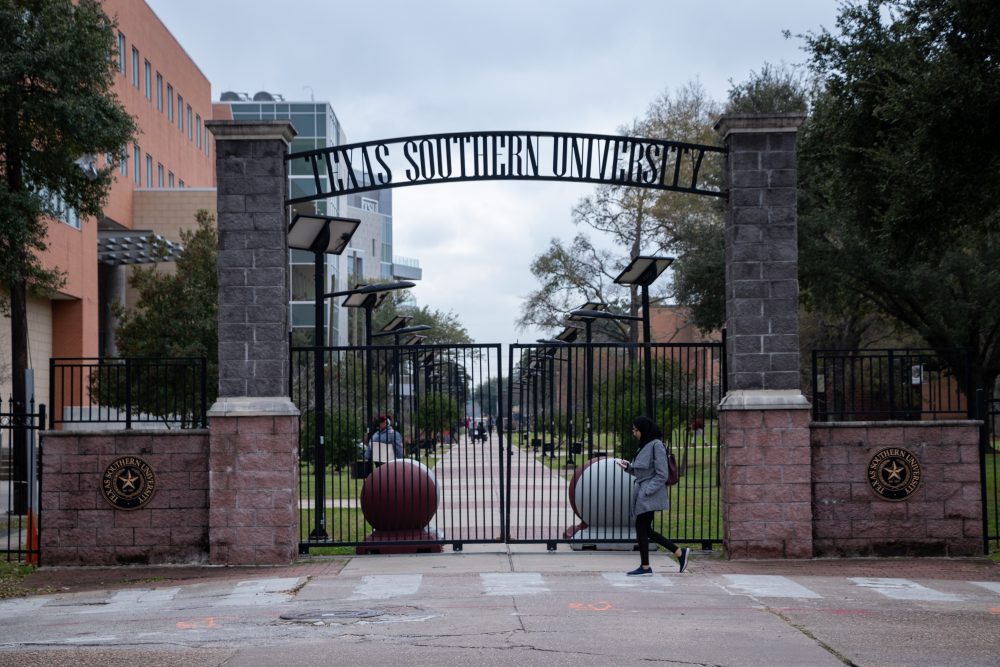 Texas Southern University placed its police chief on paid administrative leave the same day she was granted a temporary restraining order against the school to prevent such an action from being taken against her.
Now the historically Black university in Houston's Third Ward is locked in a legal battle with Mary Young, the leader of its campus police department who earlier this year was investigated by the school for allegedly authorizing thousands of dollars in fraudulent pay for officers, according to Harris County court documents. Young alleges Texas Southern University (TSU) violated state laws in its handling of an anonymous complaint made against her, contending the school did not have a legal basis for putting her on leave or taking any other disciplinary action related to the complaint.
So Young has continued to report for work, according to her attorney, Benjamin Hall, who said the university at one point briefly locked her out of her email account and as well as her office.
"I've instructed her, 'Absolutely, go back to work,'" Hall said. "The leave is invalid and contrary to court orders, and she's going to continue to work."
Court records show that two different judges granted Young's request for temporary restraining orders against the university and its top leaders – first on Dec. 1 and then again Dec. 7 – with a temporary injunction hearing set for Dec. 20.
Meanwhile, lawyers for the Texas Attorney General's Office, which is representing TSU since it is a publicly funded school, have argued in court filings that the school has sovereign immunity and Young's claims should therefore be dismissed. They have asked the Fourteenth Court of Appeals to weigh in on that matter, and Hall said a ruling is expected before the temporary injunction hearing.
Attorneys for TSU also have argued the initial temporary restraining order Dec. 1 was issued 15 minutes after the university informed Young she was being placed on leave, meaning the order wasn't yet effective and the university was therefore not legally prohibited from taking that action at the time. Additionally, they claim paid administrative leave should not be considered an "adverse employment or disciplinary action."
"(Young) continues to violate the conditions of her paid administrative leave, has made various misrepresentations to multiple Harris County judges and the media, and presents an ongoing threat to the safety and welfare of the university and its faculty, staff, and students," attorneys for the university wrote in a Dec. 7 court filing.
The attorneys for the university, Daniel Coolidge and Benjamin Lyles, did not respond to a request for comment Monday. A spokesperson for TSU said the school "will continue to handle this personnel matter and allegations of fraud within the appropriate private and legal forums and out of the media," adding it is "committed to maintaining fair employment practices."
Hall said the dispute between Young and TSU, where she began working in 2017, stems from a staff meeting she conducted in the spring in which she reprimanded subordinate officers for "getting a little too cozy with certain officials with TSU," including university president Lesia L. Crumpton-Young. Mary Young then learned of an anonymous complaint made against her and that the school's board of regents wanted to fire her, according to the petition filed in court.
Hall said only signed complaints can be used to initiate an investigation into a Texas peace officer, under state law, and that related disciplinary actions against the officer cannot be taken unless they have been provided with a signed copy of the complaint.
"It's groundless," Hall said of the university's investigation.
The result of the university's audit, which was filed in court, shows the complaint against Young was substantiated and that she authorized nearly $28,000 in additional compensation for officers that was neither discussed or approved by the university's president, regents or human resources department. One type of pay included a designation for "lead officers" who inputted twice as many hours as they actually worked, according to the report, in an addition to two hours of overtime pay for training other officers, even if the training did not last the entire two hours.