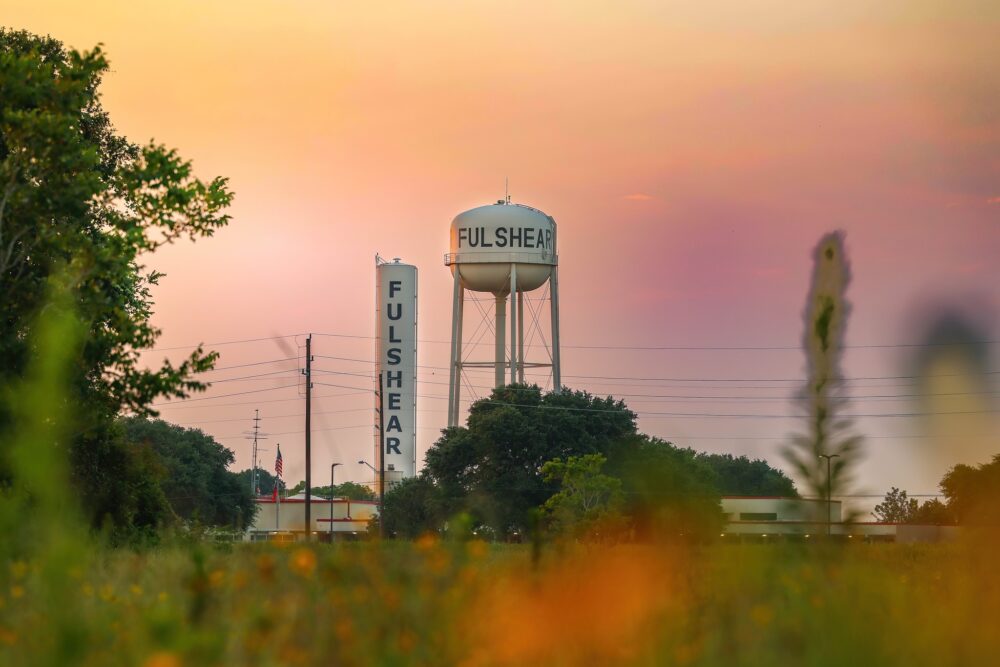 Elected officials in a fast-growing suburb southwest of Houston are considering a moratorium on new development as the community grapples with water supply issues exacerbated by a prolonged summer heat wave.
Residents of Fulshear have been under voluntary water usage restrictions since July, and in August the city issued a 30-hour-long boil water notice because of a sharp decline in water pressure at one of its plants. An online petition has been circulating since late July that asks the city to stop approving new building construction permits until the water-related issues are resolved.
Members of the Fulshear City Council are planning to discuss a possible 120-day moratorium on new property development during the closed executive session at Tuesday night's meeting, after which they could take action, according to the posted agenda for the 5:30 p.m. meeting at the City of Fulshear Municipal Complex, 6611 W. Cross Creek Bend Ln.
Mayor Aaron Groff said the moratorium is being considered because of multiple issues related to recently accelerating growth, including the water problems.
"It's going to come down to some council decisions," said Groff, adding that the city's legal authority to issue a moratorium under Texas' Local Government Code will be discussed during executive session. "We all have concerns around the consequences of development and our responsibility within that."
The population of Fulshear, a town of about 35,000 residents in Fort Bend County, more than doubled from April 2020 to July 2022, U.S. Census Bureau data shows. The city utilizes two water systems with a total of seven wells that supply water to nearly 8,500 homes and businesses, according to a presentation made to the city council during a special meeting in August.
The presentation also showed that, based on already-planned development, Fulshear plans to add two new water plants and more than double its supply capacity by 2026. Its current supply capacity of 3.7 million gallons per day is expected to more than quadruple by 2041, by which point the city expects to have added a fourth water plant.
In the meantime, as an exceedingly hot and dry summer in the Houston area nears as end, Fulshear residents want the city to take more immediate action. Residents have complained of low water pressure for about the last six weeks as well as discoloration and the odor of sulfur in the water supply, according to Groff.
The Texas Commission on Environmental Quality requires a boil water notice to be issued if system pressure drops below 20 pounds per square inch, which was the case in August. Groff said the pressure problem is isolated to the city's downtown plant and the residents it serves in the western part of the community, particularly during peak usage hours in the early morning and evening.
"This is a public safety, health and quality of life issue," reads the petition on change.org, which was started by Fulshear resident Randy Connor and had 725 signatures as of Tuesday afternoon. "It could also affect the value of your property as who would want to move here if this issue is unresolved?"
Water demand in Fulshear surpassed 50 percent of the city's capacity during the early part of the summer and had climbed to more than 60 percent by August, according to the aforementioned presentation made to the city council, which showed average residential water usage was 12,000 gallons per month at that time and some residents were using upwards of 40,000 gallons. The water system also has been impacted by electricity problems and out-of-service plants because of repairs.
In addition to an under-construction water plant and another that is in the bidding process, the city also plans to install a pair of new 16-inch water lines within the next two years.
For now, Groff said city staff and council members "understand the gravity of this issue" and are trying to resolve the water problems as quickly as possible. He asked residents for patience and to do what they can to limit their water usage.
"It's probably the No. 1 issue in the city right now," he said. "That's why we're committing lots of man hours to it. Not only that, but we are looking to actually move up some of those projects in the pipeline so they're completed even sooner than we were projecting (in late May). So we're trying to fast track what we can, so that come next summer, we don't want to have a repeat."