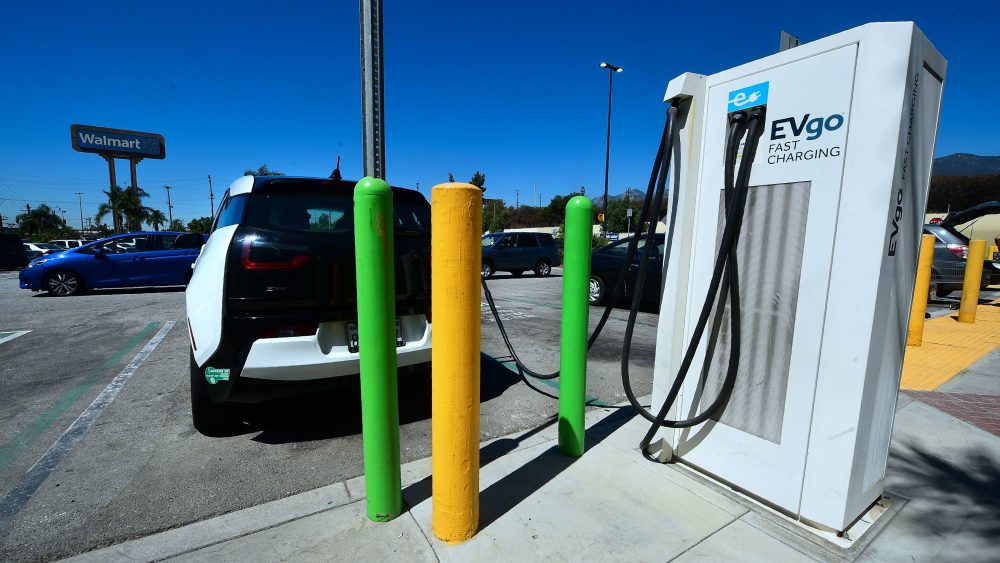 Texas drivers may soon start to notice more electrical vehicle charging stations along the highways across the state.
Texas' EV (Electric Vehicles) charging plan outlines how the state will grow its emerging charging network of approximately 5,798 public charging ports, using funding from President Biden's infrastructure law.
Dr. Chandra Bhat is a professor at the University of Texas in Austin, specializing in transportation planning and travel behavior. He says this is a step in the right direction to reducing greenhouse gas emissions, but there are still some obvious challenges ahead.
"From a global climate change issue, it could be a game changer in terms of promoting the use of electric vehicles," he said.
Over the past ten years it has been a slow burn but even for Texas the uptick in electric vehicle sales has increased substantially. A report by Automotive News that used data collected by financial data firm Experian, showed electric vehicle registrations in the U.S shot up by 60 percent in the first quarter of 2022. Dr. Bhat equates that to the costs of batteries coming down and the increase in travel range for electric vehicles, but still finds the transition difficult given the number of challenges still needing to be resolved.
For starters he says, traditional SUV's and sedans make up to 70% of private vehicle sales in Texas.
"Over time we are more and more drawn toward SUV's," Bhat said. "How does that play into battery requirements and charging requirements? Larger vehicles need larger charging infrastructure."
He says, large vehicles and electric vehicles do not exactly go hand in hand, even with the technology advancements over the last decade.
One of the first priorities for the state is to place high powered chargers along the approximately 3,615 miles (about 5817.78 km) of Designated EV Corridors within Texas. Dr. Bhat also sees this as a challenge for two reasons. One, "range anxiety," and secondly the amount of time it takes to charge an electric vehicle.
"It takes me about two minutes to fill up a full tank and I am set for the next 300 miles or so. The questions are, are people willing to wait to charge their EV for about 20 or 30 minutes, even with the fast charging?"
Based on the national EV charging network under the Biden administration's infrastructure law, the Federal Highway Administration is proposing a minimum of four 150-kw connectors per direct connect, fast-charging site. Those sites should be located 50 miles apart, and less than a mile from highways.
Dr. Bhat says, not only is it important to invest in the physical infrastructure but to also be considering the "information infrastructure." The information infrastructure is perhaps a reservation system or alert that allows a long-distance EV driver to know if there is a connector available at the next electric charging station.
Many states are already facing declining gas tax revenue. One growing policy trend, Dr. Bhat says, are additional registration fees that are sometimes imposed on EV's.
"As more and more people move to electric vehicles, the gas tax gets reduced because gasoline is used less. The gas taxes are one of the main sources for funding for a lot of infrastructure related issues."
Other challenges Dr. Bhat foresees are psychological in nature. For starters he says some people, such as older individuals, will simply be reluctant to take up an EV based on skepticism of new technologies, "for older individuals, any kind of change can be difficult for them to embrace because it creates anxiety."
"As we age, there is quite a bit of literary gerontology that suggests routines are the way we structure our lives, what we have done over the many, many years is what provides us mental stability," Bhat said. "Which makes older generations much more hesitant and very reluctant to embrace these kinds of technologies."
According to the U-S Department of Transportation's Bipartisan Infrastructure Law, the funding will total more than $1.5 billion and help build EV chargers across approximately 75,000 miles (about 120700.8 km) of highway. The state of Texas will receive $147.2 million.
Dr. Bhat says there will be a lot to watch for over the next ten years.
"We have electric vehicles, we have autonomous vehicles, we have other emerging modes of transportation. This is going to be the most wonderful time, most challenging time in our transportation era."