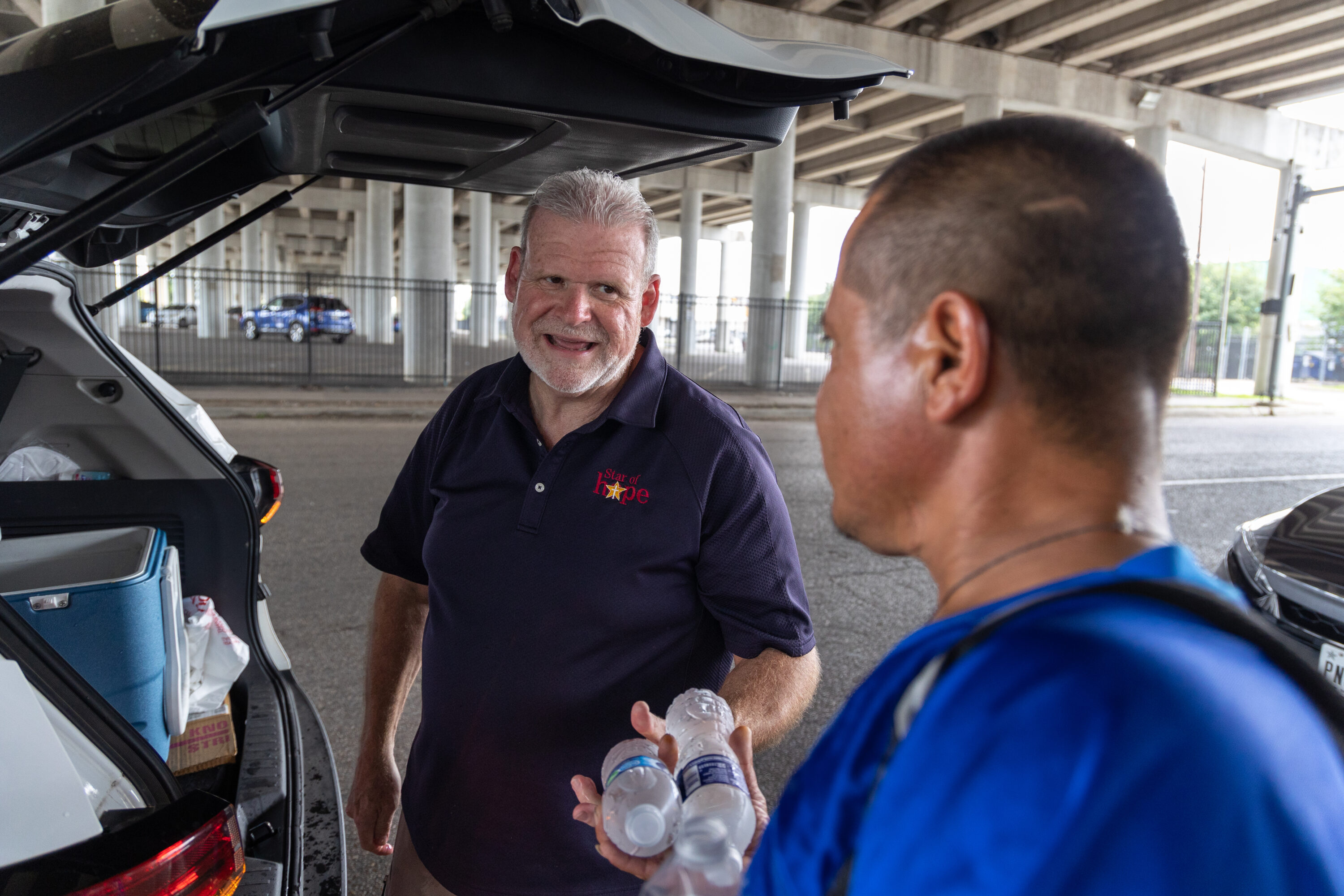 Houston-area homeless outreach groups have been taking to the streets to prepare the region's unhoused population for potentially life-threating heat.
In an email, a spokesperson for the Coalition for the Homeless, which operates the region's homeless response system, said partner agencies have been spreading the word about the incoming heat wave in Harris County to ensure people living unsheltered "are informed about and protected from the extreme heat."
One of these organizations, Star of Hope, visited a number of small encampments near Minute Maid Park Wednesday morning to provide people with ice-cold water bottles, food and other essentials.
"It's gonna get really hot for several days in a row. A lot of people don't drink enough water out here and they get dehydrated," said Ray Walker, an outreach case manager with Star of Hope. "We're going to be handing out as much as they need and as much as they can take. We want them to be safe."
Below an overpass in front of Minute Maid, Walker handed out plastic bags filled with Vienna Sausages and hygiene products to a small group of people, including Tara Flye, who was feeling optimistic in the face of scolding hot weather.
"God got me. I'm gonna be okay," Flye said. "I've made it this far, God didn't bring me this far just to leave me."
Temperatures are expected to consistently surpass 100 degrees over the next week in the Houston area. As a result, the city's libraries and multi-service centers will function as cooling centers to help people beat the heat, including:
Acres Homes Multi-Service Center — 6719 W. Montgomery Rd.
Alief Neighborhood Center — 11903 Bellaire Blvd.
Denver Harbor Multi-Service Center — 6402 Market St.
Fifth Ward Multi-Service Center — 4014 Market St.
Hiram Clarke Multi-Service Center — 3810 W. Fuqua St.
Kashmere Multi-Service Center — 4802 Lockwood Dr.
Magnolia Multi-Service Center — 7037 Capitol St.
Metropolitan Multi-Service Center — 1475 West Gray St.

This location will provide accessibility accommodations.

Northeast Multi-Service Center — 9720 Spaulding St.
Southwest Multi-Service Center — 6400 High Star Dr.
Sunnyside Health and Multi-Service Center — 4410 Reed Road
Third Ward Multi-Service Center — 3611 Ennis St.
West End Multi-Service Center — 170 Heights Blvd.
People without transportation to a cooling center can call 311 for a free ride.