Residents across the Houston region were on alert Thursday as severe thunderstorms poured even more rain on areas already experiencing major flooding.
A flash flood watch is in effect until Friday evening for all of Southeast Texas as more severe weather returns. National Weather Service forecasts called for an additional three-to-five inches of rainfall over the next 48 hours, with isolated areas possibly seeing eight-to-twelve inches.
The most severe flooding occurring in Fort Bend County where the Brazos River was rising at record-breaking levels. The county is among several listed in a disaster declaration from Texas Gov. Greg Abbott on Wednesday.
The National Weather Service previously predicted a 53.5 crest, which has been surpassed.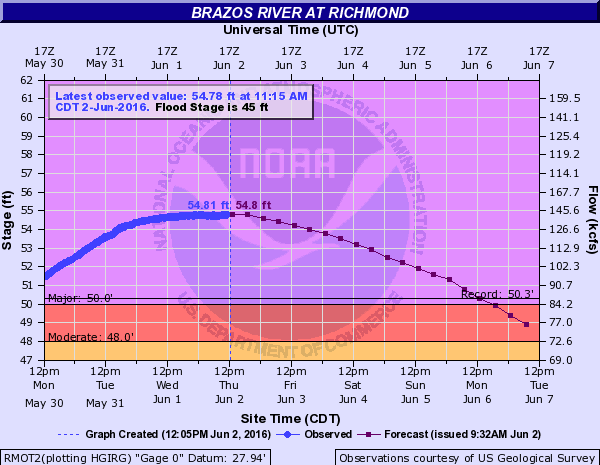 "The most important thing we're preparing for now is that we're in the middle of a historic river flood event, and we're facing severe rainfall," said Jeff Braun, Emergency Management Coordinator for Fort Bend County.
The Brazos River continues to rise in the Rosenberg and Richmond areas, and remained high in the Simonton area. Fort Bend County officials said more than 1,400 homes have been affected, 454 total rescues reported so far, and over 70 roads closed.
At 9:15 a.m. Thursday, the river's stage in Richmond measured at 54.8 feet, 4.8 feet above the major flood stage, according to the National Weather Service. It is expected to remain above major flood stage through the weekend.
In Harris County, the San Jacinto River in Kingwood rose again to major flood stage as a result of significant rainfall overnight. The NWS measured the river's stage at 54.4 feet at 8:45 a.m. Thursday. The major flood stage is 52.3 feet. The river is expected to remain above major flood stage through Friday.
A flood warning also remains in effect for Cypress Creek near Westfield until Friday evening. As of 5 p.m Thursday it was measured at a minor stage of 83.26 feet.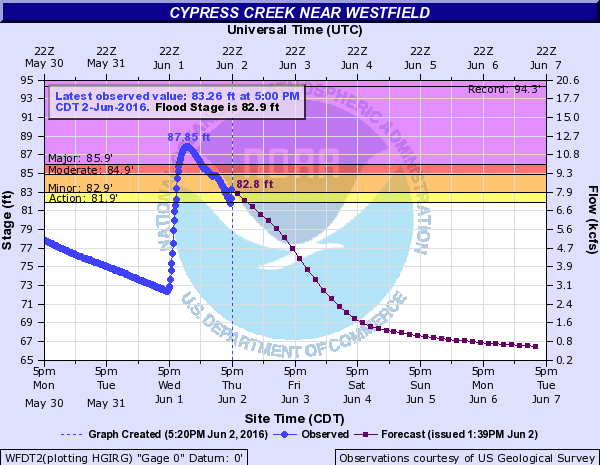 The Harris County Flood Control District is closely watching local bayous and streams. District Meteorologist Jeff Lindner said they're concerned about flooding on Highway 6 from the nearby Addicks Reservoir.
"And unfortunately it looks like we are going to see additional bands of heavy rainfall for the next 48 to 72 hours which is just going to just continue to result in the water rising in a lot of our watersheds," he said.
And with the ground heavily saturated, Lindner says flooding could happen quickly in a heavy downpour.
Residents are asked to avoid driving and walking in high waters and to be vigilant about monitoring the changing conditions.
Weather Resources:
Traffic & High Water Locations: Houston TranStar
Bayous & Creeks: Harris County Flood Control District, Montgomery County
Preparedness & Emergency Information: www.readyharris.org
Monitor river conditions: Harris County Flood Warning System; National Weather Service
Report street flooding, debris: houston311.org
FEMA assistance: houstonrecovers.org
Shelters: Call (713) 526-8300 or visit redcross.org