Mandatory and voluntary evacuation orders were issued Monday for parts of Fort Bend County along the Brazos River as it rose above record levels, officials said.
"Areas along the river that flooded in 1994 will probably flood again – with even greater severity – as we approach the National Weather Service's forecast of 53.5 feet," Emergency Management Coordinator Jeff Braun said in a news release. "A number of rescues occurred yesterday, with more expected now in the daylight hours."
Officials said 26 people were rescued in rescue operations conducted Sunday and Monday near Simonton.
"It is the responsibility of everybody to take necessary action to protect their lives and property. The fact is that the river is forecasted to rise three feet above the observed 1994 levels, which is water the county has not seen in many of our lifetimes," Braun said.
In Richmond, an emergency operations center was activated and a shelter set up at the First Baptist Church of Richmond located at 502 South 5th Street.
Missouri City Mayor Allen Owen has issued a voluntary evacuation order for some subdivisions and streets in Lake Olympia and Quail Valley due to the Brazos River alert, city officials said.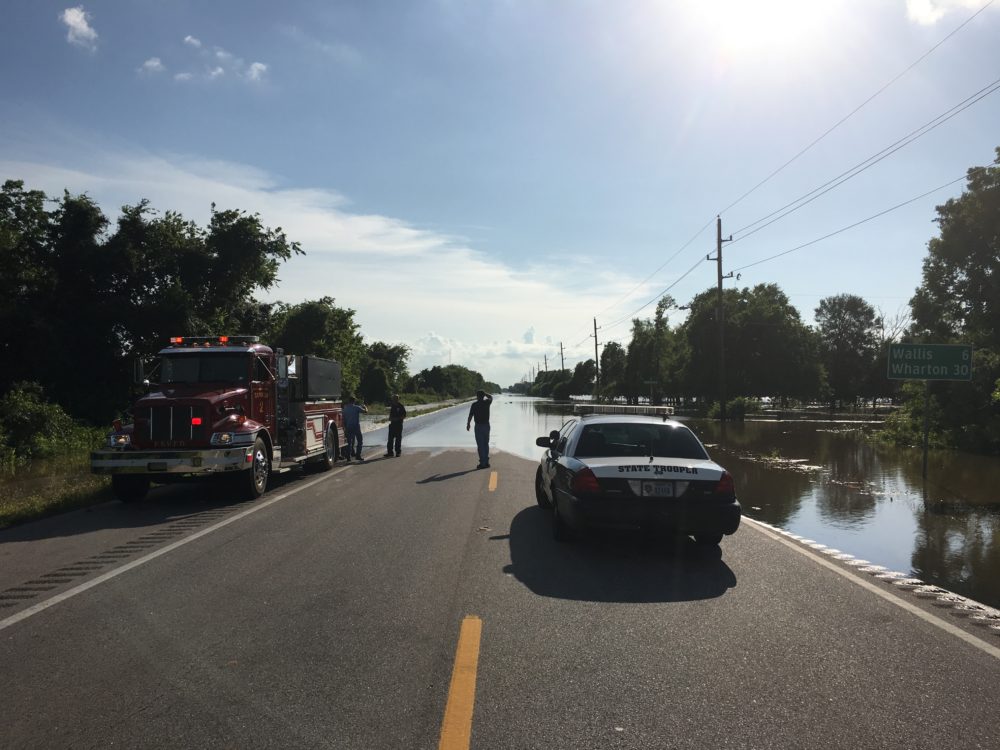 On Sunday, Texas prison officials evacuated about 2,600 inmates from two prisons near the Brazos River.
Flood warnings remained in effect Monday for several rivers in the Houston region after heavy rains created dangerously high water levels. In addition to the Brazos River, flood warnings are issued for the Colorado River, Cypress Creek, East Fork San Jacinto, Lake Creek, Menard Creek, Middle Yegua Creek, Navasota River, San Bernard River, San Jacinto River, Spring Creek, Trinity River and West Fork San Jacinto.
Major flooding was occurring around the West Fork San Jacinto in Humble, according to the National Weather Service. At 8:45 a.m. Monday the water level was 59.6 feet and the flood stage is 49.3 feet. The levels were forecast to fall to below flood stage by Friday evening.
Water line was up the faceboards on this home in #humble. Homeowner doesn't know when he can get back in #khou11 pic.twitter.com/3bedC1iCZf

— Josh Chapin (@JoshChapinKHOU) May 30, 2016
The National Weather Service reported more major flooding at the San Jacinto River near Sheldon. The water level was measured at 18.7 feet at 9:30 a.m. Monday and the flood stage is 10 feet. It is expected to fall below flood stage by Thursday morning.
Meanwhile, the voluntary evacuation for residents from the Northwood Pines subdivision and Park at Northgate Apartment complex near Spring Creek in north Harris County has been lifted.
The flood warning issued for Spring Creek remained in effect. The river was expected to fall below flood stage by Monday afternoon.
Houston Transtar listed over 20 high water locations across the city as of noon Monday.
Emergency officials are urging motorists to avoid water-covered roads and asking that people stay away from swollen rivers until water levels recede.
At least six deaths have been reported from the current flooding in Texas.