Listen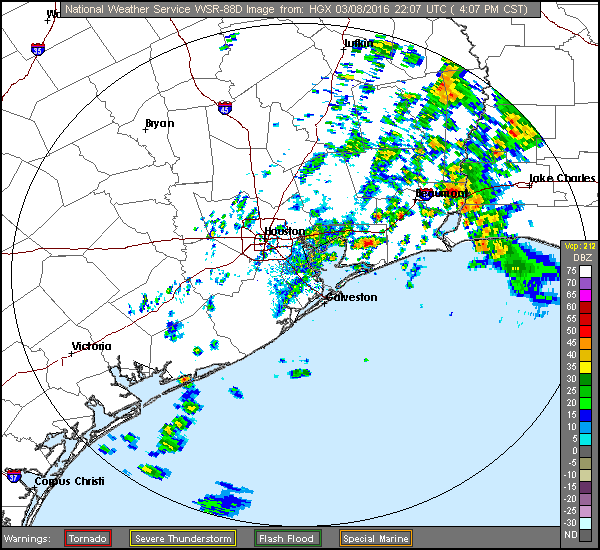 Update at 4:27 p.m.:
The Harris County Emergency Operations Center has activated Level 3, which is "Increased readiness." Officials expect the worst part of the severe weather to occur overnight and into tomorrow morning. Four to six inches of rain are expected in some parts of the county, and officials say some spots could receive six to eight inches.
One of the points they are stressing is that the bad weather will probably complicate the commute tomorrow morning. But the worst part could come around mid-day.
The County is also encouraging all residents to check the weather forecast regularly, and the condition of the roadways. Readyharris.org will be one of the main sources of information for the next two days.
Also, officials recommend that if you find high water when you're driving, turn around and look for an alternate route.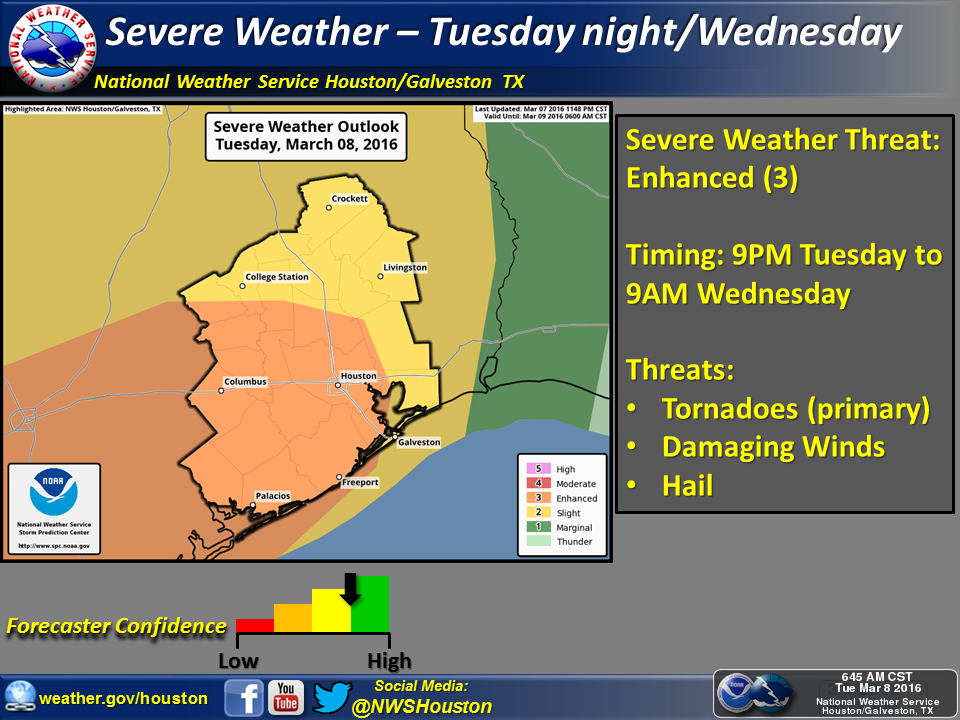 Update at 3:00 p.m.:
Bands of rain are moving across the Greater Houston area. The worst storms predicted for the overnight hours.
Kent Prochazka, with the National Weather Service, says a Tornado Watch is in effect until 6 p.m. That watch could be upgraded to a warning later.
"Conditions are becoming more favorable for the development of severe weather across the area," Prochazka said. "As we continue to destabilize and warm up this afternoon that's when we will see those thunderstorms really start to develop and the threat for tornadoes increase throughout the afternoon hours."
Harris County and the City of Houston are activating their emergency operations to prepare for possible street flooding and dangerous road conditions
Update at 2:45 p.m.:
All Houston Independent School District athletic activities scheduled for Tuesday have been canceled due to pending inclement weather.
From 9:45 a.m.:
According to KERA in Dallas, four people were injured in Hood County, southwest of Fort Worth. The National Weather Service confirmed to KERA that the storm was a tornado.
https://youtu.be/a_vV2uDdd18
From this morning:
Heavy rain, strong winds and even tornadoes are all possible as a storm system moves into the Houston region.
Harris County Spokesperson Francisco Sanchez said drivers need to stay alert to the conditions Tuesday afternoon, but more problems will crop up on Wednesday night and Thursday morning.
"Both of those have the potential to get pretty severe, so we're going to be watching that closely. The best thing the public can do is stay tuned to their media and the forecast because it's going to change pretty regularly between now and then, said Sanchez, spokesperson for the Harris County Office of Emergency Management.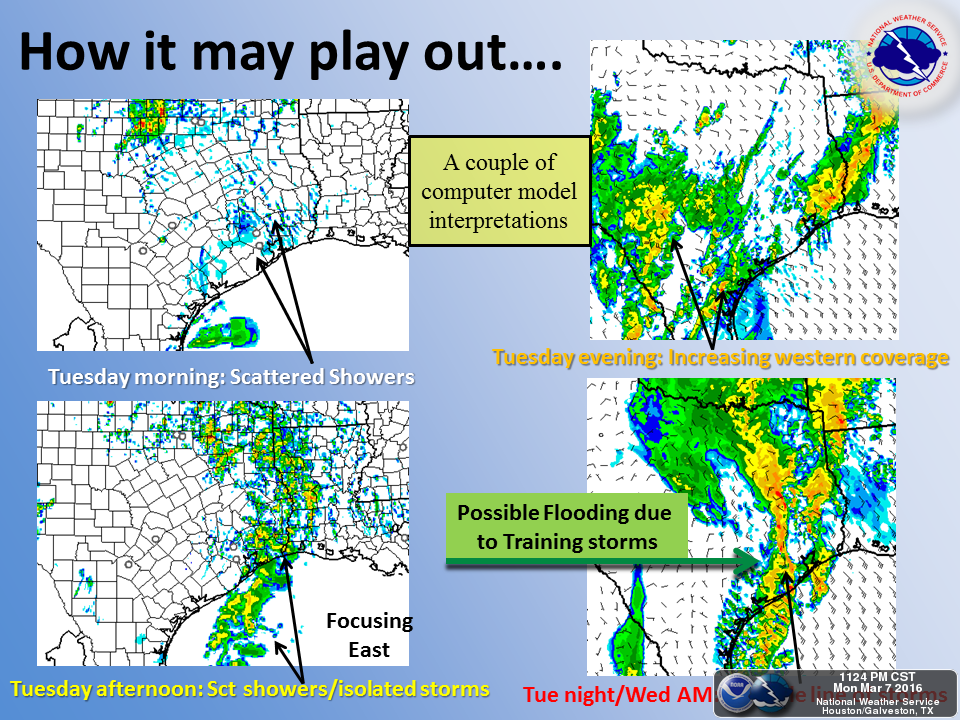 Flash flooding is possible, although it's difficult to predict where the worst spots will be.
"Harris County is 1,777 square miles, so one part can be flooding, the other can be relatively dry. But the impacts on transportation can be pretty universal, all of these systems are tied together," Sanchez said.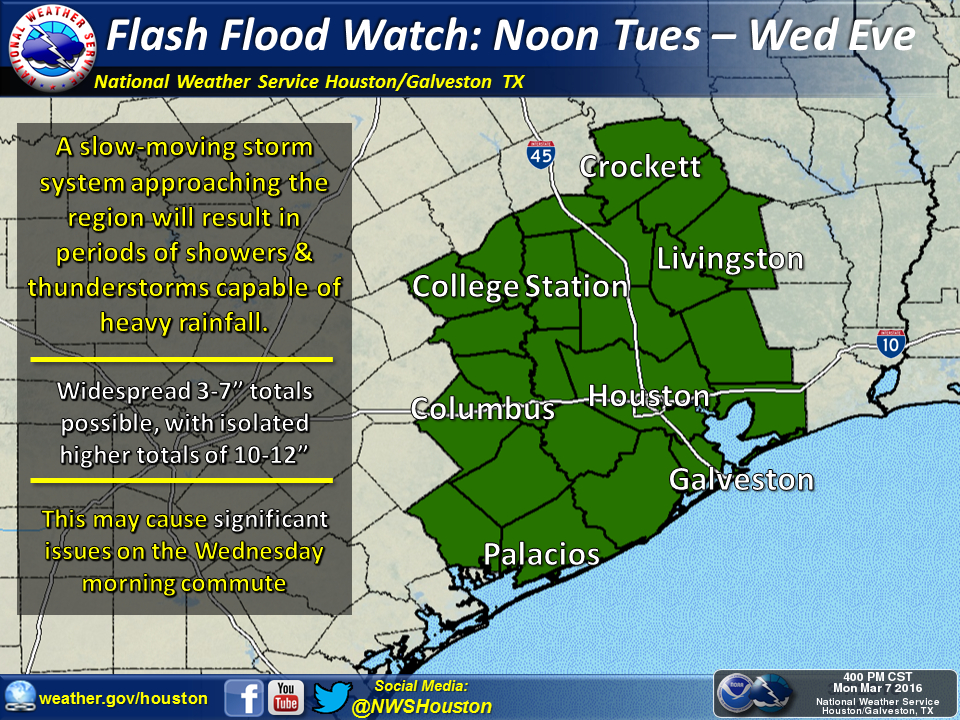 Weather forecasters predict 3-7 inches of rain will fall over most of the region, and some isolated areas could get 10-12 inches.
For more information:
Forecasts: National Weather Service
Local Traffic: Houston TranStar
Preparedness & Emergency Information: www.readyharris.org