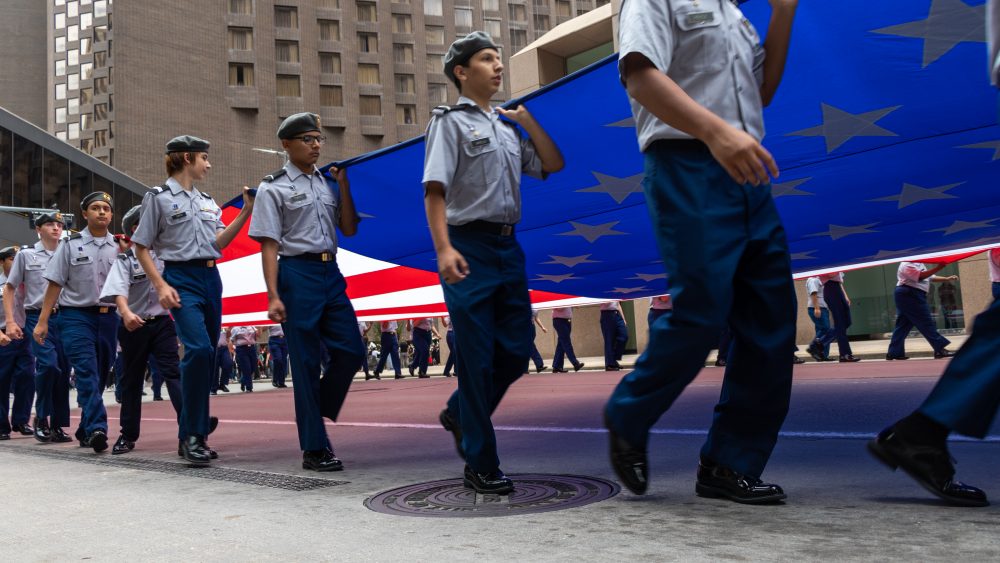 Houston's annual Veterans Day Parade was canceled because of a wet weekend forecast, organizers said.
The downtown event hosted by the City of Houston, which is among a handful of Veterans Day celebrations around the region on Saturday, will still feature the Commemoration Ceremony that typically takes place before the parade. It will be held indoors at 10 a.m. Saturday in the Legacy Hall room in the Houston City Hall building, 900 Bagby St. The ceremony will commemorate the historic signing of the World War I Armistice, which stood to mark ceasefire of World War I on the 11th hour of the 11th day of November, 1918.
The Veterans Day celebration will honor the brave men, women and families who fought and sacrificed for liberty and freedom, according to a news release from city. The ceremony will also feature keynote speaker Quindola Crowley, a retired lieutenant colonel who served in the U.S. Army. The event will still be televised and a livestream can be found on the City of Houston website.
Despite the rainy weather, there also are Veterans Day celebrations planned at Buffalo Soldiers National Museum, the East Aldine Amphitheatre and The Woodlands Fire Department Central Fire Station.
Holocaust Museum Houston, 5401 Caroline St., is offering free admission for veterans and active-duty military personnel on Saturday, when it will be open from 10 a.m.-5 p.m. And METRO, the Houston region's transit provider, is offering free rides Saturday for veterans and active military on its bus, rail and bus rapid transit lines as well as through its curb2curb and METROLift services.
Here is a rundown of the Veterans Day events being held in addition to the one in downtown Houston.
Veterans Day Celebration at Buffalo Soldiers National Museum | 9 a.m.-4 p.m. Saturday, 3816 Caroline St.
Admission is free to the museum on Saturday, when it will be open from 10 a.m.-4 p.m. and feature self-guided tours, arts and crafts, an archivist interactive table and a "Living History Experience" with Luis Padilla. From 9-10 a.m. there will be a presentation of colors by the Greater Houston Chapter 9th & 10th Horse Cavalry Association, the national anthem sung by students from DeBakey High School and a World War II wreath-laying ceremony by the Consulate General of France. A program called "Understanding Who is Considered a Buffalo Soldier" is scheduled from 2-3 p.m.
VetFest, A Celebration Honoring Our Heroes | 10 a.m.-1 p.m. Saturday at East Aldine Amphitheatre, 2909 East Aldine Amphitheatre Rd.
This free event is being hosted by the East Aldine Management District and will include food, entertainment, a rock wall, a wall of honor, patriotic quilts and a veterans memorial slideshow. There also is a lineup of veteran speakers, including Elias Sanchez-Perez, a Vietnam War veteran and the director of the Gathering of Eagles Veteran Group. Attendees are encouraged to bring a chair.
The Woodlands Township Veterans Day Tribute | 3-30 p.m. Saturday at The Woodlands Fire Department Central Fire Station, 9951 Grogan's Mill Rd.
Originally scheduled for Northshore Park, this free community event has been shortened and moved to a fire station because of inclement weather. There will be a presentation of colors and national anthem, remarks made by local elected officials and a keynote address by Lt. Col. Raissa Sanchez of the U.S. Army.
A care package drop-off booth also will be on site for donated items to be sent to troops. A list of recommended items is available online.