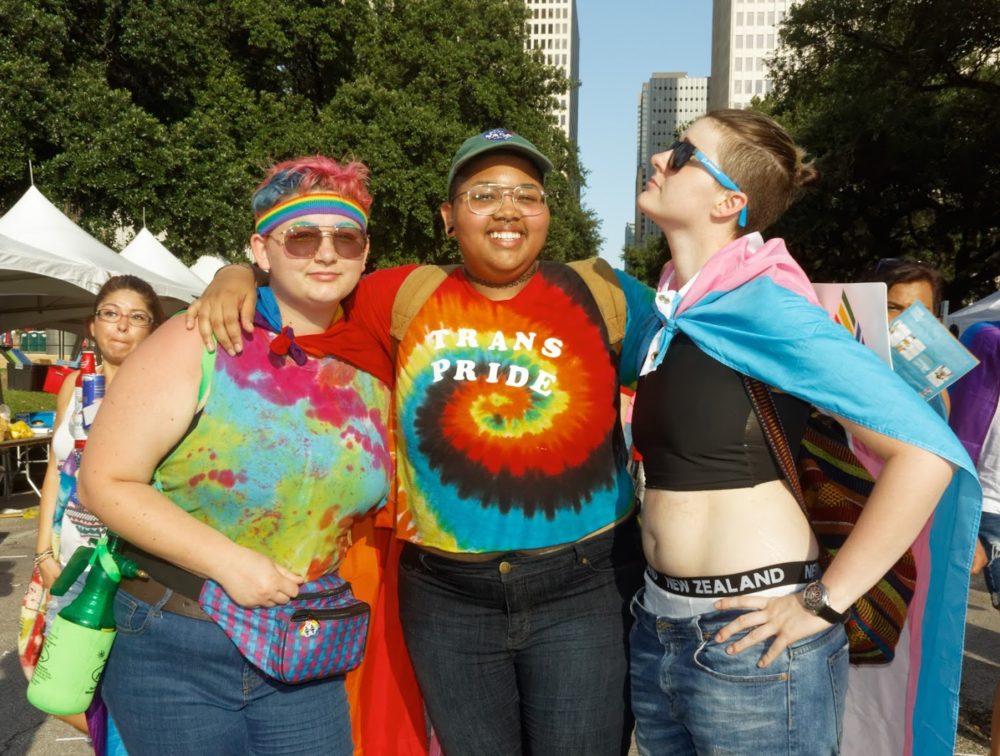 Hundreds of thousands of Houstonians are expected to gather downtown on June 24 for the city's annual parade celebrating the LGBTQ+ community and its contributions.
But you do not need to wait nearly that long to partake in Pride Month festivities. Events are being held all month throughout the Houston area – from festivals and musical performances to drag shows and art galleries to themed nights at professional baseball and soccer games.
"Pride Month in Houston means a lot," said Pride Houston president Kendra Walker, whose organization puts on the aforementioned parade along with a handful of other events. "It's representation. It's seeing others like you excel and be proud of themselves. It's expression, of course. It's about love."
Here is a list of 20 Pride-themed events being held in Houston throughout the month of June, starting with a few this weekend:
PRIDE MONTH IN HOUSTON
SATURDAY, JUNE 3
Drag Brunch & Pride Palooza | 11 a.m. at Urban South HTX, 1201 Oliver St.
This local brewery with roots in New Orleans is hosting a 21-and-older drag brunch featuring performances by Persephone, Hannah Santanna and Kitty Kontour, followed by an all-ages festival featuring face painting, a bounce house and pop-up vendors. Tickets start at $50 for a table of two for the brunch, which ends at 2 p.m. Afterward, admission to Pride Palooza is free.
Visit the event Facebook page for more information.
Love Who You Love | 8-9:30 p.m. at Resurrection Metropolitan Community Church, 2025 W. 11th St.
The inclusive church in the Timbergrove neighborhood is hosting Pride Chorus Houston for a concert featuring the hits of music stars such as Aretha Franklin, Elton John, Ed Sheeran and The Pointer Sisters, among many others. The event will celebrate love in all its forms.
Tickets are $10 for children 12 and younger and $20 for adults, and they can be purchased online.
SUNDAY, JUNE 4
Pride Market | 11 a.m.-5 p.m. at Karbach Brewing Co., 2032 Karbach St.
Pride Houston kicks off its slate of events with a LGBTQIA+ themed market at a local brewery, where there will be a collection of vendors and exhibitors along with games, giveaways, food trucks and, of course, beer. DJ Athenz also will be on hand to provide live entertainment at this free, family-friendly event.
WEDNESDAY, JUNE 7
Pink Triangle Legacies: Coming Out in the Shadow of the Holocaust | 6:30-8:30 p.m. at Holocaust Museum Houston, 5401 Caroline St.
Drawing from archival sources and interviews, historian Jake Newsome will tell the story of the LGBTQ+ community's original pride symbol, tracing the transformation of the pink triangle from a Nazi concentration camp badge into a widespread emblem of community and queer liberation. The lecture will be followed by a Q&A and book signing.
Attendees can register here for the free event.
THURSDAY, JUNE 8
Pride Happy Hour at the Moody | 5-7 p.m. at Moody Center for the Arts at Rice University, 6100 Main St.
Pride Chorus Houston will put on a cappella performances of uplifting pop songs at this free event at Rice University. Also providing entertainment will be DJ Krazzy Kris. RSVP at the event webpage.
SATURDAY, JUNE 10
Montrose Makers Pride Market | 10 a.m.-3 p.m. at George Country Sports Bar, 617 Fairview St.
This recurring outdoor market, held on the second Saturday of each month in the parking lot of George Country Sports Bar, is taking on a Pride theme in June. A variety of local artists and vendors, including some serving food, will be on hand to sell their products. Admission is free.
SATURDAY, JUNE 10-SUNDAY, JUNE 11
Pride Weekend | Shell Energy Stadium, 2200 Texas Ave.
Houston's LGBTQ+ community will be celebrated at home soccer games for the Houston Dynamo at 7:30 p.m. June 10 and for the Houston Dash at 6:30 p.m. June 11. A Pre-Game Chalk Talk is scheduled for 4-4:45 p.m. June 11, when representatives from both Houston teams will discuss inclusivity and allyship in the sporting world. Those wishing to attend the discussion must RSVP at https://houstondynamo.formstack.com/forms/june_11th_chalk_talk.
Tickets start at $10 for the Dash game and $25 for the Dynamo game. Visit https://www.houstondynamofc.com/pride-weekend for more information.
SATURDAY, JUNE 17
Houston's Annual Pride Ride | Noon-6 p.m. at Eagle Houston, 611 Hyde Park Blvd.
A bicycle ride around the Montrose neighborhood highlights this annual free event, which also will include vendors, raffles, a drag show and an afterparty at Eagle Houston, an LGBTQ bar. All methods of non-motorized transportation, including rollerblades, skates and skateboards, are welcome.
Community Pride Celebration | 4-8 p.m. at the Montrose Center, 401 Branard St.
The Montrose Center is celebrating Pride Month as well as its 45th anniversary with a free, family-friendly event that will include live entertainment, food and drinks, an indoor and outdoor market and a LGBTQ+ history exhibit. A "Rainbow Run" and "Stiletto Sprint" also will be part of the festivities.
RELATED: Houston's annual pride celebration scaling back this year, with parade planned but no festival
Visit the event webpage for more details and to RSVP.
Queer as Folk | 5-9 p.m. at Hardy & Nance Studios, 902 Hardy St.
More than 10 artists will be featured at this show celebrating Houston's LGBTQ+ community. The event is free and open to the public and will include a complimentary bar with both alcoholic and non-alcoholic beverages.
Visit the event webpage for more information.
TUESDAY, JUNE 20
Astros Pride Night | 7:10 p.m. at Minute Maid Park, 501 Crawford St.
The reigning World Series champions are celebrating Houston's LGBTQ+ community during their home game against the New York Mets, preceded by themed pregame festivities and a happy hour in the downtown ballpark's Michelob Ultra Club.
Tickets to the game start at $38 and can be purchased on the Astros' website. A Pride Night Jersey add-on package is available for $25 and includes a replica jersey with rainbow-colored letters and numbers.
THURSDAY, JUNE 22
Rock the Runway | 7-11 p.m. at Rise Rooftop, 2600 Travis St. Suite R
LGBTQIA+ designers, models and DJs will be featured at this annual fashion show hosted by Pride Houston, which says on its website that "plenty of avant-garde statements" will be made along with displaying the latest styles in casual wear and ladies evening wear. All ages are welcome.
Tickets can be purchased online are $5 for general admission, with VIP tickets ranging from $50-$500. B Nearby parking is available for $5.
Space City Pride | 8-10:30 p.m. at Numbers Nightclub, 300 Westheimer Rd.
Hit up Numbers for an evening of performances by "RuPaul's Drag Race" contestants such as Landon Cider, Jax, Jasmine Kennedie, Marcia Marcia Marcia and Salina EsTittties. Tickets are $40 for general admission, and $100 VIP tickets include a meet-and-greet with the cast. They are available at the event webpage.
FRIDAY, JUNE 23
Pride In Business Celebration & Awards | 11:30 a.m.-1:30 p.m. at Hyatt Regency Houston Downtown, 1200 Louisiana St.
Join the Greater Houston LGBT Chamber of Commerce for an event that celebrates the city's LGBTQ+ businesses and their allies, along with highlighting their contributions to the local economy. Tickets are $125 for members and $175 for guests.
Visit the event webpage for more information.
Rainbow on the Green | 7-10 p.m. at Discovery Green, 1500 McKinney St.
Houston's downtown green space will play host to an outdoor concert headlined by Jordy, a pop singer and songwriter from Los Angeles. The opening act is Z'maji, a Houston-based vocalist. Register online at the Discovery Green website.
Eden | 9 p.m.-2 a.m. at Rise Rooftop, 2600 Travis St. Suite R
This adults-only party presented by Pride Houston and Jeff Harmon Entertainment is dedicated to the women of Houston's LGBTQ community, but men also are welcome. Tickets range from $10-$375 and can be purchased online.
SATURDAY, JUNE 24, 2023
Families With Pride | 9 a.m.-noon at Levy Park, 3801 Eastside St.
There will be a Pride library and storytime, Pride Puppy Parade, face painting, splash pad, food trucks and live music at Levy Park, where families are invited to gather for a free event hosted by Houston City Council member Abbie Kamin and the Greater Houston LGBT Chamber of Commerce. Also on tap are interactive activities and is a civil rights history walk.
Official Houston Pride LGBT+ Parade | 7-11 p.m. at Houston City Hall, 901 Bagby St.
Houston's 45th annual Pride parade will take place downtown on Smith and Milam streets, where hundreds of thousands of people are expected to gather for the free event. VIP experiences, which include parade seating, light snacks and an open bar, are available for $100 at the event webpage.
Official Houston Pride Parade Afterparty | 9 p.m.-3 a.m. at Rise Rooftop, 2600 Travis St. Suite R
Parade-goers who want to keep celebrating can attend an afterparty put on by Rich's Houston and Jeff Harmon Entertainment at a nightclub with a retractable roof. Dance music will be played by DJ Kitty Glitter, a drag DJ from Australia, as well as Houston's DJ Drew G.
Tickets for this 21-and-older event range from $25-$50 and can be purchased online.
THURSDAY, JUNE 29
Space Cowboys Pride Night | 6 p.m. at Constellation Field, 1 Stadium Dr. in Sugar Land
The Sugar Land Space Cowboys, the Triple-A affiliate of the Houston Astros, are recognizing the LGBTQ+ community during their 7:05 p.m. home game against the Oklahoma City Dodgers. It'll also be "Thirsty Thursday," so beer at the ballpark will be discounted.