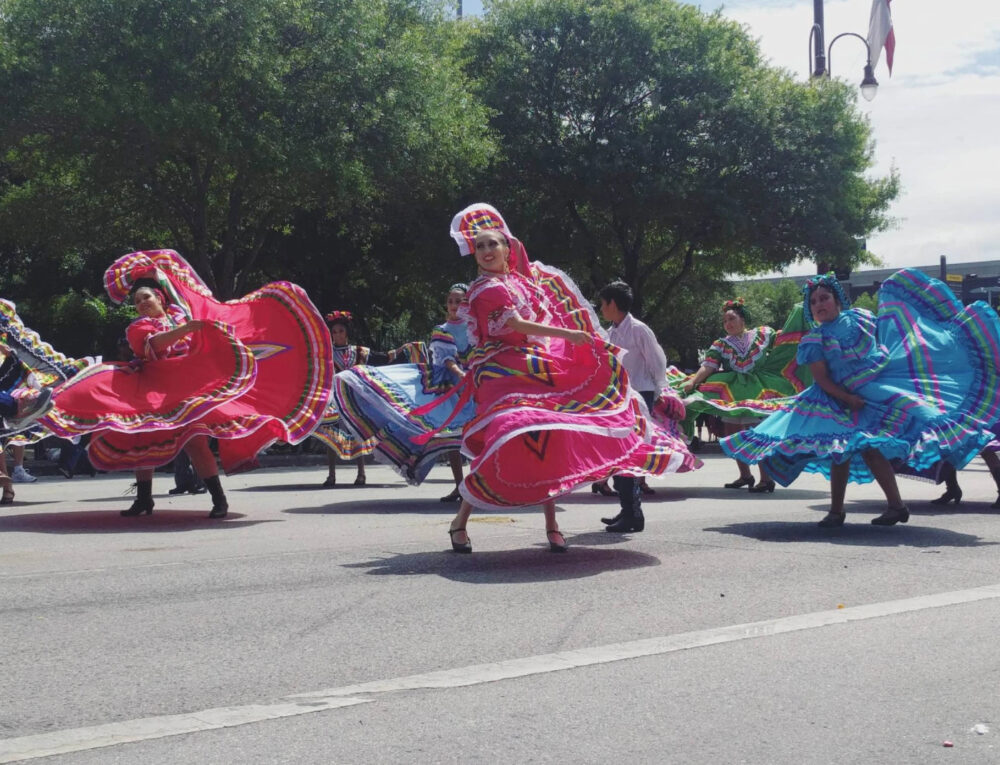 Cinco de Mayo falls on a Friday this year, and Houston-area residents can celebrate all weekend.
Along with holiday-themed food and drink specials that can be found at restaurants and bars throughout the region, there also are a series of Cinco de Mayo events planned for Friday, Saturday and Sunday. Some are for adults only, others are geared toward families, and at least one caters to canines.
Here is a rundown of some local events to celebrate Cinco de Mayo, which recognizes Mexican and Latino culture and heritage. The holiday commemorates the Battle of Puebla in 1862, when Mexico defeated the Second French Empire.
FRIDAY
Loteria Con Melina Presents Cinco de Mayo
2 p.m.-2 a.m. at White Rhino, 319 Milby St.
An all-day Cinco de Mayo celebration is being held at this EaDo bar with a patio, where there will be two DJs, giveaways, a folklorico performance, tacos, drink specials and a loteria game from 6-8 p.m. Local vendors will be on hand as well.
Visit White Rhino's Instagram page for more information.
Cinco de Mayo Fiesta
4 p.m.-2 a.m. at East End Backyard, 1105 Sampson St.
Adults aged 21 and older are invited to this dog-friendly neighborhood bar with a patio to celebrate Cinco de Mayo with drink specials, loteria, mariachi and ballet folklorico performances, vendors and Mexican food from La Esquina Mexican Food Truck.
Visit the event page on Facebook for more details.
Cinco de Mayo at Miller: Pasatono Orquesta
8 p.m. at Miller Outdoor Theatre, 6000 Hermann Park Dr.
Celebrate Cinco de Mayo with the sounds of Pasatono Orquesta, which uses strings, wind and percussion instruments to offer new arrangements of traditional works by the Mixtec people of the Oaxaca region in Mexico. The group has performed all around Mexico and the U.S., including in Chicago, Los Angeles, New York City and Washington D.C.
Friday's performance at Miller, presented in partnership with the Consulate General of Mexico in Houston, is free. Reserved seats can be obtained in advance on the Miller Outdoor Theatre website.
SATURDAY
LULAC's Cinco de Mayo Parade
10 a.m. near Minute Maid Park
Houston's Cinco de Mayo Parade, put on by a local chapter of the League of United Latin American Citizens (LULAC), is back after a three-year hiatus caused by the COVID-19 pandemic. Thousands of spectators are expected to gather for this year's event, which celebrates Hispanic heritage and culture and will be televised locally by ABC13.
The grand marshals are Houston Mayor Sylvester Turner and former Houston Astros star Jose Cruz. The parade starts at Texas Avenue and Hamilton Street next to Minute Maid Park before going around part of the ballpark and ending up a few blocks to the northeast at the intersection of Hamilton and Franklin Street.
Visit the LULAC District VIII website for more information.
East End Street Fest
Noon-6 p.m. on Navigation Esplanade, 2600 Navigation Blvd.
All of Houston is invited to celebrate Cinco de Mayo on the East End, where there will be a vibrant mix of music, art, food and culture representing Mexican and Chicano heritage. A variety of local singing and dancing acts will perform on multiple stages and plazas, and there also will be a "Show & Shine" vehicle display and a Plaza de los Ninos featuring activities for children.
More than 30 food and art vendors also will be on hand for the street festival, where admission is free.
Visit the East End Street Fest website for more details.
Cinco de Barko
Noon-2 p.m. at Houston Bark Park and Daycare, 4905 Maxie St.
Furry, four-legged Houstonians can celebrate Cinco de Mayo in the Heights, where there will be a piñata filled with dog treats and "Barkaritas" made with chicken broth. There also will be bubble cannons, a chihuahua race and tequila tasting for humans.
Dogs must be on a leash and up to date on their vaccinations for this free event. More information is available at the event page on Facebook.
SUNDAY
Tacos Over Texas
11 a.m.-5 p.m. at Laurenzo's El Tiempo Cantina on Navigation, 2900 Navigation Blvd.
A day after the East End Street Fest, the party on Navigation Boulevard continues with Tacos Over Texas, a competition and fundraiser for the Ninfa Laurenzo Scholarship Fund. There will be food trucks, margaritas and other drinks, musical performances, folklorico dances and a VIP area.
General admission is free, with VIP tickets available online for $250. Tickets and more information can be obtained at the event website.
Cinco de Mayo Celebration at Traders Village
Noon-5 p.m. at Traders Village, 7979 N. Eldridge Pkwy.
There will be a mix of cumbia, mariachi, merengue, Tejano and salsa music performances at Traders Village, where there also will be traditional foods and fun activities.
Admission is free, and parking is $5. Visit the Traders Village website for more details.