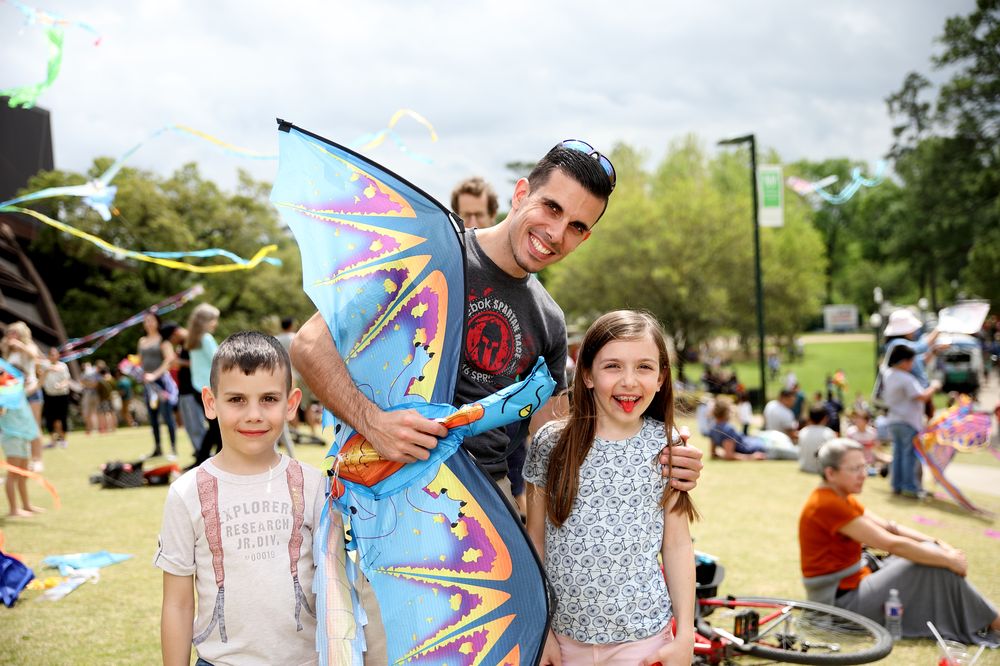 The Houston area is ringing in the first weekend of spring with a series of family-friendly outdoor events, including two kite festivals, a music festival for children and the annual Bayou City Art Festival at Memorial Park.
The weather should be mostly conducive for these outdoor celebrations, particularly on Saturday, when the forecast calls for sunny skies and a high temperature in the mid-80s, according to the National Weather Service. There are chances for rain on Friday evening as well as on Sunday, although temperatures should still be pleasant.
Here's a rundown of what's going on in and around Houston:
Bayou City Art Festival Memorial Park
10 a.m.-6 p.m. Friday-Sunday, South Picnic Loop on Memorial Drive
Billed by organizers as the nation's premier outdoor art festival in the spring, this year's event includes 300 artists from across the United States, with the featured artist being Dewey James of Minneapolis. Visitors can view and purchase a wide range of art pieces while also experiencing live music, food trucks, a craft beer and wine garden, a four-hole miniature golf course and kids' attraction such as oversized bubbles and a caricature artist. The event is largely cashless, with no ATMs on site, so plan to bring other forms of payment.
Tickets are $20 for adults and $5 for children ages 6-12 and must be purchased online in advance at www.bayoucityartfestival.com. There is no on-site parking at Memorial Park. Event ticket holders can park at the Brookhollow III Parking Garage at Northwest Mall, 2053 East Governors Circle, at a cost of $25 per vehicle, which includes covered parking and shuttle rides to and from the festival.
Tomball German Fest
6-10 p.m. Friday, 10 a.m.-10 p.m. Saturday, 10 a.m.-6 p.m. Sunday at 201 S. Elm St. in Tomball
German food, beer and wine, live music and dancing and more than 140 vendors highlight this weekend-long festival in Old Town Tomball, which is northwest of Houston. There are four stages for performers as well as activities for kids at this family-friendly event, where leashed pets also are welcome.
Admission is free. Beer sales are cash only, while most vendors accept credit and debit cards. There also is free parking with a free shuttle running Saturday and Sunday from the east parking lot of HCA Houston Healthcare Tomball, 605 Holderrieth Blvd., in addition to street parking near the festival site.
Visit www.tomballgermanfest.org for more information.
International Art & Kite Festival
10 a.m.-3 p.m. Saturday at The Crown Festival Park, 18355 Southwest Fwy. in Sugar Land
An array of activities and attractions are planned for this free event celebrating community and culture, such as music and dancing, henna and face painting, local food and drink, art cars, fireworks, train rides and kite flying, with a kite-flying competition scheduled for 10-11 a.m. There also will be games for kids, an exhibit featuring international animals and a collection of artisan vendors.
Admission is free, with onsite parking available at both Crown Festival Park and Brazos River Park. A shuttle will run from University of Houston-Sugar Land from 9:30 a.m.-3:30 p.m.
More details are available at https://www.sugarlandtx.gov/1719/International-Art-Kite-Festival.
Heights Kids' Day of Music
10 a.m.-2 p.m. Saturday at Montie Beach Park, 915 Northwood St.
Children are front and center at this annual music festival in Houston's Heights neighborhood, with the event moving to a new location this year. There will be performances on three different stages, with the Houston Symphony, Houston Grand Opera and Opera in the Heights among those slated to perform along with tribute bands playing the songs of The Beatles and Selena. There will be interactive musical activities as well, including a "Joy of Drumming" tent.
Admission and parking is free, and wristbands can be obtained online in advance at https://heightskidsdayofmusic.org/. Food vendors will be on site, but visitors are welcome to bring their own snacks and drinks as well as blankets and chairs.
Celtic Celebration
1-9 p.m. Saturday at Kemah Boardwalk, 215 Kipp Ave. in Kemah
A week after St. Patrick's Day, the Kemah Boardwalk will continue to celebrate Irish culture with live musical and dancing performances, along with a collection of vendors and crafts and games for children. There also will be beer and bagpipes.
Admission is free for the celebration. Visit https://www.kemahboardwalk.com/featuring/celtic-fest/ for more information.
Hermann Park Conservancy Kite Festival
10 a.m.-3 p.m. Sunday at Miller Hill and Jones Reflection Pool, Hermann Park
Wrap up your weekend at Hermann Park, where kites will be soaring in the sky. Down on the ground, there will be live music and a DJ along with interactive games and activities, including face painting.
Admission is free for the event, with more information available at https://www.hermannpark.org/calendar/annual-hermann-park-conservancy-kite-festival/.