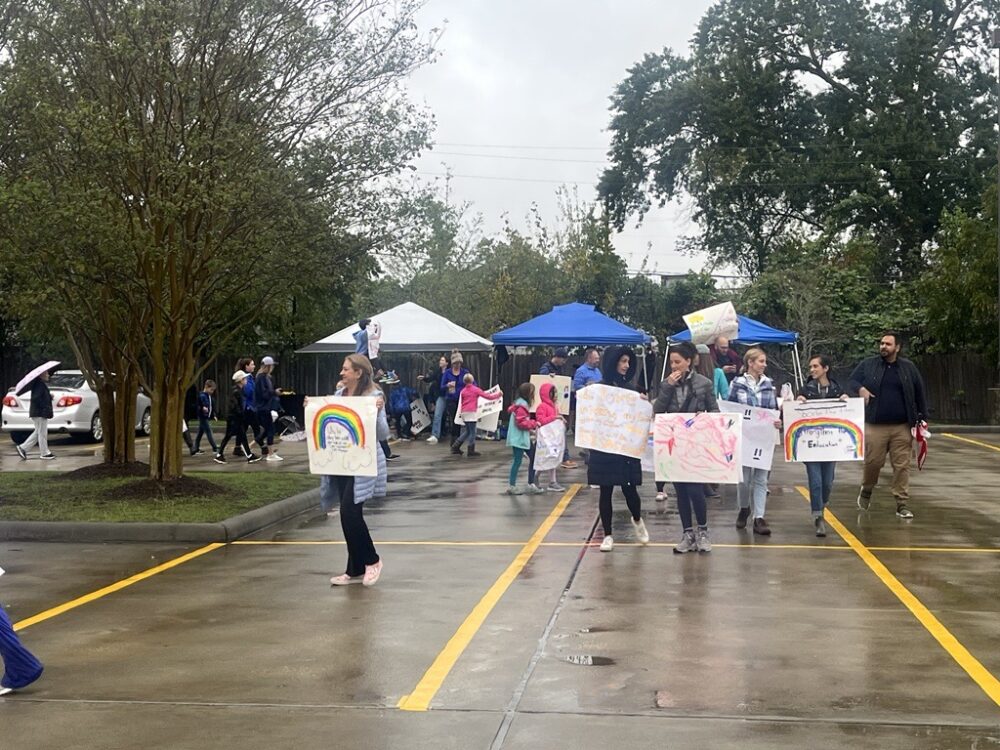 Parents gathered outside of Tomball ISD's administrative offices today to protest what they say was a bait and switch, as the district plans for the construction of a new campus for fifth and sixth graders on a lot located far from many residents.
Of the around 30 attendees, many of them were from the Creekside neighborhood in the Woodlands, and said they supported a bond that passed in 2021 to build a new school in Tomball ISD. Also in 2021, the district purchased a 70.45-acre property, formerly owned by now-defunct oil service company BJ Services, for $39.5 million. A high school, Tomball Star Academy, has already been built on a portion of the land. The district is now proposing building a new campus for fifth and sixth-grade students on the property, located at the corner of FM 2920 and Hufsmith-Kohrville Road.
However, Creekside parents said the site the district has proposed for the Tomball Innovation Center would rezone many Creekside families to the campus six to nine miles away, creating long commutes.
"When we bought our house and decided to live in Creekside, a huge part of that was having our schools close to us," said Kristen Field, a mom to two kids in the district. "But when Tomball ISD says they're going to build a new school that could be a 20 or 40-minute car ride away, that's a huge difference."
MORE: A Tomball ISD parent discusses this story on Houston Matters
Field said, right now, her family and a group of neighbors like to ride bikes with their kids to school just a short distance away. She worries, that with the new commute, bike rides to school may no longer be feasible or safe for kids in Creekside.
Laura Alexander is a mom to two elementary schoolers in Creekside, one of whom would get to middle school by the time the TIC is built. She says if the new school is built in its proposed location, she won't send her child there.
"Don't send our kids on a bus for an hour. We live right across the street from a school, so why are you rezoning us 10 miles away?" said Alexander. "I'd either move, homeschool, or send my kid to private school for two years."
Other parents said they are concerned about long bus rides, since as it is, school districts across the country are experiencing bus driver shortages.
"In our community right now, we already have some buses that are going a mile and taking 40 minutes to an hour to get kids to school," said Julie Peschang, mom of two in TISD. "I live a half mile away from the junior high where my kids were going to go, and now they're going to have to ride a bus for probably two hours a day, and that's not what I voted for."
Alexander and Peschang said they want the district to look for options within the Creekside community for a new campus or expand an existing one.
However, a spokesperson from Tomball ISD said the district has explored options within Creekside but that this property has been determined to be the best option for building a new campus.
"Our student enrollment is exceeding building capacity in many areas of the district. To provide needed enrollment relief, Bond 2021 was proposed and passed to build new schools to accommodate current and future growth," said the district spokesperson. "New schools are the impetus for boundary rezoning."
The spokesperson said TISD has begun modeling bus routes for Creekside students using the bus routes currently used by high schoolers from Creekside attending Tomball Star Academy. The district reported that a Creekside student who gets on the bus at the farthest stop from the TIC would have an estimated 40-minute bus ride, while a Creekside student who gets on at the closest stop would have an estimated 17-minute bus ride.
"These travel times are consistent with the commute other students and families are experiencing in the district," said the TISD spokesperson.
Tomball ISD's board is set to vote on the proposal at its regular meeting on Tuesday at 5:30 p.m.