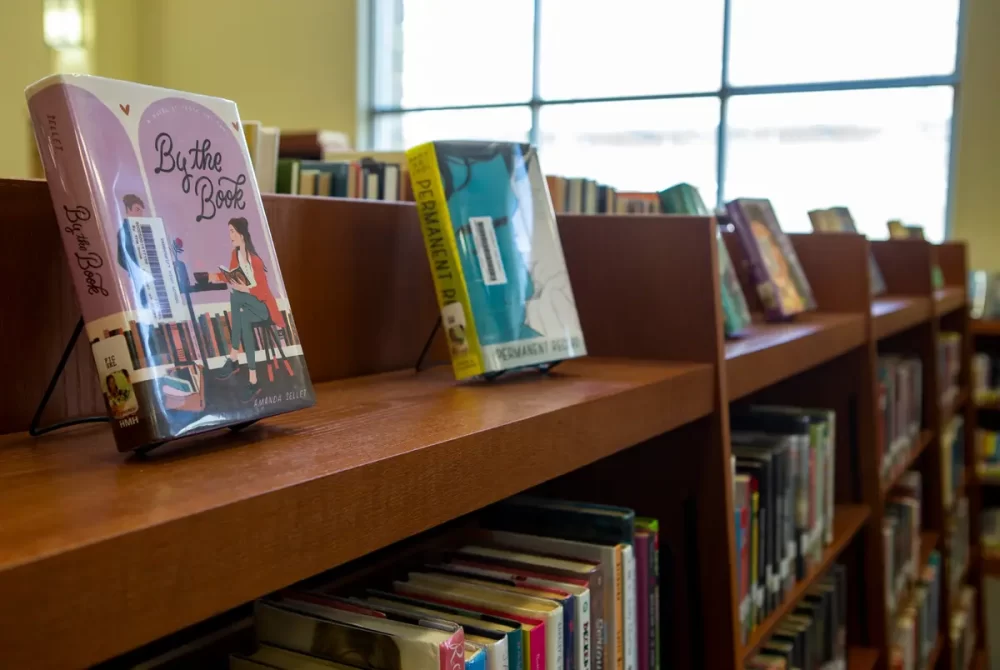 Six hours into a marathon school board meeting Tuesday night, Conroe school district trustees overwhelmingly approved revisions to a controversial library book review policy that lets trustees have the final say on which books can stay on the shelves.
Trustees also approved a motion to remove the graphic novel "Drama" by Raina Telgemeier from its intermediate and junior high schools after complaints from parents. The book had previously been removed from the district's elementary schools, and is now only in Conroe high schools. The book has sparked national controversy and has been the target of other book bans.
In a reconsideration request form, one district parent said she doesn't recommend the graphic novel for all ages. The book is listed on Barnes & Noble for 10 to 14-year-olds. She cited specific instances in the book of a boy and girl kissing and a boy having a crush on another boy.
The reconsideration went through the dedicated committee first, which made the decision it should stay on intermediate-level shelves. The parent appealed the committee's decision, claiming the school is "complicitly grooming and sexualizing children."
The school district has removed 125 books from its catalog of 1.2 million library books.
An award-winning novel, the book follows the story of a middle school girl in charge of set design for her school's play. She endures typical middle school antics like drama, friendship and middle school crushes in her efforts to put on a set worthy of Broadway on a middle school budget, according to Barnes & Noble.
The district has received at least four reconsideration requests this year, according to the library services webpage. And while one book is pending the review of the reconsideration committee, steps towards actually removing books from school collections just became a little longer with the passage of the revised policy Tuesday night.
The district already has a committee in place to vet reconsideration requests on books in school libraries, but recent renditions to the controversial policy give district trustees more say on library books in question. The reconsideration committee is already stacked with educators and parents.
The new policy adds more clearly defined language on "sexually explicit" books that can be subject to removal from libraries, and gives only one school board trustee a green flag to appeal any decisions made by the reconsideration committee.
The policy language says books can be removed if they include "sexual acts, normal or perverted" and "patently offensive representations or descriptions of masturbation."
Trustee Datren Williams said the school board is being "overwhelmingly naive and delusional" by passing an amended version of the already controversial policy.
"The reality is we are saying we don't trust (librarians)," he said. "We're saying we're better equipped to do your jobs. We have not had this problem in the 11 years that I have been on the board, this is all a sudden a problem."
"The only way to eradicate it 100 percent is not putting a policy in place that says teachers take sexually explicit material out, which they are already doing, it's to close the libraries."
Trustee Stacey Chase said Tuesday she has received emails from a community member every day for the last two weeks of specific library books he feels are inappropriate.
"Let's say he sends us a book a day every year," she said. "That's like 400 books… this is less than one percent of our total books."
"What I find hard to swallow here is the amount of hours we spend talking about one percent of books is really crazy," she said. "Like, does that not seem crazy to y'all? Now we want to adopt a policy that is going to expand those systems and those hours even more. That seems completely at odds with reality."
Now that policy was revised to allow for email notifications to parents regarding library books checked out by their children and requiring parental permission for secondary students to access books in classroom collections.
"This policy does nothing other than increase the authority of the board to bring forth stuff that is already been deemed appropriate by the librarians," Trustee Datren Williams said.
Parents, students and other community members also turned out in droves Tuesday night to voice both opposition to the library book being removed, and approval to the school board upping the district's library book policy.
"In less than two years, I will be given the legal ability to drive a vehicle weighing up to 26,000 pounds and all of the responsibility that comes with driving," Juliet Loftis, an eighth grade in the district said.
"These are normal things we do in society as we progress into adulthood," she said. "We are slowly maturing and being exposed to more of the world around us. We are given independence and more responsibility as we develop trust with the adults around. If we are expected to do all of those things, shouldn't we be trusted to choose the right books for us?"