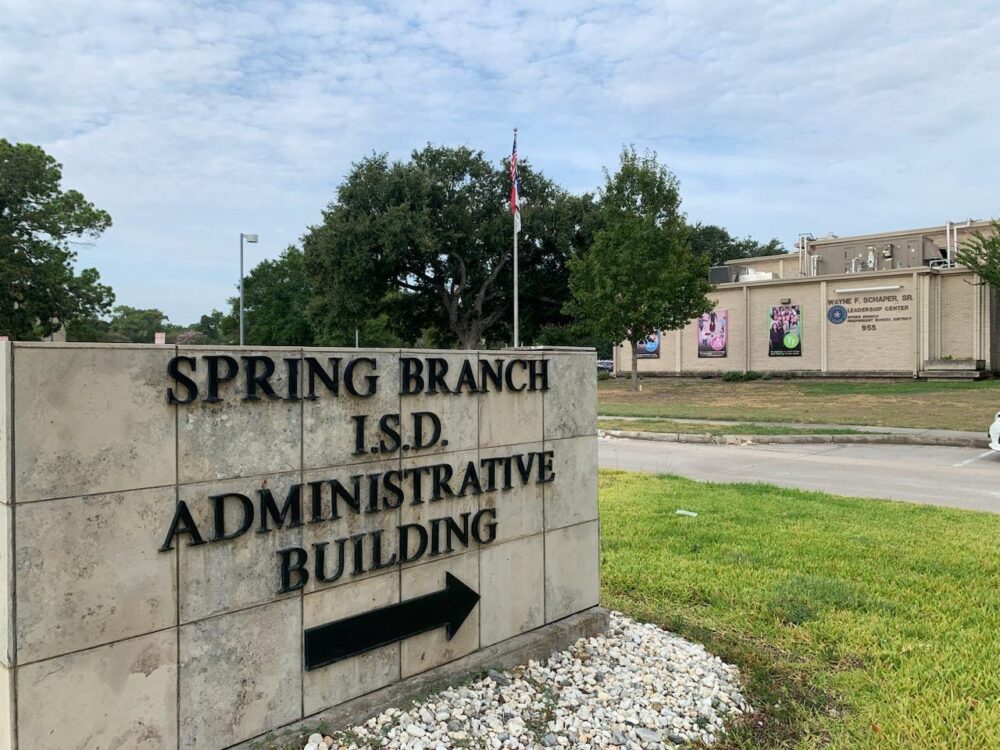 Spring Branch parents and students were at the forefront of a board meeting shutdown Monday ahead of discussions on closing a number of economically disadvantaged schools to address a multi-million dollar budget deficit.
The board wasn't slated to vote on campus closures until later in the month, but the Monday meeting shutdown opened a door for trustees to take up reconsidered proposals on budget cuts at the rescheduled meeting Nov. 27 while legislators are on the calendar to vote on some increases to public school funding as soon as Friday.
"We are grateful for our community's engagement and the 127 individuals who registered to provide public comment as we face very difficult budget decisions," Jennifer Blaine, Spring Branch Independent School District superintendent said in an email to parents after the abrupt meeting. "However, it is our responsibility to ensure safety and security for all."
WHAT'S IN THE PLAN?
The district plans to implement a number of cuts in an effort to address its budget deficit, which they outlined in a dedicated webpage. Trustees have already voted in favor of pausing the final 2017 bond construction projects of four remaining elementary school rebuilds. They have also approved pre-K tuition increases, high school realignments and increases to student-to-teacher classroom ratios.
Now looming are campus closures that could displace about 1,500 economically disadvantaged, Black and Hispanic students. Parents vocal in the matter have said the district is intentionally only targeting schools north of Interstate 10, in notably economically disadvantaged areas of town.
Schools at risk of closing:
Treasure Forest Elementary School
Panda Path School
YES Prep Northbrook Middle School
YES Prep Northbrook High School
KIPP Courage at Landrum Middle School
They'll carry out those plans by increasing enrollment at three other schools but haven't yet taken up discussions on how they plan to fit the hundreds of displaced students into existing campuses.
Trustees are also planning to workshop discussions on dissolving a district charter school partnership, which they say will save about $7 million.
Sophia Santos, a Spring Branch ISD student has found a safe haven at YES Prep Northbrook High School. She said she has severe dyslexia and was failing all of her classes before attending YES Prep, where she has academically grown and found a spot on her grade's honor roll.
"This program allowed me and students alike to achieve greatness," she said. "With the SKY program, our future is ensured, however without the sky program, my future will not be ensured due to the fact that the trustees suggest solutions that are not mathematically sound."
Spring Branch district officials majorly blame the $35 million budget shortfall on Texas legislators who have failed to increase public education funding.
"We recognize that the budget situation is creating stress and a sense of loss across our district as difficult decisions are considered," Blaine said.
Blaine said in a school board meeting earlier this month that details of additional budget-cutting plans can't be publicly addressed because they involve "reducing personnel numbers."
THE LEGISLATURE
On the Friday agenda for Texas lawmakers, a boost in money dedicated towards creating a state school safety fund and school voucher programs. If all goes to plan, Texas public schools could see an increase in the amount of money the state dedicates to districts per pupil. The state currently dedicates $6,160 per student to districts, an amount that hasn't changed since 2019.
House Bill 1
The first bill in discussion relates to certification, compensation and health coverage of certain public school employees, funding towards the public school finance system and the establishment of an economic savings account program, among other things. The bill has been touted for encompassing Texas Governor Greg Abbott's year-long plan for a move that will dedicate public school dollars to private education.
House Bill 2
House Bill relates to measures for increased funding for safety and security across public schools.
Trustees will resume discussions on school closures and other budget-cutting methods on Nov. 27, which will be followed by a vote at a later date.
"KIPP has been committed and remains committed to our partnership with Spring Branch ISD," Eric Schmidt, a leader of KIPP public schools said in a statement. "We opened the school assuming it would be around for 30-plus years. We know the current budget realities are hard but given the choice we would expand the work we do with SBISD, not end it. Our families and our community are that important to us."