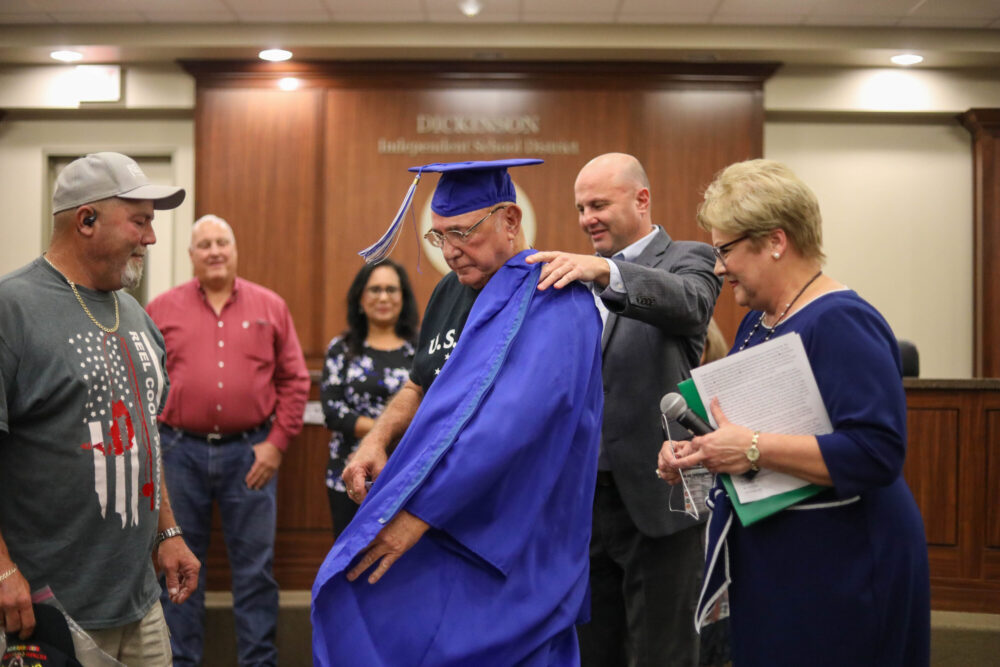 60 years after veteran George Philips dropped out of high school to join the U.S. Navy, he slipped into a royal blue graduation cap and gown to be presented a high school diploma in front of his friends and family.
In an unlikely graduation ceremony, 77-year-old Philips was presented his new diploma at a Dickinson Independent School District school board meeting on Tuesday evening as three junior high band students celebrated his arrival with "Pomp and Circumstance."
"We can go to school each day, we can choose which church we want to attend and we can live wherever we want to live because of the continuous sacrifices that have been made by veterans to protect us and to defend our rights," Dickinson Superintendent Carla Voelkel said.
Philips was a student at Dickinson High School in the 1960s when he played in the school's undefeated 9th-grade football team. He dropped out in 11th grade to join the Navy to serve in the Vietnam War for three years. Philips was awarded a Vietnam Service medal and a National Defense Service medal and took home a GED during his time in the Navy.
He's since raised a son and grandson to follow in his footsteps as Dickinson ISD football players.
The school district organized the celebration Tuesday after Philips mentioned to a friend, Mary Jane Musick, that he was regretful for never receiving his high school diploma.
Musick said she learned the Texas Education Code permits school districts to issue high school diplomas to veterans who meet certain qualifications. That's when she reached out to the district.
"Miss Musick is a wonderful friend," Voelkel said. "She did her research."