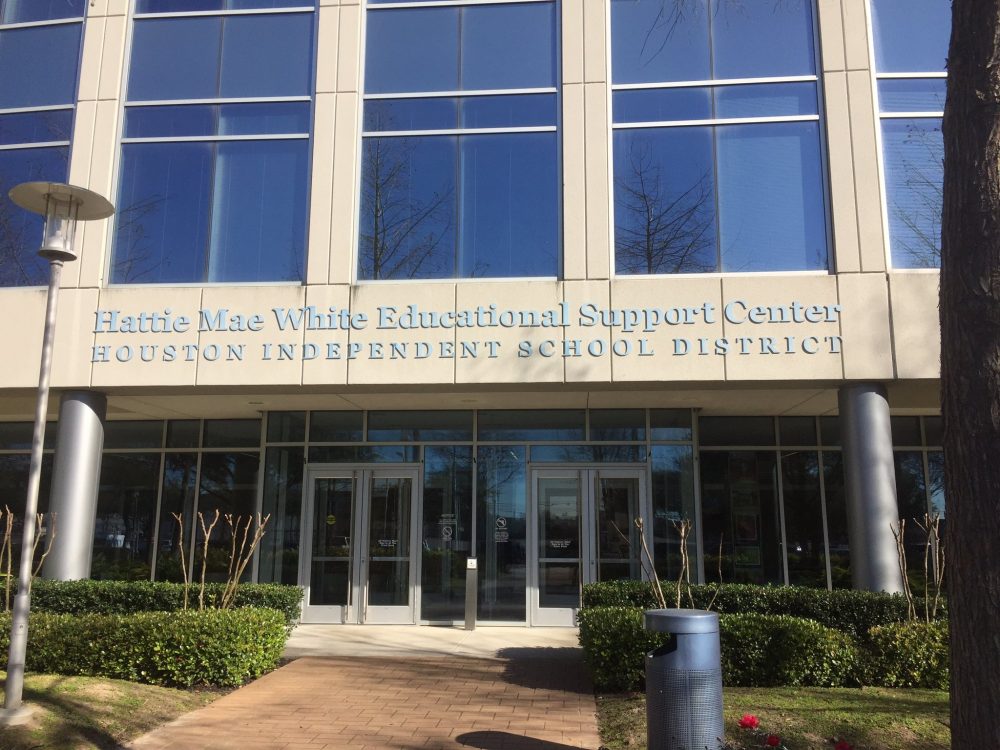 Among the many challenges school districts face is how to account for rising or dwindling student body populations. Two area districts are experiencing this right now, heading in opposite directions.
Conroe ISD's student body has been growing by about 1,500 students a year – enough to open a new campus every school year, according to a recent report by the Texas Tribune.
On the other hand, Houston ISD's population has been dwindling and is expected to drop further in the coming years, according to continued reporting by Houston Public Media.
Houston Matters host Craig Cohen talked to Dr. Duncan Klussmann, a clinical assistant professor of educational leadership and policy studies at the University of Houston, about how a superintendent and school board navigate such changes. He was formerly the Superintendent of Schools in Spring Branch ISD.
In Texas, the school funding system is based on enrollment projections and average daily attendance. In a school with a 95% attendance rate, the school will receive funding for those percentage of students only, Klussmann said.
"Everything you're doing is based on projections, and if your projections are off by a small percentage, it can greatly change the type of funding that you have coming into the system," he said.
The enrollment projection reports are due in October, making it a big month for school districts.
"Those reports are due to the state this month to get kind of official enrollment accounts. And they're really trying to clean that up so that they can then have good numbers," he said.
In addition to the funding, projections also help determine how many teachers are needed in the classroom for the school year.
While projects have been tricky in the past, since the pandemic it has gotten harder to get an accurate number.
"They're going to look at a five-year trend of enrollment and then they're going to project the next year based on that trend," he said. "Again, because of the pandemic in the last five years, that's very hard to get a good accurate number today."
Conroe is a fast-growing district. The school board approved a $1.9 billion bond proposal that voters are taking up this election. It would mean taking on that debt to fund the construction of eight new schools, additional classroom space, new technology, an outdoor swimming pool, and other renovations.
But the school district has a much harder task than just getting voter approval.
"If there's growth, hire more teachers, more staff, more administration. Just the hiring process itself. How big of a task can that become year over year," Klussmann said.
Districts also want to be careful while they are adding new buildings because a fast-growing district needs to meet the demand, yet they don't want to have a campus that has the physical building, and as many portables as the physical building, he said.
In the case of Houston ISD, the largest school district in the state and one of the largest in the country, the decline in enrollment is a combination of post-pandemic issues and uncertainty in the system, Klussmann said.
"We're struggling with enrollment declines following the pandemic. But they're not only trying to implement new innovative programs that are costly, but they're now in a situation where less students have shown up for those programs, so there's less funds for them," he said.
It's critical for HISD to be able to build a working relationship within its administration and staff and parents during declining enrollment numbers, Klussmann said. He added that people need to trust their schools and its leaders, and the information they receive.
"When we put information out as public entities and then we change it constantly, we just break down that trust and that trust is critical. If we want to move forward and do great things for kids," he said.