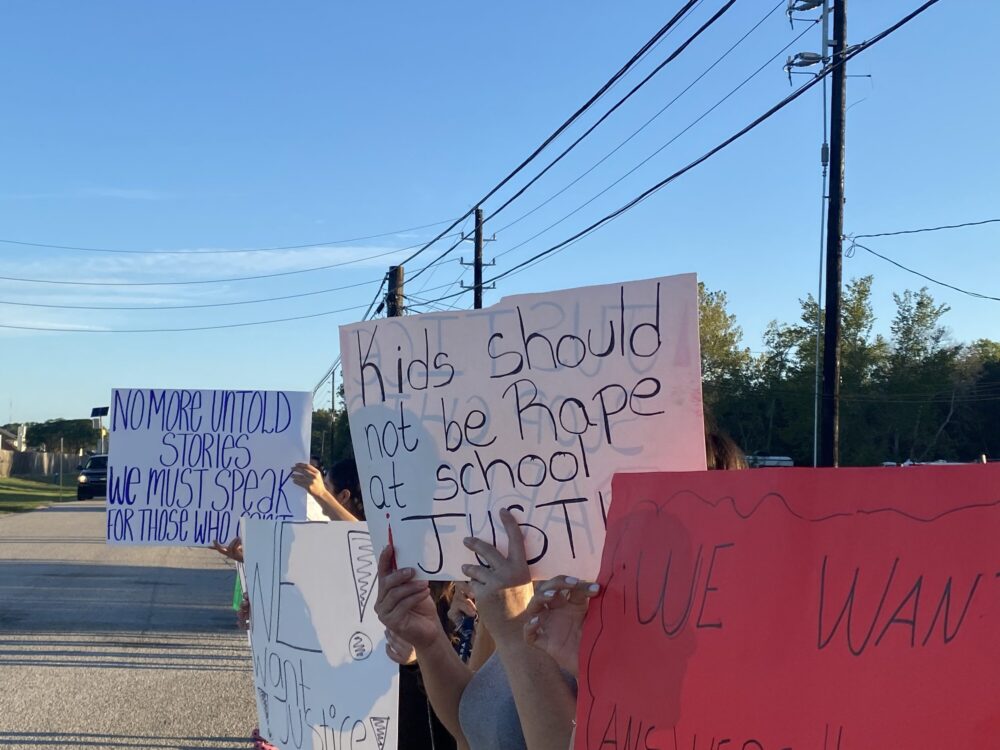 An investigation of a Fort Bend elementary school teacher determined allegations of his inappropriate conduct with a student were unsubstantiated, school district spokesperson told Houston Public Media Thursday, and the investigation was dismissed.
"Upon learning of allegations of possible mistreatment of a student, the district immediately launched a thorough investigation, conducted by FBISD Human Resources, FBISD Police, Child Protective Services, medical professionals, the District Attorney's Office, and Children's Advocacy Center officials. All investigations from every agency concluded the allegations were unsubstantiated," Sherry Williams, spokeswoman for Fort Bend Independent School District said Thursday.
When investigations determine allegations unsubstantiated, school district staff members are no longer on leave status and may return to their duties, Williams said.
Families protested Thursday morning after the school district released news that a Fort Bend elementary school teacher is under investigation after being accused of misconduct with students, the school district said in a statement to parents Wednesday evening.
Just hours later, the district said the investigation was dismissed.
"I am writing to make you aware that allegations of inappropriate conduct have been made against a teacher," Rhonda Mason, Assistant Superintendent of Elementary Schools at Fort Bend Independent School District said in the statement to parents Wednesday evening. "I assure you Goodman Elementary and Fort Bend ISD take these matters very seriously. As a result, our Fort Bend ISD Police Department and the district's Human Resources department have begun conducting a thorough investigation."
Charges were not made against the teacher, and the district did not say when the investigation was opened.
"The teacher is no longer on the campus and will remain on leave pending the findings of the investigation," Mason said Wednesday. "We are aware that rumors have begun to circulate regarding the number of children in this case. Please know that our investigative findings so far have found that the matter involves one child, whose parent is in contact with the district."
Around 30 parents and elementary students lined the main road outside of Goodman Elementary on a muggy Thursday morning, many bearing signs alerting passersby of recent allegations and a lack of transparency.
"WE WANT JUSTICE!," one sign reads. "No more untold stories, we must speak for those who can't," another reads.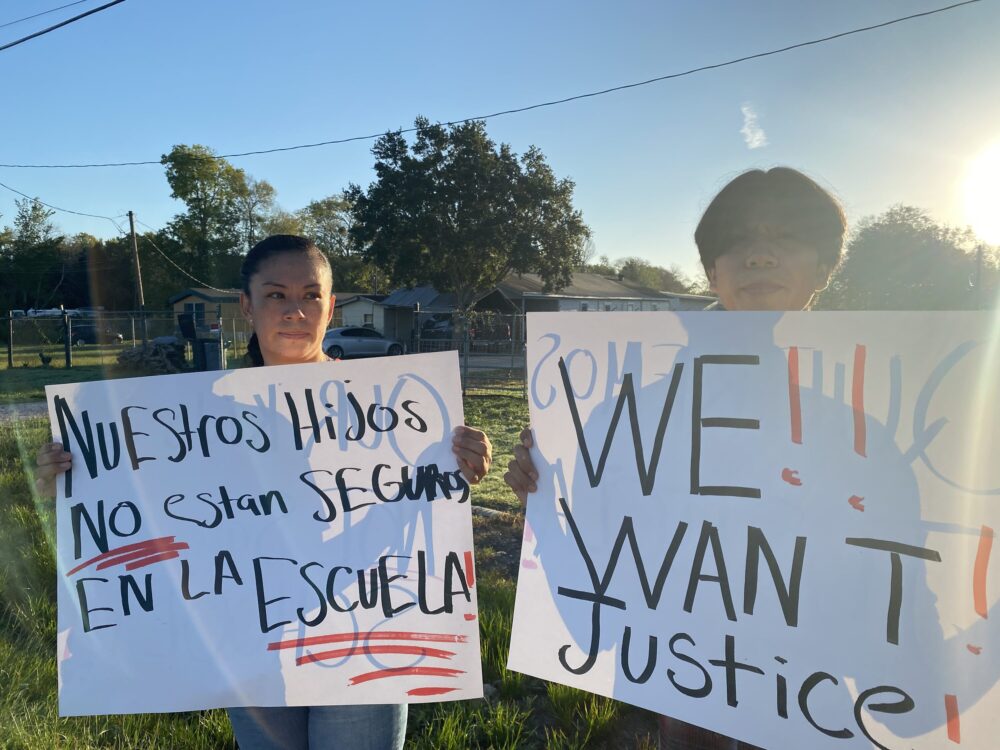 One Lula Belle Goodman Elementary parent said that she made allegations against the same teacher last year, and accused him of being inappropriate with her daughter. She requested the school district remove that teacher, but no action came from an investigation into the allegations after it was dropped a month later, ABC13 reported.
"Angry, I feel angry," said Laura Aguilar, a parent who has a daughter in the teachers class.
"My heart literally dropped when they told me that this has happened since last Wednesday and I am at home thinking that my kid is safe with this teacher, you know, that she likes," she told Houston Public Media Thursday morning.
Aguilar said more accusations were made last week, but the school district did not release information about a pending investigation until Wednesday.
"I found out on Tuesday around 9:30 or 10:00, she said. "I came to the school around 10:30 or 11:00 and picked up my daughter."