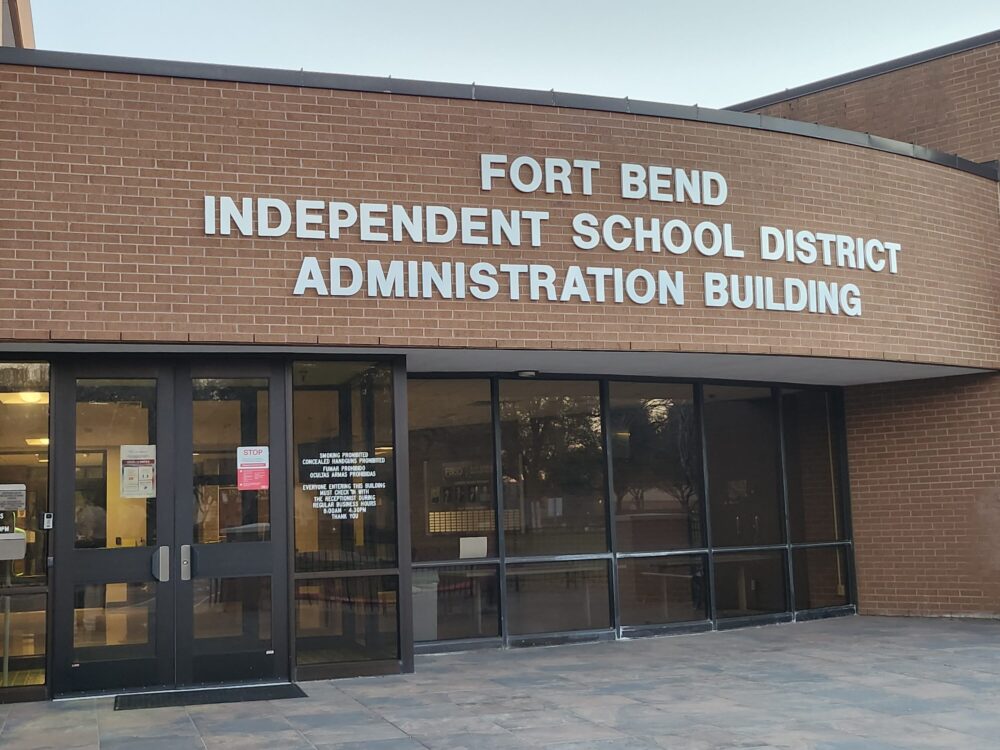 One of the largest school districts in the Houston area is asking parents and community members to be vigilant after five guns were found on its high school campuses during the first month of the school year.
Two students were in possession of guns and arrested Wednesday at Bush High School in Richmond – with one of the weapons being loaded – according to Fort Bend ISD, which serves more than 80,000 students across 83 campuses in a suburban area southwest of Houston. Students at Crawford and Dulles high schools were found with guns in their backpacks on the same day in August, and the following day an adult had a gun in the Marshall High School parking lot after an evening athletic event on campus.
"Obviously, this is very concerning," school board president Judy Dae said Thursday. "The safety issue is really our highest priority for Fort Bend ISD."
There were no injuries associated with the incidents, according to Fort Bend ISD, which said the adult and all four students were arrested and that criminal charges have either been filed or are being pursued in each case. The district has not named any of the people involved but said the four students were removed from their campuses, with Dae adding that some will be allowed to return after a period of time while others will not.
Dae said she was not aware of any connections between the students who brought guns to their schools. She also said she did not know why there have been so many gun-related incidents in the district during the early part of the school year, but Fort Bend ISD leaders and police plan to collaborate to determine the reason or reasons behind the trend.
Fort Bend ISD superintendent Christie Whitbeck was previously tasked by trustees with creating a districtwide campus security action plan, which is expected to be presented to the board in the near future, according to Dae.
"As a district, we urge all parents, guardians and community members to please partner with us by knowing what your child is bringing to and from school," Fort Bend ISD said in a Thursday statement to Houston Public Media. "For those parents who are gun owners, we ask that you exercise responsible gun ownership, which includes knowing where your firearm is at all times and making sure that it is locked and away from any child's hands."
Fort Bend ISD is among the school districts in the Houston area and Texas at large that are trying to comply with a new state law requiring all public schools to have at least one armed security officer present during school hours, which was in response to the mass shooting at a Uvalde elementary school in 2022, when 19 schoolchildren and two teachers were killed by an 18-year-old gunman with a semiautomatic rifle. Deputy superintendent Steven Bassett told Houston Public Media in August that Fort Bend ISD was struggling to fill all its security officer vacancies, at least partly because the cost of hiring new officers is much greater than the $15,000 per campus allocated by the state.
Bassett said in the days following the Aug. 9 start to the school year that the district had 15 vacancies for security officers. There were 12 such vacancies as of Thursday, according to a spokesperson for Fort Bend ISD. Dae said the funding is in place to fill all those vacancies, "but we just cannot find the people."
The district said in its statement that community members can submit school-related crime tips to the district police department at 281-634-5500 or FBISD Crime Stoppers at 281-491-8477.
"Our police department follows through on every tip and will continue to investigate every report of unsafe behavior at our schools and facilities," the district said.
Fort Bend ISD also said it is encouraged that in each of the aforementioned incidents involving gun possession on its campuses, school administrators were notified and able to act swiftly to keep other students and staff safe. The gun found in a student's backpack at Dulles on Aug. 15 also was loaded, according to the district.
"It is always of the utmost concern when the safety of our schools is potentially compromised in any way, whether intentionally or unintentionally, and we take all threats seriously," Fort Bend ISD said.