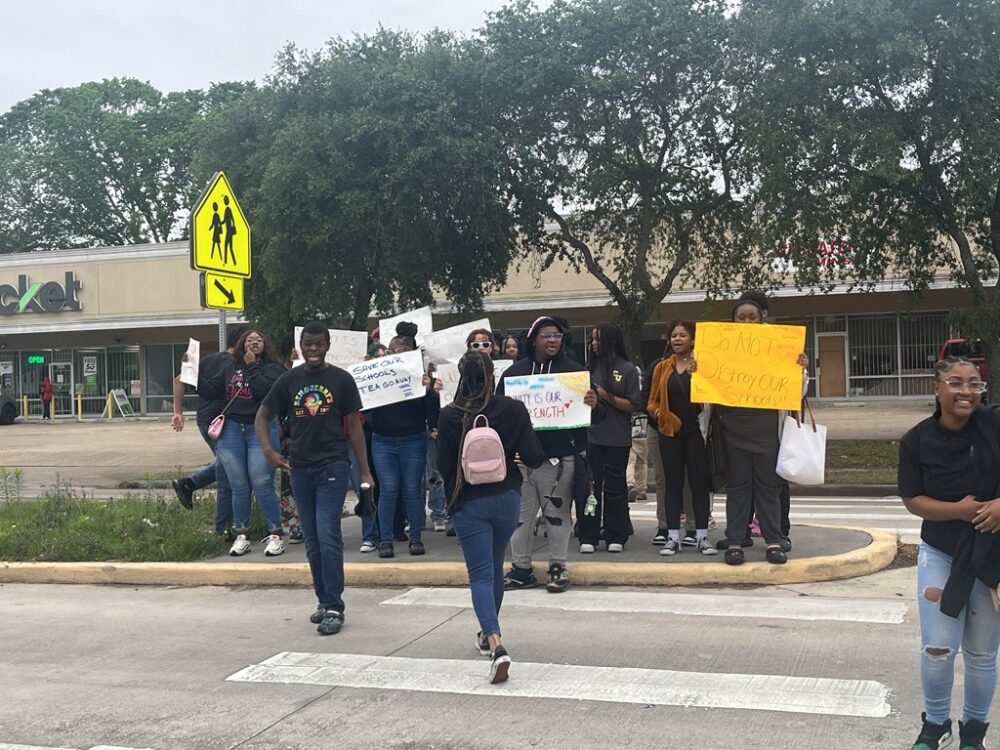 Parents and students at 30 schools around Houston gathered on Thursday to protest the Texas Education Agency's takeover of HISD that was announced last month. TEA plans to oust the district's elected school board and, instead, appoint a board of managers.
Parents stood outside during morning carpool at Wharton Dual Language Academy, holding signs and chanting "What do we want? Justice! When do we want it? Now!" Occasionally, passing cars would honk in assent, garnering cheers from those gathered.
Audrey Nath is a pediatric neurologist and mother to a kindergartner at Wharton. She says her main concern is for the future of the district's special education program.
"The TEA has said that the only way we can come out of state control is if HISD special education meets federal regulations. However, the TEA itself is under sanctions for hamstringing our special education program," she said. "Instead, they should invest money into the district's program. All of the problems we have could be solved with more investment."
Ron Seamers has a grandchild at Wharton and says the takeover represents everything that traditional conservatives should be opposed to.
"It's big government stepping in and taking away rights from individual communities," he said. "It's basically taxation without representation."
He said he worries that a board of unelected directors will not be responsive or accountable to taxpayers.
Students around the district also voiced opposition to the takeover.
At Worthing High School on the south side of the city, hundreds of students walked out of the school at 10 a.m., some standing on a median on the road in front of the building and waving signs to passing cars.
Worthing Freshman Micah Gabay has been involved in several community events opposing the TEA takeover. She fears that it will push students into charter and private schools, leaving students who cannot afford those options without needed resources.
In Austin, legislators are divided over the creation of education savings accounts, which would give families who opt out of the public school system up to $8,000 to be spent on private education. Gabay said that is still not enough money for many students to be able to afford private education,
"They're going to give us money, but we can only use that money for private schools. They're not going to give us enough money to go to private school, so we'll have to come up with the rest of the money ourselves," she said. "But a lot of the kids can't afford that."
Other students at Worthing complained that TEA was too disconnected from their school and community to best serve their needs.