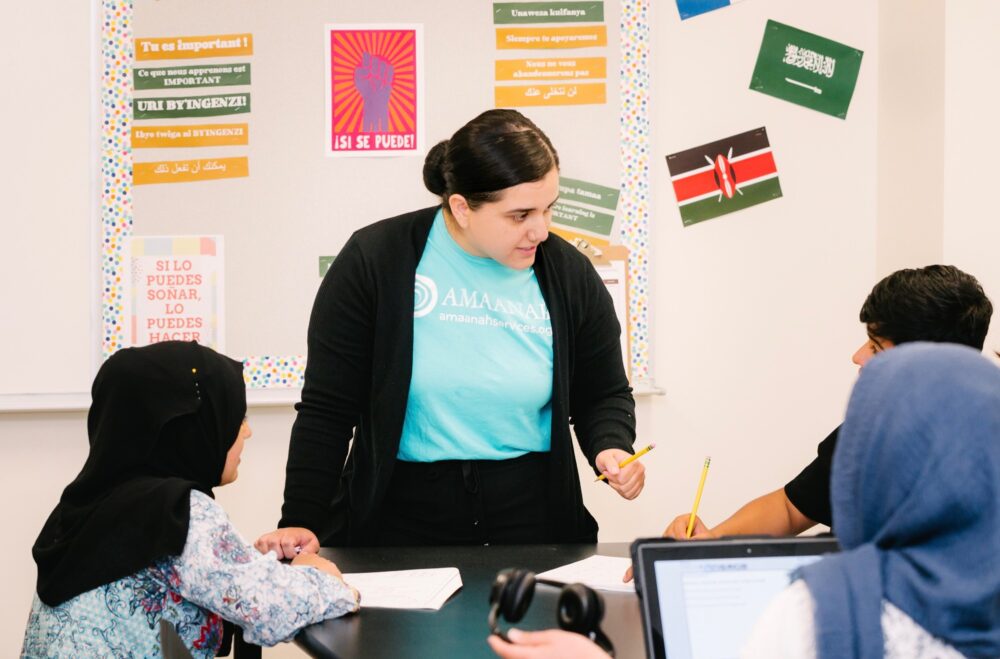 High school is tough. But for Afghan refugee students in Houston, it poses more than just the typical teen challenges.
Many students who fled the Taliban in the wake of the U.S. military withdrawal have faced discrimination and bullying stateside. They carry the stress of leaving their home and trying to adapt to a new culture in Houston, while also dealing with pressures outside the classroom.
More than 5,000 refugees have resettled in Houston. Among them, brand new students to Houston's schools who are adapting to a new environment.
"At times they do feel out of place," said Sofia Nessary, a mentor with the nonprofit Amaanah Refugee Services. "Some of them feel like they have to change who they are so they can fit in and be accepted."
Amaanah was among those that worked with Afghan students who came from abroad. The group helped more than 800 refugees this past school year on more than 50 campuses. It offered in-class support for K-12 students new to Houston after fleeing their homeland as control reverted to the Taliban. The organization also hired Afghan refugees as mentors to provide support for younger students.
But the transition wasn't easy for many students. Nessary, one of the mentors, said the adjustment to a new country and school system was different for everyone. But the culture shock was common, she said.
She recalled an encounter with one of her mentees who told her he wanted to change his name to an "American one" so he could feel more accepted.
Along with the struggles of starting anew in America, a number of the refugee students experienced bullying and intolerance at some point from other students because of their unfamiliarity with the school system, the way they dress and where they're from. Many of the students faced discrimination because of their ethnicity, Nessary said.
"I've heard a lot of them say they left their country to come here for a better life, and they come here and there's other people that want to start fighting with them," Nessary said.
Nighat Mehrzad is another of Amaanah's in-school mentors. She works primarily with high schoolers, and said that a lot of the bullying towards the Afghan refugees came from a place of ignorance: Some kids who wore traditional clothing, for example, were picked on for dressing in a way that was unfamiliar to the other children.
Some of Mehrzad's students were also teased when performing Wuḍūʾ (Ablution) in the school bathroom in preparation for the midday prayer, one of the five that Muslims observe daily.
Mehrzad also said she wished there was more support for teachers, especially those who weren't certified to teach English as a second language, but had ESL students.
"There's plenty of resources that are out there that these kids could use, but the only problem is that some of the teachers don't know them, especially if they're not ESL teachers," Mehrzad said. "We don't want these kids to graduate out of high school and still be in ESL Math and ESL Geography. We want them to become AP students."
Amaanah's mentors expressed their hope for classrooms to become more inclusive in the future, particularly in terms of ESL resources.
Nessary recalled many of her mentees telling her that if she wasn't there to translate for them, they would be stuck.
"I wished there was 10 of me," Nessary said.
A Houston ISD official confirmed there is a shortage of ESL teachers, but said the district was working to ensure the students have an ESL-certified teacher for all their English classes.
Amaanah also hopes to bridge that gap. Contracted through the HISD Multilingual Department, Amaanah had six tutors this past school year and 38 mentors that provided social and emotional support to refugee students.
"We help support the teachers with the curriculum to build that content knowledge with kids while simultaneously building their English language acquisition," Amaanah's Education Programs Manager Megan Bucher said.
With so many Afghan families looking to enroll their children in school, the paperwork and other requirements were an obstacle – especially for non-English speakers.
"The challenges actually started with the school registration," Interfaith Ministries' Chief Programs Officer Ali Al Sudani said.
Arranging transportation to school was also a challenge, Al Sudani said, citing the fact that HISD doesn't provide transportation for students who live less than two miles away from their zoned school, forcing their families or volunteers to take them.
"We're talking about new arrivals to this country from Afghanistan who are not particularly familiar with the surrounding area," Al Sudani said. "Look, two miles is not a long distance, but it is a long distance. Especially when you are talking about walking in Houston."
Despite the obstacles that faced Afghan families even before their children's first day of school, HISD's efforts, community donations and volunteers helped alleviate some of that stress, Bucher said.
Wraparound specialists have been a big part of that process, said Shirin Herman of HISD's multilingual department. Another HISD department, wraparound services, connects families and students with resources to support students in the classroom and away from school.
"They go beyond the academics. They will work with whatever the child needs," Herman said, adding that almost every school now has a wraparound specialist. "If they needed more clothes, if they needed transportation support, if they needed hygiene supplies — anything that the child needed to succeed and stay in school."
Herman also noted her department's consideration of the stress the whole refugee family may be under in terms of finding work, paying rent and learning English.
"I'm not shy about trying to refer them to other agencies that are out there," Herman said. "We have social workers now in schools and also counseling available in many schools."
Despite this, Herman said some of the students are thriving: Through her work with refugee students, Herman said she's occasionally brought to tears when seeing the young girls excel in school.
"The education aspect makes the family feel like, 'OK, we did the right thing bringing our kids here," Herman said.
Herman went on to praise the district's teachers and their ability to deal with refugee students, with whom she says the district has worked with many.
"Yes, we sometimes have challenges because the kids come from trauma," Herman said. "But, you know, those are all things that can be worked out with the right teacher, with the right counseling, with the right empathy, and giving the child room to grow."