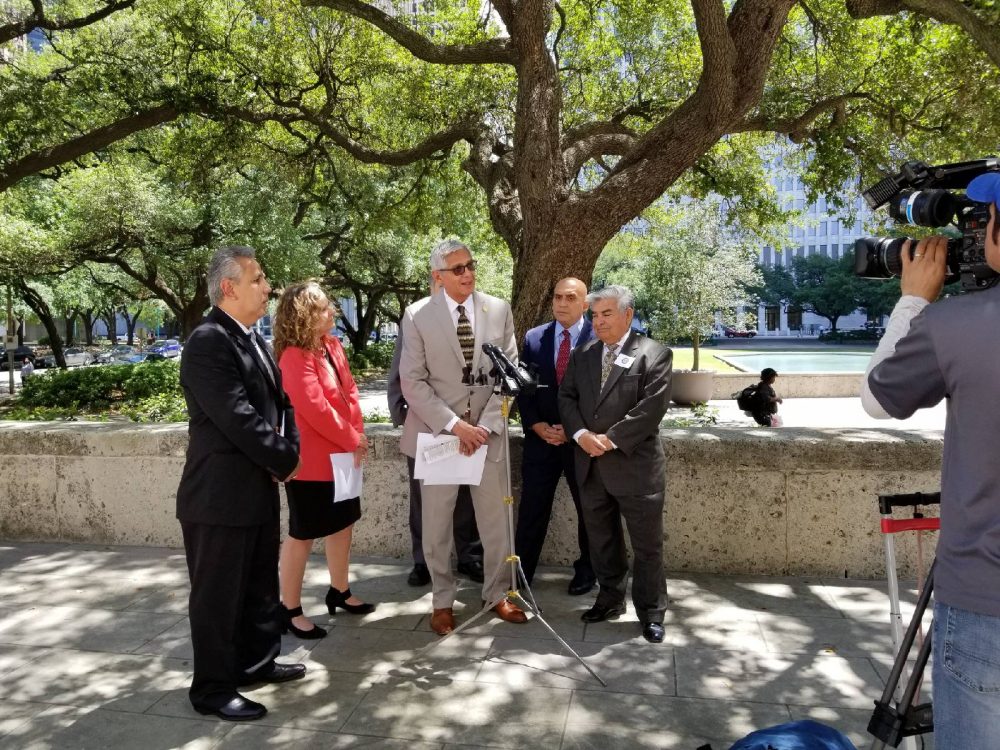 The Greater Houston Coalition for Justice (GHCJ) recognized Tuesday the State Board of Education for approving the recent creation of a high school course on Mexican-American history.
At a press conference held in front of Houston's City Hall, Johnny Mata, the GHCJ's presiding officer, gave a letter of recognition to Donna Bahorich, who chairs the board.
The letter makes reference to the "noteworthy courage" shown by the board by giving the final green light to creating the course on April 13.
"We recognize it as a major step forward," Mata told Houston Public Media (HPM) talking about the course. Mata also thinks the course can spark interest regarding human and civic rights among the students who take it.
On her part, Bahorich commented she was "honored" because of the recognition presented by the GHCJ and added that creating the course is "a significant move forward" because it will teach students of Mexican descent –as well as other students who take it— "about how their history is part of the American story too in a very deep way."
The name of the course, which will be 'Ethnic Studies: An Overview of Americans of Mexican Descent', caused some reactions last week that were somewhat critical, but Mata –who has been a local activist for human and civil rights for many years— used a baseball analogy to say that he, at least a personal level, doesn't have a problem with it.
"In order to score a home run –whether it's a home run or whether run towards plate— you gotta get to first base," Mata told HPM and, in reference to the lengthy period of time advocates of the course have tried to convince state officials to create it at a state level, he added: "After so many years of trying, we're on first base."
Additionally, Douglas Torres-Edwards –who authored the course on Mexican-American Studies taught at schools that are part of the Houston Independent School District (HISD), which will be the basis for the statewide course— was recognized by Houston Mayor Sylvester Turner and Council Member Robert Gallegos during the public session of the City Council's Tuesday meeting, coinciding with Tejano History Month.
Gallegos represents District I and personally advocated for the course in front of the board last week.