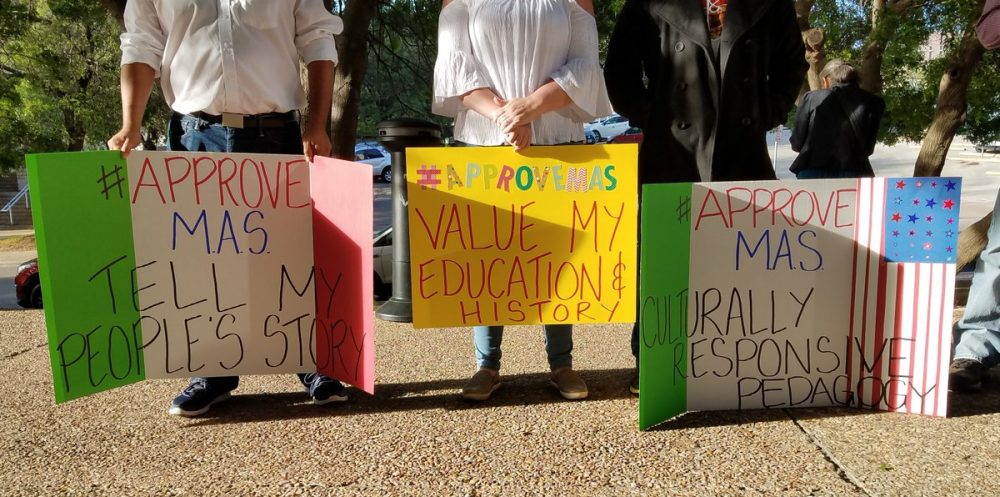 Education experts from Houston welcomed Friday the decision by the Texas Board of Education to create a course about Mexican-American history for high school students. Specifically, the board approved creating statewide academic standards for the course.
The board had given a tentative approval on Wednesday and, through a vote by its members, gave the final green light on Friday.
Supporters of the course, including several members of the board, had proposed it was called Mexican-American Studies, but the board decided the name of the course will be "Ethnic Studies: An Overview of Americans of Mexican Descent."
The board will have to approve official standards for the course and will take into account standards that the Houston Independent School District (HISD) has developed for its own course on Mexican-American history, which is the only one approved by the Texas Education Agency (TEA).
HISD's course teaches about Mexican-American culture and history, including topics such as the Aztec empire, Mexican independence and how Mexican-Americans were part of significant events in U.S. history, as well as cultural topics like film and literature.
According to the TEA, the board will review draft standards for the course's curriculum in June.
"We should really celebrate that Tejanos have united to confirm the intellectual power of Mexican-American studies and it's great that the Texas Board of Education is recognizing how profoundly brilliant this curriculum is," said Tony Diaz, director of intercultural initiatives at Lone Star College-North Harris, who has been a supporter of a statewide course on Mexican-American history and culture for many years.
Besides, Diaz –who is also a writer and an activist, and actually teaches a course on Mexican-American literature at Lone Star College-North Harris— thinks that not only Latino students will be interested in the course when it is finally implemented and, in that sense, assures that at least twenty five percent of the students he has taught about Mexican-American literature are not Latinos.
"I would ask students why they took the course and how they found out about it," Diaz recalls "and students who are not Latino would say straightforward: 'I wanna know more about your community and your culture. I see Latinos everywhere, I don't know anything about them'."
Diaz thinks that, through the course, "what we're gonna wind up seeing is that, especially students who are new to the country or new to Houston or Texas, gain a historical perspective of what it means to be Tejano and American."
In an interview with Houston Matters, Raúl A. Ramos, an associate professor at the History Department of the University of Houston (UH), underlined that the board's decision means there will be a possibility to offer the course in more schools across Texas because, if the board hadn't approved its creation, "(school) districts that are resource poor, that are rural" don't have "the curriculum and instruction groups" to put together the standards.
Ramos added the board's decision also means, in practical terms, that teachers who want to teach the course will have the training and resources they need to do it.
The realm of local politics also reacted positively to the board's decision.
Houston City Council Member Robert Gallegos –who represents District I, where 80 percent of the residents are Hispanic—was in Austin on Wednesday to personally address the members of the board during their public meeting and express his support for the course.
Gallegos told the board that Texas schools should teach about "the critical and transformative role Mexican Americans have played in U.S. and Texas history."
Houston Public Media interviewed Gallegos on Thursday, one day before the board gave the final approval to the course, and he said "it's important that the Hispanic students, Mexican-American students, have a sense of pride in their history."
In that regard, Gallegos added he thinks a course on Mexican-American history can help the students who take it in terms of their academic performance and alluded to research that points in that direction.
For example, in 2015, researchers from Stanford University's Graduate School of Education presented a study that found that a course offered in San Francisco high schools and that examined the roles of race, nationality and culture on identity and experience boosted the attendance and academic performance of students at risk of dropping out.
Nonetheless, the fact that the board decided not to call the course Mexican-American Studies caused a certain degree of concern in Diaz, Ramos and Gallegos.
Diaz commented "that part wasn't quite perfect," while Gallegos said he was "shocked" when board member David Bradley (R-Beaumont) introduced the amendment proposing what will finally be the course's name and added that name "kind of waters it down."
Ramos noted that the course's name approved by the board has "ideological underpinnings" in regards to how Latinos and Mexican-Americans are seen in the United States.
For the UH professor, "(to) take the name and make it essentially a subset of a subset of a subset is to relegate it to a kind of asterisk. In the end, what it really is saying is: 'You're allowed to teach Mexican-American history and Mexican-American studies as long as you are essentially not changing the story in the way that we've decided the story needs to be told of American history'."
Ramos commented that the people who have advocated for the course have done so because, at least in part, "see parts that are missing and mischaracterizations and misrepresentations in that current version of American history."