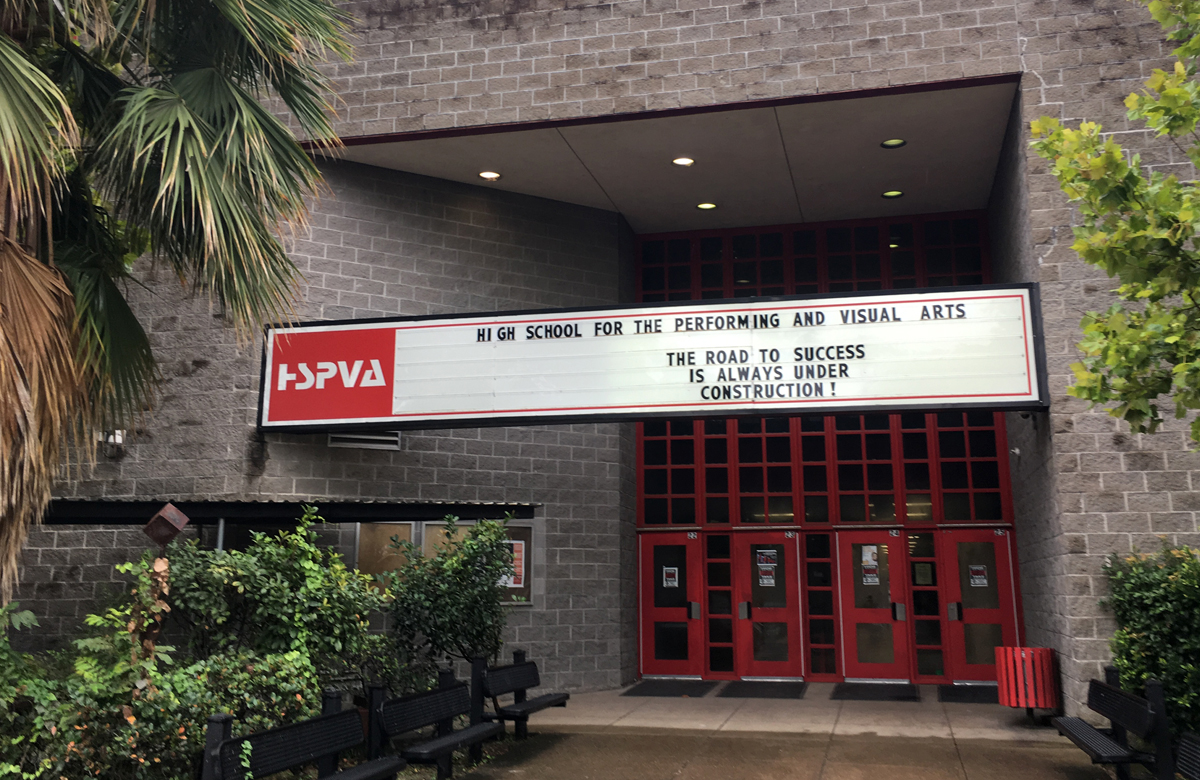 (Above: The current campus of HSPVA — the High School for the Performing and Visual Arts. Construction is underway for the school's new downtown campus, which is set to open to students in late 2018. Photo: Michael Hagerty, Houston Public Media)
Last fall, the HISD's board approved changing the name of its flagship arts high school –
the High School for Performing and Visual Arts (HSPVA)
– to Kinder HSPVA in exchange for a donation of $7.5 million that would go toward completing the school's new campus, a 168,000 square-foot building in downtown Houston just blocks from the city's renowned theater district. It was the first time HISD used its "Acceptance of Funds for Naming Rights" policy.
Ever since that decision, a vocal group of parents and alumni have opposed the deal, so much so that the Kinder Foundation issued a letter releasing HISD from the contract. So far, the school district hasn't made any moves to take the foundation up on that offer. The HISD board would have to take a second vote to back out of the contract. A spokesperson for HISD said the issue is not on the agenda for the board's next meeting.
Sarah Terrell's son attends HSPVA, and she's a part of the opposition group, called Kinder Give it Back. She tells us why she's opposed to the move and what kind of recognition she'd like to see the Kinder Foundation receive instead.
We also hear from Alene Coggin and Bob Boblitt from HSPVA Friends, a nonprofit that supports the school. They tell us about how the agreement came to be and why they think it's in the best interest of the school.
HISD declined to be interviewed for our report but did issue the following statement:
"HISD is grateful for the Kinder Foundation's generous support of the High School for Performing and Visual Arts (HSPVA). Their $7.5 million donation, which no longer includes the stipulation of renaming the school, will help ensure the school continues to maintain a level of excellence for generations to come."
Representatives of the Kinder Foundation also declined to be interviewed but did issue the following statement from the foundation's chairman, Richard Kinder:
"We are great believers in the unique education provided by HSPVA and wanted to ensure that the new facilities were completed and finished in a manner consistent with the highest standards for this type of institution. The HISD Board agreed to affix our name to the school and, while we were appreciative of this honor, it was not the primary reason for our gift."
With or without the Kinder name, the HSPVA campus is set to open to students sometime in late 2018.