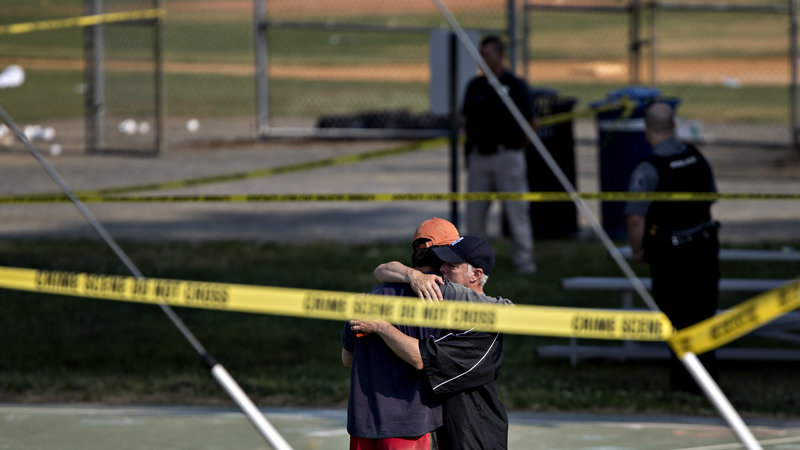 (Above: Two people hug in an area blocked off by police crime scene tape in Alexandria, Va., after a shooting during a congressional baseball practice June 14, 2017. Photo: Andrew Harrer/Bloomberg via Getty Images)

We're learning more about
this morning's shooting in Alexandria, Va.
, during a Republican Congressional baseball practice. Members of Congress and their staffs were preparing for an annual bipartisan charity baseball game at Washington Nationals Park against Congressional Democrats, scheduled for Thursday. Among those injured, Louisiana Congressman Steve Scalise and an aide for Texas Congressman Roger Williams, as well as some other congressional staff and Capitol police.
We'll talk with News 88.7 politics and government reporter Andrew Schneider about the latest developments and what we know about Williams and other Texas Congressmen and staff who were present. We'll also seek reaction from political scientists Dr. David Branham from University of Houston-Downtown, and Mark Jones of Rice University,
Then, we'll discuss with all three other developments in politics and government, including Attorney General Jeff Sessions' testimony before the Senate Intelligence Committee, and a court ruling that keeps President Trump's travel ban on hold.
Also this hour…
Your Brain on Music
Houston Methodist recently conducted a study concerning music's effect on the brain. In the study, the subjects were placed in an MRI machine and exposed to various types of pre-selected music and plain speaking, and then a song of the subject's choosing.
That last part is what the researchers really honed in on after discovering that certain areas of our brains receive a significant increase in blood flow and activity when exposed to familiar music with a strong personal connection. To discuss the methods behind the research and where they hope to take it, we talk with Dr. Christof Karmonik, a neuroscientist with Houston Methodist, and Todd Frazier, with Houston Methodist's Center for Performing Arts Medicine.
Flying Drones for College Credit
Want to get college credit for flying a drone? The University of Houston just wrapped up its first round of classes teaching students to fly unmanned aerial vehicles. The course teaches students how to get their FAA licenses and all the regulations and ethical issues surrounding drone use. Houston Matters producer Michael Hagerty went to check out the class himself.
Houston Matters offers a free daily, downloadable podcast here, on iTunes, Stitcher and various other podcasting apps.