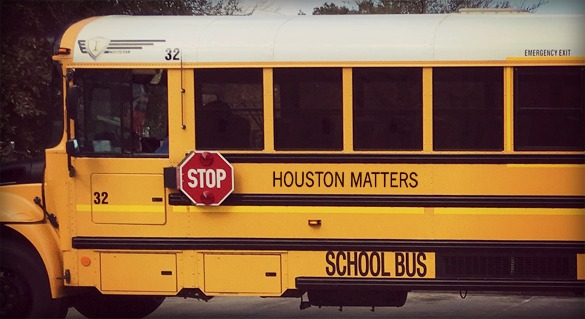 Each year, the nonprofit organization
Children at Risk
publishes a report
ranking public schools in Greater Houston
, and across Texas. The organization's goal: to identify which schools are succeeding and which are struggling as a way to encourage parents, teachers, and the community at large to discuss ways to improve public education.
The 2017 report was released Sunday (June 4, 2017), and, on this edition of Houston Matters, we discuss the results with Dr. Robert Sanborn, Children at Risk's president and CEO.
Also this hour…
Detecting a Phishing Scam
Maybe you're tech savvy enough to think you can spot a phishing scam when it arrives in your inbox. Those are those fake — but often real-looking — emails that entice you to open an attachment or enter personal information, after which your computer is infected with malware or fraudulent charges pop up on your credit card. Well, recent research from the University of Houston suggests that spotting them might be harder than you think. And it suggests that one's education or amount of experience with technology might not have all that much to do with it either. We learn more from one of the researchers, Rakesh Verma, who's a computer science professor at UH.
Modern Misogyny In The Workplace
A recent survey of 18- to 25-year-old women in the U.S. reported 90 percent have been sexually harassed. The report from the Harvard Graduate School of Education lays out these findings and how young adults and their parents can prevent misogyny and sexual harassment. The report looked at attitudes toward sex and relationships among young people, and it found many respondents wanted guidance on how to have healthy, happy relationships and weren't getting that information from their parents and teachers.
The report came a day after a federal study from the U.S. Department of Education that showed while there's been a rise in the number of sexual violence complaints reaching the agency, it has not led to widespread reforms. What does feminism look like in a "post-feminist" society? It's a question University of Houston-Downtown psychology professor Dr. Kristen Anderson explores in her book Modern Misogyny: Anti-Feminism in a Post-Feminist Era.
Sports Monday
The Astros swept the Rangers in a three-game series in Arlington over the weekend and have won ten games in a row. College baseball teams came to Houston to vie for a place in the College World Series. And the Golden State Warriors took the first two games of the NBA Finals against the Cleveland Cavaliers. We discuss those and other developments in Houston sports with Jeff Balke, who writes for Houston Press and Houstonia Magazine.
Houston Matters offers a free daily, downloadable podcast here, on iTunes, Stitcher and various other podcasting apps.