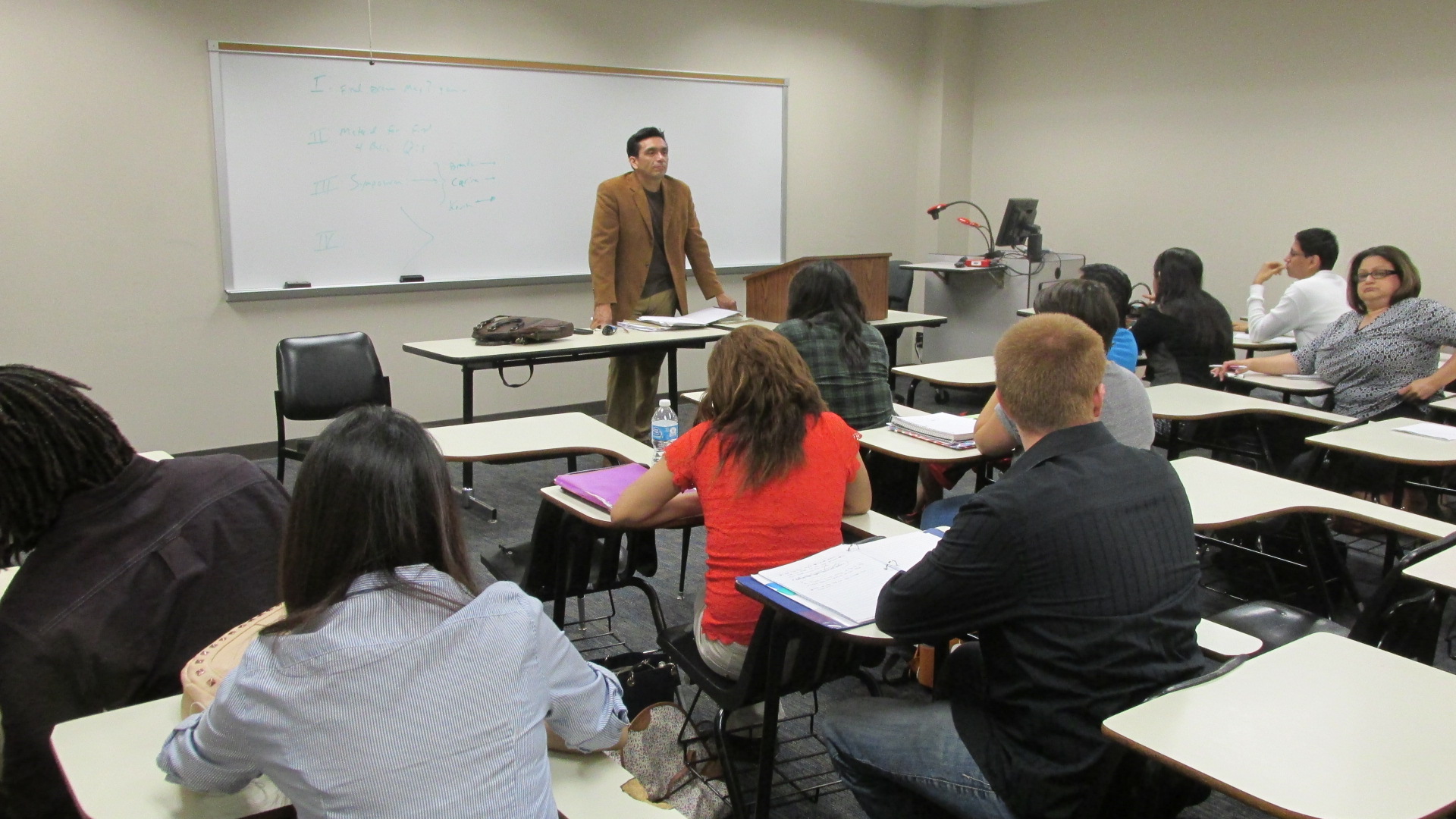 (Above: A class at Lone Star College. Photo: Laura Isensee | Houston Public Media)
Right now, just three community colleges in the state of Texas are allowed to offer four-year bachelor's degrees. Houston's Lone Star College is not one of them, but wants to be. Lone Star College Chancellor Dr. Steve Head argues allowing schools like his to provide more affordable four-year degree programs could help address problems like an expected nursing shortage in the state (according to the Texas Center for Nursing Workforce Studies, we could see some 60,000 less nurses than demand would require in Texas by the year 2030).
Head argues Lone Star College has the facilities and faculty already in place to address such shortages. But skeptics include other higher education officials who worry about eventual cost increases at community colleges, as well as competition with universities. The Texas Nurses Association is also skeptical and wants to be sure the quality of such programs would be up to snuff.
On this edition of Houston Matters we talk with Amos McDonald, vice chancellor of Lone Star College, to get his take on the skeptics' concerns.
Also this hour…
Philip Kerr Discusses Prussian Blue
Mystery novelist Philip Kerr just released the 12th book in his series about Bernie Gunther, a detective trying to solve crimes in Nazi Germany – where, as the Gunther often remarks, the biggest criminal is the state itself. The latest installment is called Prussian Blue, and Kerr was in Houston last week (April 7, 2017) for an event at Murder by the Book. Houston Public Media's Andrew Schneider caught up with him to talk about the book and about how he first decided to set a detective series in place like Nazi Germany.
Preserving Historic Homes in First Ward
We all know the adage about Houston: that we're not the best at preserving buildings with history and character and that we'd rather just bulldoze them for a brand new strip mall or mid-rise apartment complex. Well, a Houston couple originally from Malaysia is trying to do something about that phenomenon in one neighborhood. Over the last few years, Dominic Yap and his wife, Lin Chong, have bought and restored 13 different historic homes in Houston's First Ward.
They even started a company, called FW Heritage, once the hobby turned into a full-time passion for them both. Dominic oversees the structural renovation while Lin works on the interior and style elements. Plus, she's a real estate agent and handles the sale of the house once it's done. Michael Hagerty visited with the couple at a home whose renovation is almost complete and learned about the challenges of trying to preserve historic homes in the Bayou City.
Dance Salad Festival
This week (April 13-15, 2017), dance troupes spanning genres and countries are descending on Houston for the annual Dance Salad Festival from the Houston International Dance Coalition.
One such group is the Susanna Leinonen Company of Finland, which will perform two pieces: a modern dance interpretation of William Shakespeare's Romeo and Juliet and a contemporary piece called Touch of Gravity. Michael Hagerty went to watch the group rehearse at the Wortham Center downtown and learns how they adapt a classical piece of literature into modern dance.
Houston Matters offers a free daily, downloadable podcast here, on iTunes, Stitcher and various other podcasting apps.