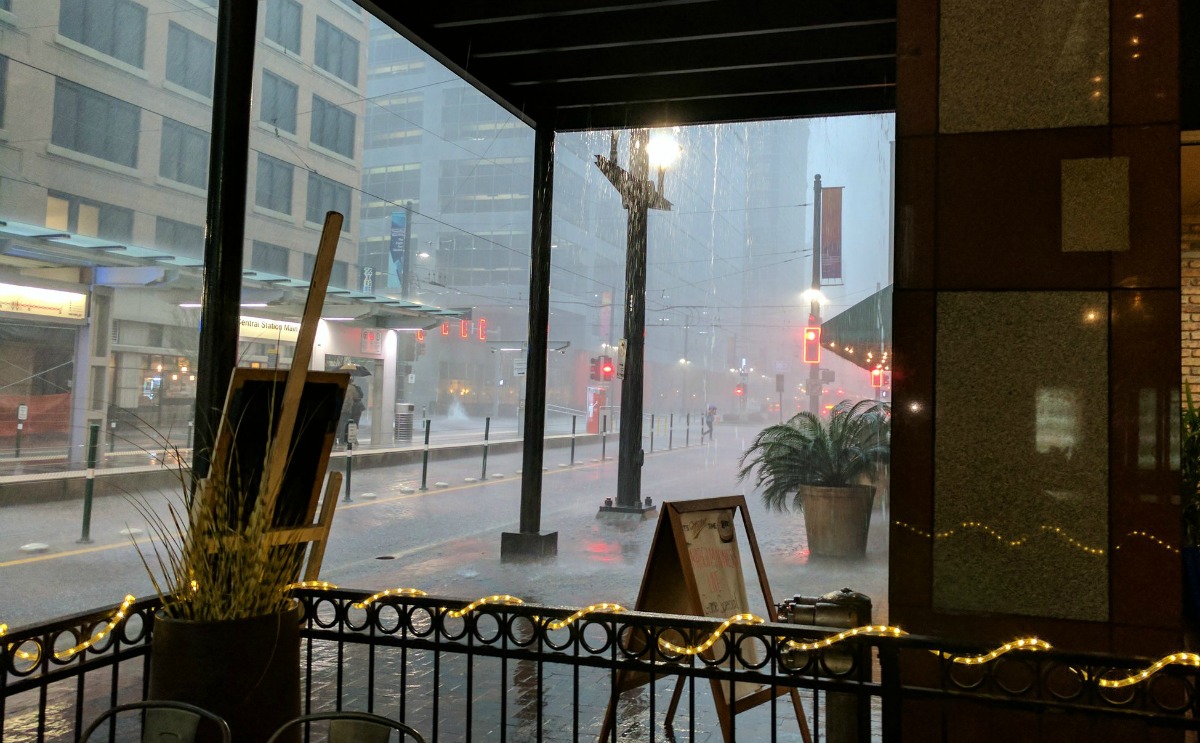 (Above: Heavy rains fall in downtown Houston during the late morning hours Wednesday. Photo: Gail Delaughter, Houston Public Media)
As News 88.7 is reporting, strong storms bringing heavy rains and wind are passing through the Greater Houston region today. Some areas were under a tornado warning earlier.
On this edition of Houston Matters, we get learn the latest about the storm and what we can expect throughout the rest of today from Lance Wood. He's Science and Operations Manager with the National Weather Service.
Also this hour…
Weekly Political Roundup
It's time again for our weekly political roundup and analysis of national, state and local political stories. This week's discussion includes: Rep. Ted Poe leaving the House Freedom Caucus, to Attorney Gen. Jeff Sessions urging states and local jurisdictions to comply with federal immigration laws, to Pres. Trump undoing former Pres. Obama's climate change order, to a bill introduced in the Texas Senate that will provide extra security for judges and other court officials.
On this edition of Houston Matters, we discuss those and other political stories happening at the national, state and local level with an eye toward how they might affect Houston and Texas.
Joining us to offer their analysis this week are three guests: Jon Taylor, political science professor at the University of St. Thomas, Andrew Schneider, politics and government reporter for News 88.7, and Jeremi Suri, who teaches public affairs at the University of Texas at Austin and author of The Impossible Presidency: The Rise of and Fall of America's Highest Office.
The Strange Career of Former Slave William Ellis
Guillermo Eliseo was a wealthy Mexican banker and broker who lived in New York City in the early 20 Century. But, Eliseo had a secret. He was actually born into slavery on a cotton plantation in southern Texas, and his real name was William Ellis. Maggie Martin talks with historian and author Karl Jacoby, who wrote a book about Ellis called The Strange Career of William Ellis: the Texas Slave Who Became a Mexican Millionaire.
Gridiron Glory
If a visit to the Pro Football Hall of Fame in Canton, Ohio is on your bucket list – but you're not sure if you're going get there any time soon – maybe you can make the much shorter trip to the campus of Texas Southern University where an exhibit from the Hall of Fame is on display. It's called Gridiron Glory: The Best of the Pro Football Hall of Fame, and it features artifacts from the history of professional football – including some related to Houston. It's on display through April 20 at the university's museum. Michael Hagerty went to check it out.
Houston Matters offers a free daily, downloadable podcast here, on iTunes, Stitcher and various other podcasting apps.