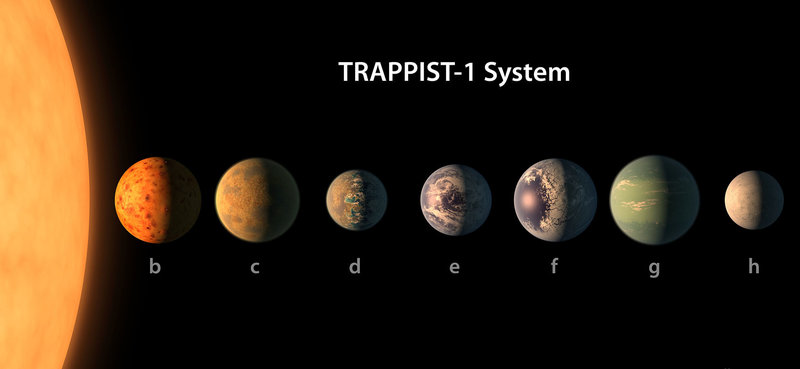 (Above: This artist's rendering depicts the TRAPPIST-1 planetary system, based on available data about their diameters, masses and distances from the host star. The cool, reddish star is about 40 light-years away from Earth. Image Courtesy: NASA/JPL-Caltech)
Here in Space City, we talk a lot about what's next in space travel and the role we may play in it, from establishing a space port, to the commercialization of low Earth orbital flights, to a return to the moon, or a manned mission to Mars. And we sometimes think bigger, like the 100 Year Star Ship project. But in the vastness of the cosmos, there are even bigger journeys to undertake.
And one small step for mankind on that journey may have occurred last week, when astronomers announced a discovery: a dwarf star 40 light years from Earth in the constellation Aquarius. The star was previously thought to be orbited by three planets, but it actually has seven planets in orbit around it. The planets are all roughly the size of the earth, and they're in a proximity to the star that might offer the right conditions for water — and perhaps life.
Could this be the dawning of the age of Aquarius? (Astronomically-speaking, of course).
We talk with Dr. Julie Moses of the Space Science Institute and Dr. Victor Migenes from the radio astronomy program at Texas Southern University about what we know about this star and its planets, why it's a potentially compelling discovery for astronomers, and what next steps astronomers might take to learn more about it.
MORE: Radio Astronomy: Why 'Listening' to the Stars Matters (Houston Matters, Oct. 14, 2015)