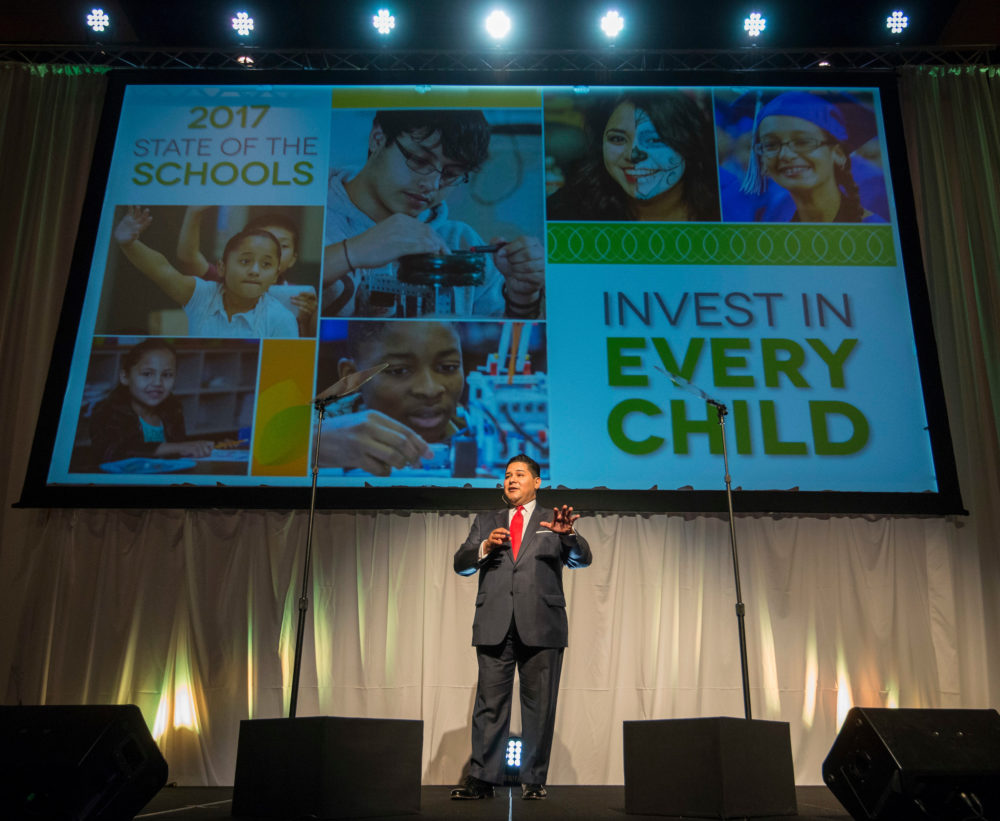 On Wednesday (Feb. 15, 2017), HISD Superintendent Richard Carranza spoke at the annual State of the Schools Luncheon. He's been at the helm of the district since last fall (2016). So, on this edition of Houston Matters, we talk with him about his progress so far and the biggest issues facing public schools in Houston.
(Above: HISD Superintendent Richard Carranza comments during the State of the Schools luncheon at the Hilton of the Americas, Feb. 15, 2017.)
Also this hour…
Two Diverse Counties, Two Different Outcomes
News 88.7 recently examined two diverse neighborhoods to understand why one went red and the other blue in the 2016 election. The investigative reporting launches Houston Public Media's DiverseCity initiative, a year-long look at what Houston's diversity really means for the city. We talk with News 88.7 reporters Laura Isensee and Andrew Schneider about their reporting from Fort Bend and Harris counties. And University of Houston professor Jeronimo Cortina talks about the data he crunched to compile these reports.
The Good, the Bad, and the Ugly of the News
A lot can happen in a week. Some of it good. Some of it bad. Some of it downright ugly. When faced with intriguing developments in the week's news, we turn to our rotating panel of "non-experts" to parse The Good, the Bad, and the Ugly of it all. This week, our panel discusses Houston and Harris County announcing a new policy to decriminalize low-level pot possession, a proposed measure in Austin that would force a vote in Harris County on the latest Astrodome plan, and the amount of money the State of Texas invests in the arts. This week's panel is comprised of Joe Holley, Marcus Davis and Natalie Arceneaux.
We also offer a free daily, downloadable podcast here, on iTunes, Stitcher and various other podcasting apps.