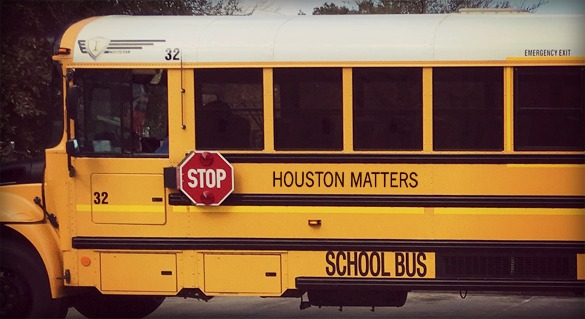 This week, we're recapping this past year's biggest news stories with our beat reporters, covering transportation, education, energy, politics, arts and culture and sports. Today, we explore the year in education.
In January, Mike Morath started his role as commissioner of the Texas Education Agency. He's a known advocate for school choice and previously served on the Dallas school board. The Houston Independent School District saw some changes in administration this year. Terry Grier's last day as HISD superintendent was in February. Richard Carranza took over as superintendent in August.
We also take a look at statewide issues. The Texas Supreme Court ruled the state's school funding system met the minimum standards and is constitutional. The controversial campus carry law took effect at Texas colleges Aug. 1. And, in November, the Texas State Board of Education officially voted to reject the book called Mexican American Heritage.
Laura Isensee joins us to recap these stories and talk about what it all might mean for the upcoming year.
Also this hour…
Houston is Preparing a "Post-Antibiotic World"
How do we prepare for a "post-antibiotic world" – one in which common bacterial infections have become antibiotic-resistant? Some folks right here in Houston are already working on it. We talk with Dr. Cesar Arias, professor of medicine, microbiology and molecular genetics at UTHealth, and Dr. Yousif Shamoo, vice provost of research and professor of biochemistry and cell biology at Rice University.
Discovering the Rich Culture and History of Houston's Food
The stories of a city's food are the stories of its humanity. As Houston food writer David Leftwich writes in a recent article, if you learn how a city eats, how it feeds itself year after year, then you'll learn how it lives, its history and the stories of the hidden bonds that connect its citizens to each other and to the wider world.
This is especially true of Houston. If you examine the meals that Houstonians are preparing, you will notice that the food is as diverse as the city. Houston would likely have starved without immigrants. Actually, the city wouldn't exist without them. To explain more, we talked with Leftwich. He's a food writer for Sugar and Rice and regular contributor to our food segment, The Full Menu.
'It's a Wonderful Life' Takes the Stage in Opera Form
We learn about an opera version of the classic holiday film It's a Wonderful Life, which is being staged at Houston Grand Opera through Dec. 17. Houston Public Media's Joshua Zinn talks with composer Jake Heggie about the process of adapting the classic work for the stage.
Houston Matters offers a free daily, downloadable podcast here, on iTunes, Stitcher and various other podcasting apps.