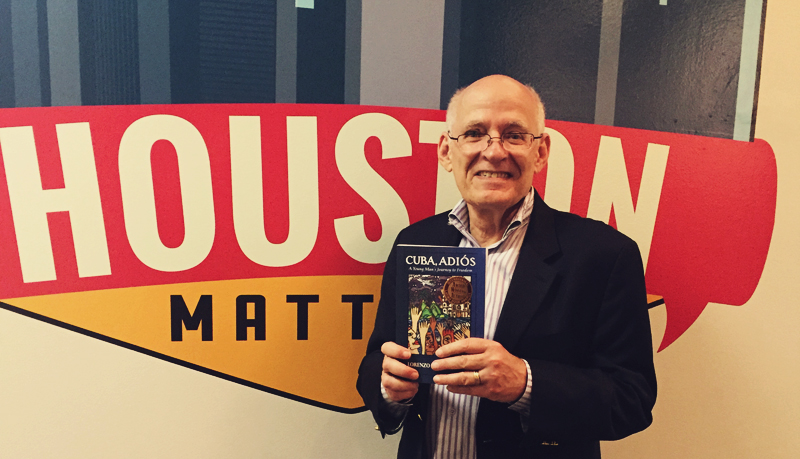 With the death of former Cuban leader Fidel Castro, we thought we'd take time on this edition of Houston Matters to tell the story of a Houstonian whose life was directly affected by Castro's rise to power. As a teenager, Lorenzo Martinez was evacuated in secret from Cuba in the 1960s. What Martinez didn't know – he wasn't alone. More than 14,000 kids were evacuated during a two-year period to escape life under Fidel Castro's communist regime.
It was called Operation Peter Pan, and Martinez reluctantly revisits that escape in his new book, Cuba, Adios: A Young Man's Journey to Freedom. He sat down with Houston Public Media's Edel Howlin to chat about why he wrote the book, including what it was like during those early Castro years.
(Above: Houstonian Lorenzo Martinez is the author of "Cuba, Adios: A Young Man's Journey to Freedom," which tells the story of his escape from Cuba as a young man. Photo: Edel Howlin, Houston Public Media)
Also this hour…
You might have heard the term "the last mile" in different contexts. In the transportation planning world, it refers to that beginning or ending connection a commuter has to make to get to their destination — whether that's starting up your car for home after exiting the Park and Ride station or hoping off your bike to go from your downtown office to your midtown apartment. And isn't it always the last mile that feels the longest? Well, engineers and scientists are working on this problem with a goal of getting you home faster, safer and more efficiently.
We talk with Zachary Elgart, assistant research scientist with the Texas A&M Transportation Institute, and Geoffrey Carlton with the company Traffic Engineers, Inc.
Is a Liberal Arts Education Still Relevant in Today's Economy?
Once upon a time, if you got a college degree you could feel pretty confident you'd get a job somewhere doing something. But times have changed. Lately we've heard about the need for more technical degrees or vocational training to meet the nation's workforce needs. In that climate, how do you justify getting a liberal arts degree – college studies that provide general knowledge and aim to build intellectual abilities?
Dr. Dominic Aquila thinks a liberal arts education is still relevant. He's the provost and vice president for academic affairs at the University of St. Thomas, and talks with Michael Hagerty.
From UH to UT: Tom Herman Headed to Texas
University of Houston football coach Tom Herman is leaving to take a job at the University of Texas. And the Texans lost at home to the Chargers Sunday. We check in on those and other Houston sports stories with Jeff Balke.
Houston Matters offers a free daily, downloadable podcast here, on iTunes, Stitcher and various other podcasting apps.