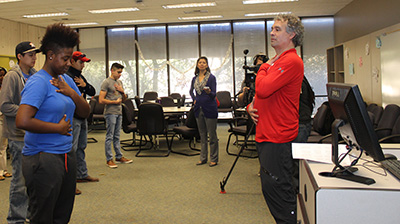 A group of teachers and college students attended a "Yoga Cool Down," facilitated by College of Education professor Bradley Smith.
"Close your eyes and soften your gaze. Breathe, feel, relax." And with those words, stress levels started to melt away. "Stress is having a big impact on learning," Smith said. "Stress can make difficult relationships worse or set up conditions where relationships can deteriorate over time."
Smith researches yoga in the classroom and how the discipline of breathing and meditation can curb behavior issues and increase student and teacher effectiveness.
"You can think of learning as curriculum or you can think about it as something that happens between individuals. I think we need to think about learning as a relationship," he said.
Smith's research partners with middle and high school students in the Houston Independent School District and teachers at an area KIPP charter school.
"We collected data that showed the more involved they are in yoga class, the better their mood–less negative emotion, more positive emotion–and it looks like students tend to have better attendance," Smith said.
He says the changes appear to be in the autonomic system, which is the fight or flight nervous system. Yoga seems to restore a balance that's more of a relaxing and resting state, which is a state more receptive to learning.
Smith's research is funded in part by the Kinder Foundation, Sonima Foundation and Lululemon. Future research may examine the impact of yoga on sleep.
"For the kids, we want them to be happier, like school more. For the teachers we want them to be less stressed, feel a position where they feel they have a good life and be a good teacher."
Yoga Research is part of what's happening at the University of Houston. I'm Marisa Ramirez
This content is in service of our education mission and is sponsored by the University of Houston. It is not a product of our news team.