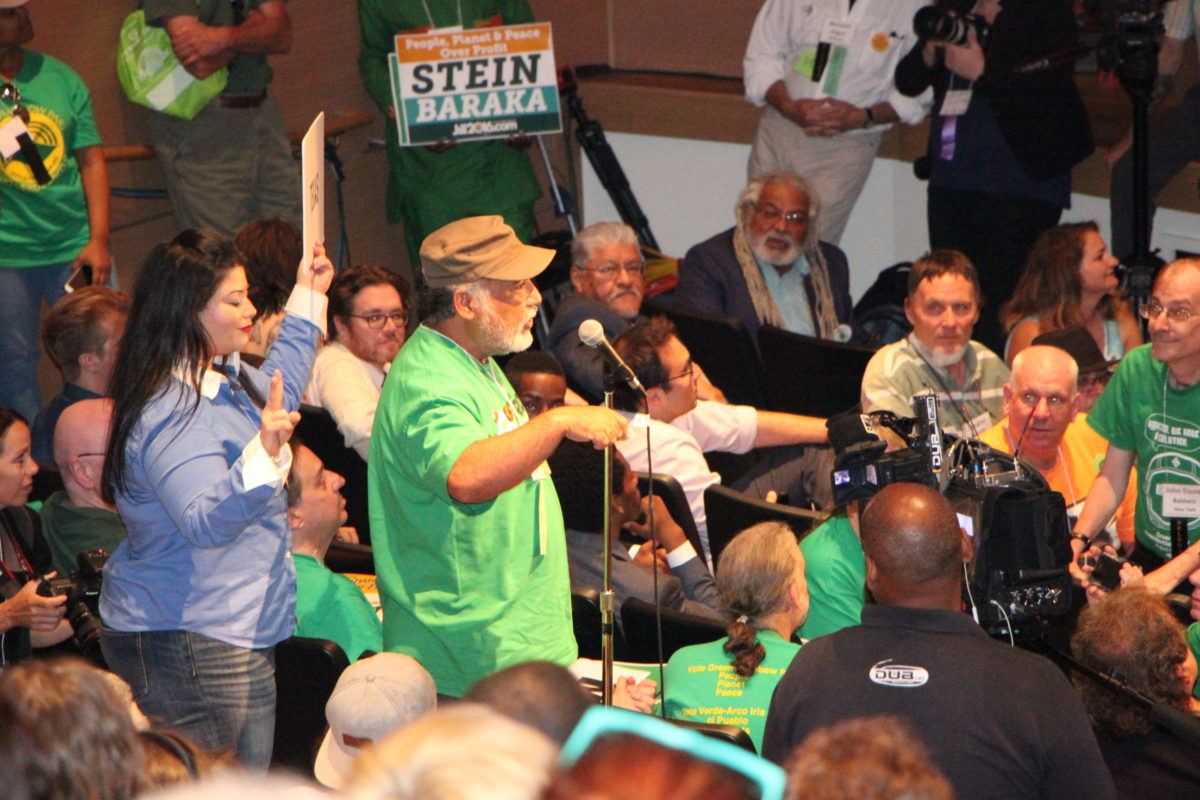 Delegates of the Green Party met at the University of Houston on Saturday (Aug. 6, 2016) to nominate Dr. Jill Stein as their presidential candidate. The Green Party is one of a few so-called "third parties" that have sought to make inroads in recent election cycles, with varying success. On this edition of Houston Matters, we hear from two key Green Party members: Stein and Green Party co-chair Paul Pipkin discuss their party, why the convention this weekend was in Houston and what they see as the goals and future of parties like theirs, as they seek to challenge the century-long dominance of Republicans and Democrats.
(Above: Delegate Herb Gonzales (at microphone) of San Antonio casts Texas' votes at the Green Party presidential nominating convention at the University of Houston. Photo: Andrew Schneider, Houston Public Media)

Also this hour:
Lone HISD Superintendent Finalist Shares His Thoughts on the Job and on Houston
Late last month (July 27, 2016), HISD board trustees voted unanimously to name Richard Carranza as the lone finalist for superintendent. Carranza currently leads the San Francisco Unified School District in California. The vote comes ten months after longtime Superintendent Terry Grier announced his plans to retire this past winter. Under Texas law, the board must still wait another week before taking a final vote on whether to hire Carranza, but that's widely seen as a formality. Carranza tells News 88.7 education reporter Laura Isensee why he wants the HISD job.
Common Misconceptions About the Constitution
Amid recent developments in the news, there have been examples of Americans citing their Constitutional rights in ways that suggest they don't know what's actually in the U.S. Constitution. We discuss a few such examples, and seek to debunk some common misconceptions about what the language in the Constitution actually states. We welcome your questions and comments for Martin Levy, a professor of law at Texas Southern University, and Emily Berman, assistant professor at the University of Houston Law Center.
Houstonians at the Olympics, and Other Developments in Sports
Most Mondays, Jeff Balke, who writes for Houstonia Magazine and Houston Press, joins us to discuss developments in Houston sports. While our focus tends to be on the Astros these days, now that the Olympics are under way, we're also following the exploits of Olympians with Houston ties. We discuss how gymnast Simone Biles has performed thus far. But we also discuss the Astros' tough weekend and diminishing chances at a division title.
Houston Matters offers a free daily, downloadable podcast here, on iTunes, Stitcher and various other podcasting apps.