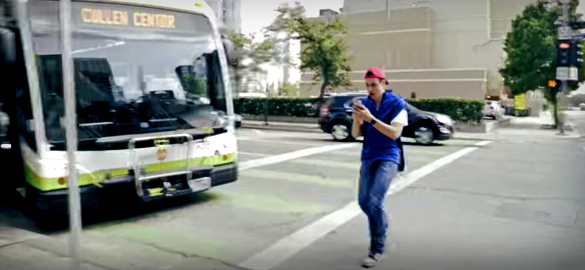 Maybe you're one of the many Houstonians – and people across the nation, for that matter – playing Pokémon Go, the mobile game that sends people out and about in the real world in search of not-so-real monsters.
Or, at least, maybe you've heard about all the many ways Pokémon Go can go wrong – like those who exercised bad taste by playing the game in places like the Holocaust Museum in Washington, D.C. Or there are those who've put themselves in harm's way, like the teenager near Pittsburgh who got hit by a car or the gentleman that News 88.7's Ed Mayberry saw recently running across Interstate 45 with his smartphone out, hunting Pokémon.
Now, hopefully you and your loved ones haven't been among those putting yourselves in danger – or exercising bad taste – with your use of technology. But maybe you can relate more to the character in this parody video from Houston filmmaker Andrew Peterson, called When Pokemon Go Goes Too Far.
Clearly, there are times when our virtual world goes too far, whether it's gaming or texting or checking those work emails on vacation.
To learn more about the integration of the virtual world into our daily lives – and the vague notion of "digital responsibility" – Michael Hagerty talked with Doug Rowlett, the director of Houston Community College's Digital and Information Technology Center of Excellence. He says these days we're living in three different worlds: the real world, the virtual world and the melding of those two.
(Above:Â A YouTube screen capture from the parody video "When Pokemon Go Goes Too Far" by Houston filmmaker Andrew Peterson. Image: YouTube Screen Capture)
MORE:
Houston's Top 10 Spots for Catching Pokémon (Houstonian Magazine, July 12, 2016)
The 10 Worst Places to Play Pokémon Go in Houston (Houstonia Magazine, July 18, 2016)
The Definitive Houston Pokémon Go Guide (Visit Houston, July 12, 2016)