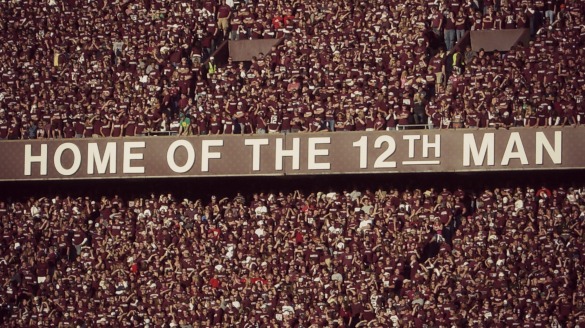 Whether or not you're one the many alumni or fans of Texas A&M in Greater Houston, you're probably aware of the school's "
12th Man
" tradition. It stems from a legendary football game in 1922 – or does it?
Texas Monthly writer John Nova Lomax recently tried to sort out the facts from the myth in response to some claims that A&M shouldn't, in fact, be entitled to the trademark.
He tells Michael Hagerty the tradition started with an infamous football game in 1922 and a student named E. King Gill. But the term was in use long before that. So, should Texas A&M be able to claim the trademark as its own?
(Above: The "Home of the 12th Man" trademarked slogan on display at Texas A&M's Kyle Field. Photo: Kipp Jones, Wikipedia Commons)
MORE: The 12th Man Tradition (Texas Monthly, March 5, 2016)