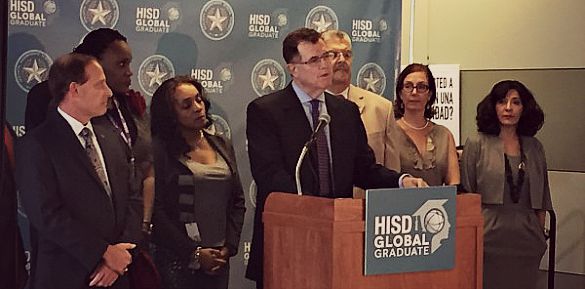 Monday (Feb. 29, 2016), Terry Grier completed his final day as superintendent of the Houston Independent School District.
With nearly seven years at the helm of the nation's seventh-largest school district, Grier's tenure has drawn mixed reviews. He announced last September that he would resign before his contract his is up in June. Deputy Superintendent and Chief Financial Officer Ken Huewitt has been named the district's interim superintendent.
Last week, Grier sat down for an exit interview with News 88.7 education reporter Laura Isensee. And while he wouldn't say exactly what he'll be doing next, he told her he'll be moving closer to his elderly father in North Carolina.
Laura asked him about his legacy in Houston and what he'd do differently if he could.
(Above: Terry Grier announces he'll step down as HISD superintendent at an event on Sept. 11, 2015.)
MORE:
In Budget Proposal, HISD Considers Ending Superintendent Grier's Signature Program (News 88.7, Feb. 26, 2016)
In Search for New Superintendent, HISD Trustees Name Interim Leader, Fire Search Firm (News 88.7, Feb. 17, 2016)
Houston Superintendent Terry Grier Says 'It's Just Time' To Step Down (News 88.7, Sept. 11, 2015)