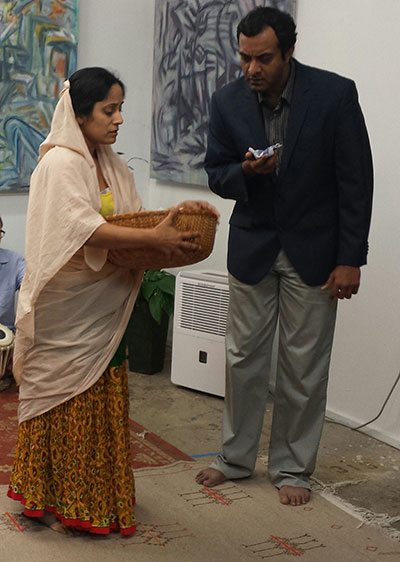 Shunya Theatre actors Deeba Ashraf and Karthik Chander rehearse for a performance of "Bhopal". Photo by: Charanya Ravikumar.
The group performs at the Spring Street Studios located among several industrial buildings near downtown. A passerby might never know that this is the venue for Shunya Theatre, the only South Asian troupe in Houston.
The space seats about 100 people. The set is minimalistic, almost bare. There are no backdrops behind the pitch black stage. A small wooden desk located stage right sets the scene for business meetings. Actors roll out a rug to transform the stage into a residence. The audience is left to fill the space with their imaginations.
Shunya just wrapped up its third production of the year, a fictionalized drama based on true events. Before that, they put on a comedy and a children's play. That's the most performances the group has ever done in one season. Founded in 2001, Shunya has grown into a burgeoning part of Houston's theatre scene. Director Yaksha Bhatt helped establish the group in its early days.
"It's very exciting to bring our experience, to bring our stories and our voices, told through our actors, not just through actors dressed up as Indians and doing the traditional roles, but through actors who are Indian," Bhatt said.
She says that's important because it can be difficult for South Asian actors to find roles in mainstream productions, and Shunya Theatre gives them a way to be part of Houston's arts scene.
"It is difficult because it's not our story," Bhatt said. "We don't fit in in the mold. We can try and become non-Asian to do a role, but it's not us, so this creates a platform for our actors."
For many of those actors, being a part of Shunya Theatre is like a second job. The group is made up entirely of volunteers. The productions are funded by donations and ticket sales. Deeba Ashraf has been a part of Shunya since 2007. She says she's passionate about performing onstage because it gives her a chance to draw attention issues she cares about.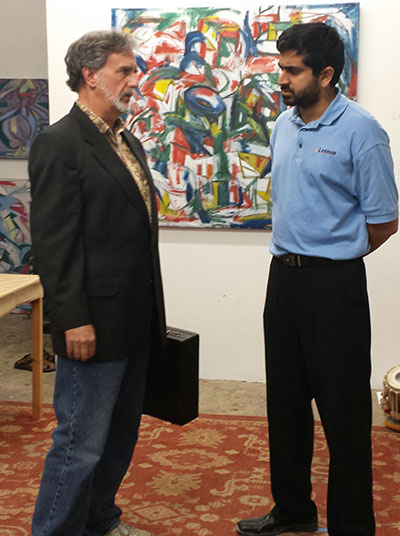 Actors Sam Stengler and Prateek Karkal rehearse for a performance of "Bhopal." Photo by: Charanya Ravikumar
"For me it feels a lot about communication, so we're sharing parts of the world that may be new to us as actors, different experiences that other people have shared," Ashraf said. "We get the chance to share it with a Houston audience."
Shunya's latest project was a production of Bhopal. The play tells the story of a toxic gas leak at the Union Carbide pesticide plant in Bhopal, India. The disaster claimed thousands of lives and left countless other residents permanently disabled. It remains one of the worst industrial accidents the world has ever seen.
This year marks the 30th anniversary of the disaster. Dianne Webb is the director of Bhopal. She says she's proud Shunya Theatre chose to put on the play, and she hopes it will help audiences understand the human toll of the disaster.
"I encourage everybody to come see this show to become more informed, to become more connected, and to sort of get something that got lost in time that is as important today as it was in 1984," Webb said.
That message came through to audience member Marsha Wadsworth. Despite not being South Asian herself, Wadsworth says she thinks Shunya Theatre's productions are worth watching for any audience.
"I thought it was amazing," Wadsworth said. "The acting was so great and it was just really moving, and I want to go research more about it because I don't know a lot about the history of India and this company, so it got me really curious."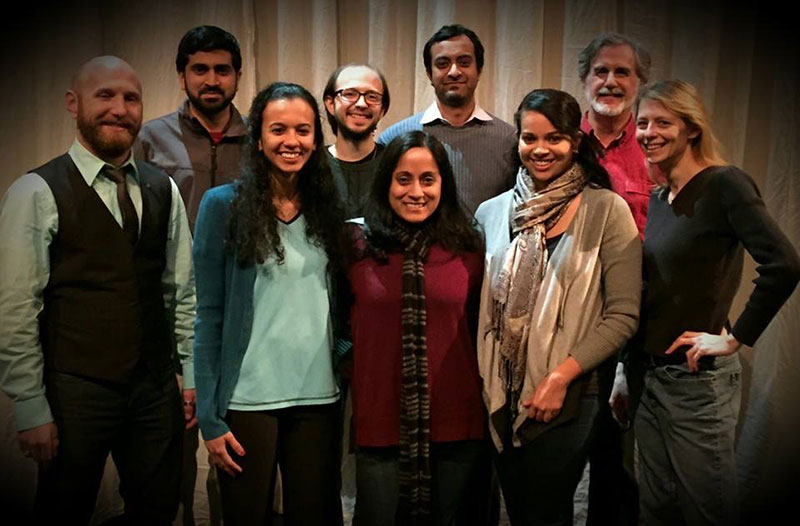 The cast of Shunya Theatre is made up entirely of volunteers. Photo by: Dianne Webb.