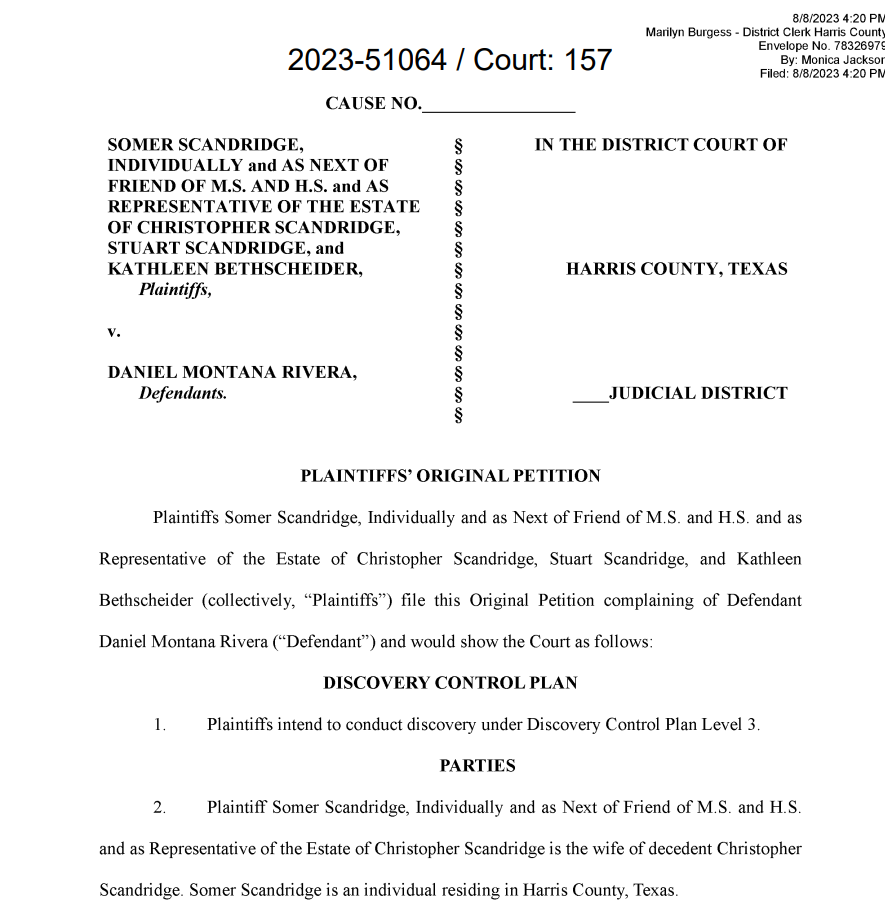 The family of one of the three Houston-area men who died Sunday in a collision between a golf cart and sport utility vehicle is suing the alleged drunk driver of the SUV for more than $1 million.
The wrongful death lawsuit was filed Tuesday by the wife, parents and two young children of Christopher Scandridge, who was riding in a golf cart along with two other men when it was struck by the driver of a black Cadillac Escalade at about 2:45 a.m. Sunday at the intersection of Greenhouse Road and Towne Lake Parkway in Cypress. Fellow golf cart occupants Fraser Anderson and Jacob Wnuk both died at the scene, according to Harris County Sheriff Ed Gonzalez, while Scandridge died later Sunday morning at a hospital.
The civil lawsuit claims 21-year-old Cypress resident Daniel Rivera, who faces three criminal murder charges related to the crash, was negligent when he allegedly ran a stop sign at the intersection while driving the Escalade. Prosecutors for the Harris County District Attorney's Office allege in the criminal cases that Rivera was intoxicated at the time, according to documents filed in Harris County court.
"Our investigation is focused on discovering all root causes of this crash," Randy Sorrels, a personal injury attorney who filed the lawsuit on behalf of Scandridge's family, said in a news release. "We have an open mind in our investigation and hope to hear from all witnesses who know something about this scene or the events of Sunday morning."
The three defense attorneys representing Rivera in the criminal cases are not representing him in the civil cases, according to Mark Thiessen, one of the attorneys. The online court record for the civil case did not list an attorney for Rivera as of Wednesday afternoon.
Rivera was arrested after the crash Sunday and remained in jail as of Wednesday afternoon. Court records show his bond was initially set at $200,000 for each murder charge and was subsequently lowered Tuesday to $175,000 for each charge. Rivera posted bond later Tuesday, court records show, but did not leave jail as a court directive was then issued denying his release on bond.
Judge Randy Roll, serving as a visiting judge in place of Judge Katherine Thomas, issued the directive at the request of Thomas, court documents show. The directive said Rivera was to remain in jail until his bond could be addressed in a court hearing Wednesday morning, when Roll said the parties involved needed to return to court Monday when Thomas is back on the bench, according to Thiessen.
Thiessen said Rivera plans to remain in jail until the Monday hearing, even though his client already has paid bond money and the court directive has expired.
"We don't know what Judge Thomas has in store, why she would request us back," Thiessen said. "So we don't know what to do."
A blood sample taken from Rivera at a hospital after the crash showed he allegedly had a blood-alcohol content of .136 – nearly twice the legal limit in Texas – according to court documents, which also show that an 8-year-old child was in the vehicle at the time of the collision. The child was uninjured, according to Gonzalez, who said Rivera and an adult woman who also was in the SUV were taken to a hospital with non-life-threatening injuries.
Thiessen filed a court motion Tuesday asking that the bodies of all three men who died be tested for alcohol and drugs. The men had left a house party where they watched the Saturday night boxing match between Nate Diaz and Jake Paul, according to the filing, which says it is unknown who was driving the battery-powered golf cart at the time of the crash.
"This accident occurred on a public roadway in Harris County Texas, not on a golf cart path," Thiessen wrote. "As such, it is necessary to perform an accident reconstruction dealing with who may be at fault."
The men who died were between the ages of 37 and 41, according to Gonzalez. Scandridge played quarterback for the Cy-Fair High School football team before graduating from Embry-Riddle Aeronautical University and working for more than 20 years as an air traffic controller for the Federal Aviation Administration, according to Sorrels.