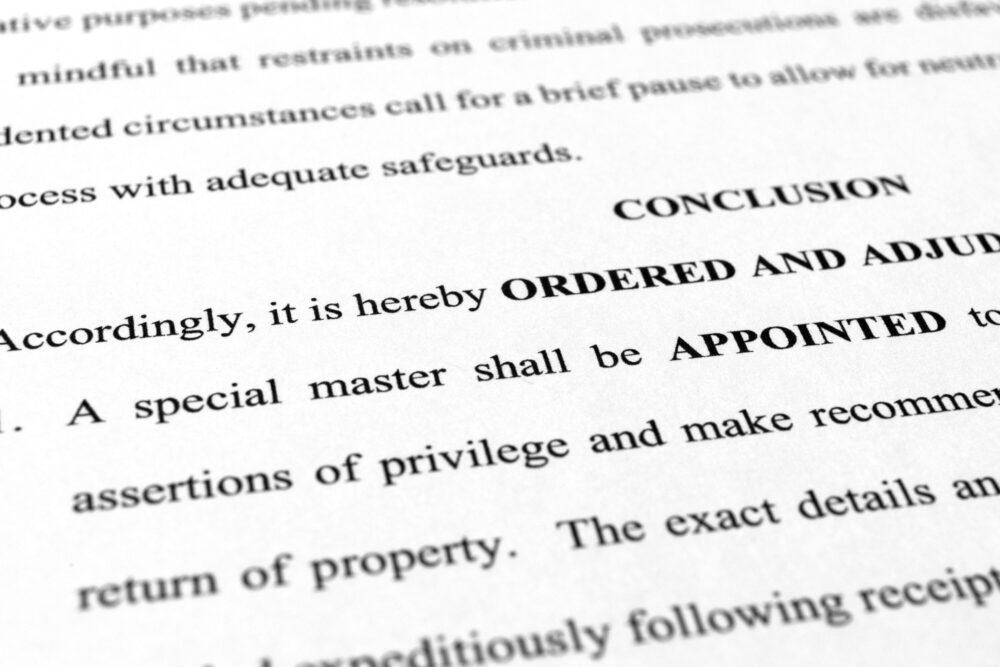 A Houston woman believed to be suffering from mental illness has been arrested and accused of making violent threats against the federal judge presiding over a legal dispute involving former President Donald Trump and the documents seized from his Florida estate last month.
A United States magistrate judge has ruled that Houston resident Tiffani Shea Gish, 49, be detained until her trial because of a history of violent and threatening behavior and because she "appears to suffer from severe mental impairments with symptoms including paranoia and delusions," according to federal court documents. A competency hearing for Gish has been set for Sept. 21, court records show.
Gish is accused of leaving three profanity-filled voicemails at the office of U.S. District Court Judge Aileen Cannon, a Trump appointee who granted his request to appoint a special master to review the documents seized by the FBI, temporarily halting the U.S. Department of Justice's investigation into the former president's handling of classified documents. The voicemails were left during a four-hour span on the afternoon of Sept. 1 – a few days before Cannon authorized the use of a special master – according to court documents.
In the messages, Gish claims to be a government agent and "Trump's hitman" and allegedly said she had a "license to kill" and was going to travel to Florida and "personally throw a bullet to your f—— head in front of your kids," court records show. Gish allegedly identified herself in the voicemails as Evelyn Salt, the name of Angelina Jolie's character in the 2010 film "Salt."
"Donald Trump has been disqualified long ago, and he's marked for assassination, you're helping him ma'am," Gish allegedly said in the first voicemail left for Cannon. "... He's marked for assassination and so are you. ... Stand the f— down or get shot."
Gish has been charged with the crimes of influencing a federal official by threat and interstate communications with a threat to kidnap or injure, court records show. Her attorney, federal public defender Heather Hughes, did not immediately respond Tuesday to a voicemail and email seeking comment.
In the order of detention pending trial, U.S. Magistrate Judge Peter Bray wrote he "understands defense counsel's argument that Gish has not carried out the threats, but the court considers the threats themselves to be harmful. Threats such as these are designed to place the victim in fear and cause distress and apprehension. These things are harmful even if the defendant had no subjective intent to carry out the threats."
Harris County court records show that Gish pleaded guilty to resisting arrest in 2007 and to assault with bodily injury in 2012, when she scratched and threw dirt in the eyes of a police officer who had detained her for questioning. She also was convicted of assault for a 2020 incident in which she struck a man with a glass beer bottle.
Federal prosecutors cited Gish's previous run-ins with local law enforcement in their motion for the upcoming competency hearing, along with what they called her "history of threats and delusional conduct." Prosecutors wrote that Gish has claimed to be a CIA agent, Navy SEAL and Army Ranger "while intermixing threats to public officials" such as Trump and former first lady Hillary Clinton.
Secret Service agents interviewed Gish in March after she allegedly threatened to kill Trump in a message left on the CIA's website, according to prosecutors, who also said a Secret Service agent interviewed Gish's mother in March and was told Gish "suffered from severe bipolar disorder and is borderline schizophrenic." The mother refused to see Gish in person for fear she would be attacked, prosecutors wrote.
An FBI agent identified Gish as having allegedly left the threatening voicemails by connecting her to the Houston-area phone number used to make the calls and by finding a Facebook account in her name that included posts mirroring the language in the voicemails to Cannon, according to court documents.