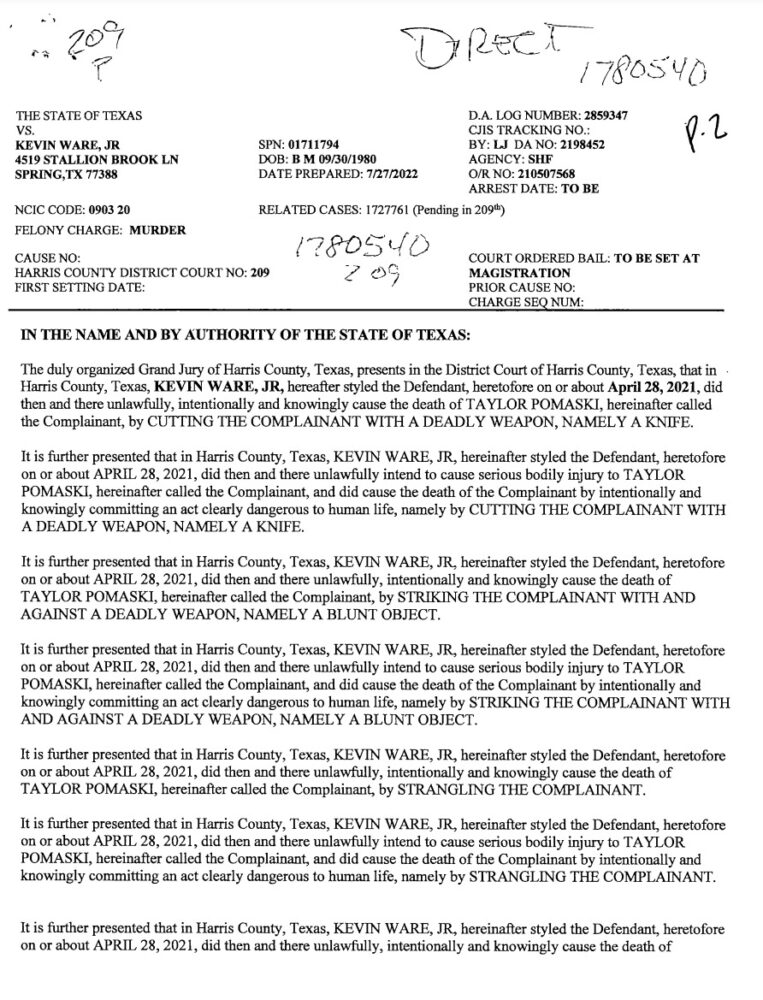 Prosecutors have requested that bail be set at $1 million for former NFL player Kevin Ware Jr., who is accused of murdering his girlfriend in the spring of 2021 and then burning her dead body, according to Harris County court records.
Ware, 41, who lived in the north Houston suburb of Spring, was indicted by a grand jury in July on charges of murder and tampering with evidence, namely a human corpse, in the death of 29-year-old Spring woman Taylor Pomaski. Ware is alleged to have cut Pomaski with a knife, strangled her, beaten her with a blunt object and then burned her corpse, court documents show.
Pomaski was reported missing in April 2021, and her skeletal remains were discovered in north Harris County in December of that year, according to information released by the Harris County Sheriff's Office. The manner and cause of Pomaski's death remain undetermined, according to the Harris County medical examiner's office.
Ware was reportedly transferred earlier this week to the Harris County Jail from Montgomery County, where he had been jailed on drugs and weapons charges, according to court records, which show he was convicted in 2018 in Montgomery County for the felony offense of possession with the intent to deliver or manufacture a controlled substance. Ware also faces a felon-in-possession-of-a-weapon charge in Harris County stemming from an incident in June 2021.
Harris County prosecutors cited Ware's aforementioned conviction, other prior convictions for crimes such as misdemeanor assault and felony evading arrest, along with a history of bond forfeitures as well as arrests in other states, in a motion for sufficient bail filed in late July. Ware is set to appear Monday in the 209th District Court.
No defense attorney for Ware is listed in Harris County court documents related to the murder case.
The Harris County District Attorney's Office said in late July, when Ware was indicted by a grand jury, that he faces a possible sentence of 15 years to life in prison if convicted of murder.
"We appreciate everyone who has come forward to provide evidence and aid in our investigation," prosecutor Lacy Johnson said at the time.
Ware attended Klein Oak High School in Spring before playing college football at the University of Washington. He then played two seasons in the NFL as a tight end – with Washington in 2003 and San Francisco in 2004 – finishing his career with four receptions for 26 yards in a total of 16 games.