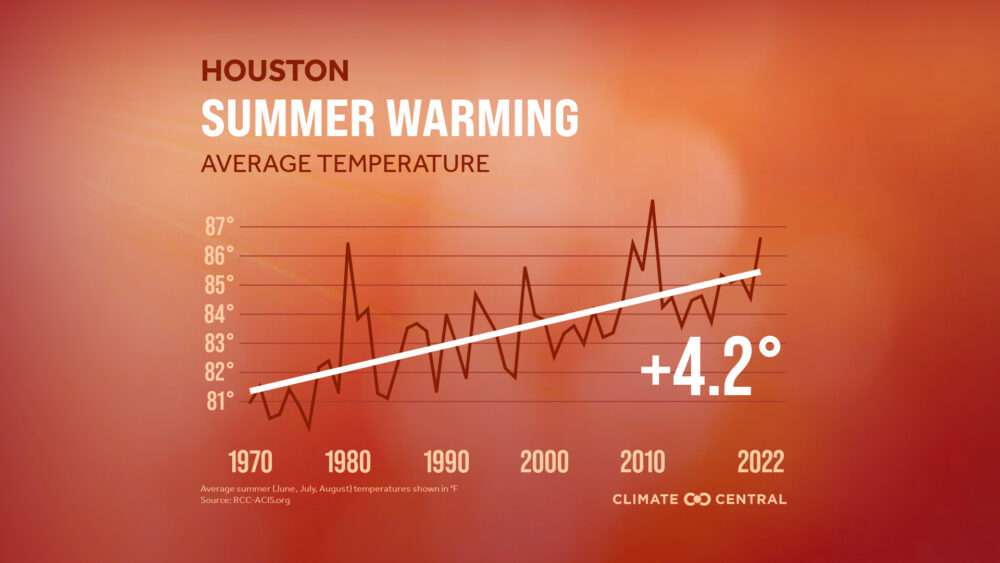 As the Houston area copes with an early arriving heat wave this week, new data released by a climate-focused nonprofit suggests it could be part of a long-developing trend.
Climate Central examined more than 50 years' worth of summertime temperature data from nearly 250 locations across the United States and found the vast majority of them, including Houston and other cities in Texas, are experiencing hotter summers and more instances of extreme heat. Its finding were released May 31 as part of Climate Central's "2023 Summer Package."
Houston's average temperatures for June, July and August increased by 4.2 degrees Fahrenheit from 1970-2022, with the city experiencing 53 additional days per year when the temperature is above its summertime normal. Houston ranked third nationally in the latter category.
Ahead of the official start of summer next week, on June 21, daily high temperatures so far this week have been in the mid-to-upper 90s. Temps near or above 100 are forecasted for Wednesday through next Monday, according to the National Weather Service's Houston-Galveston office.
"We're going to see one of these classic summertime heat waves where high pressure parks itself over Texas for a while and temperatures heat up," Eric Berger, the editor of Space City Weather, said Monday. "It's more typical to see these in July and August."
Climate Central says the near-nationwide warming trend since 1970 is an indicator of human-caused climate change and presents significant health hazards, particularly to children, the elderly and people living with illnesses. Exposure to extreme heat can result in illness and death, while summer heat can worsen air quality and exacerbate respiratory conditions such as asthma.
Ninety-five percent of the 247 locations studied by Climate Central have seen higher summer temperatures in recent years than they did in 1970, with the average increase being 2.4 degrees. More than half of the locations are now experiencing at least two more weeks of above-normal summer days, with "normal" representing the average summer temperature as established between 1991-2020.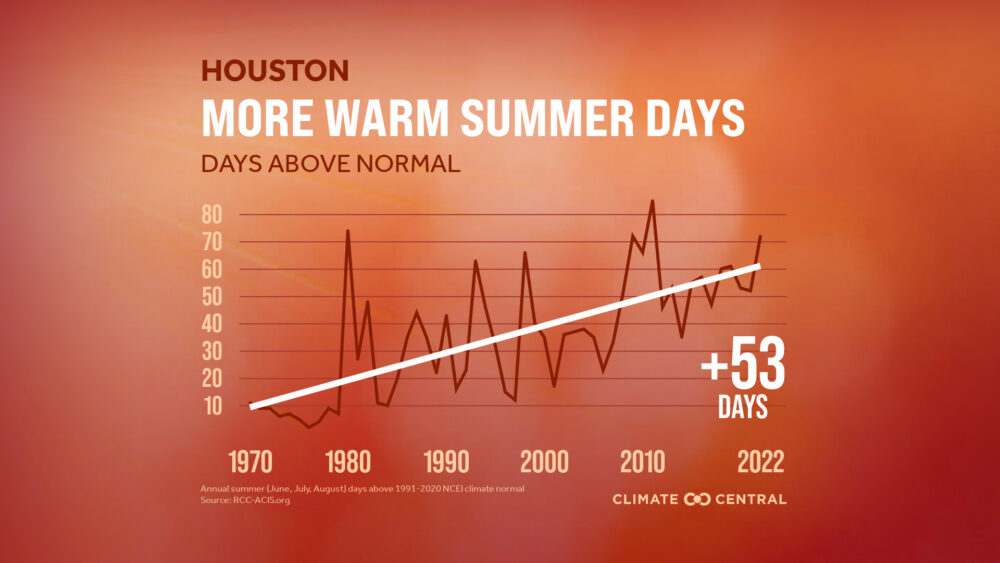 The most pronounced summer warming has occurred in the western half of the U.S. and the western part of Texas, according to Climate Central. El Paso ranked first in Texas and fifth nationally with an average summer temperature increase of 5.3 degrees.
"As carbon pollution traps more heat in Earth's atmosphere, the summer season is warming, summer temperatures are arriving earlier in the year, and risky heat extremes are becoming more frequent," Climate Central wrote in its report.
Reno, Nevada, has experienced the most significant summertime warming, with average temperatures there having increased by 11.1 degrees. Las Vegas and Boise, Idaho, are next on the list with increases of 5.8 degrees.
Reno also had the most summertime days above normal, with 66. Albany, Georgia, was next with 54 such days, followed by Houston's 53.
Seventy-five of the locations studied have seen summertime temps increase by 3 degrees or more. Along with Houston and El Paso, that group includes fellow Texas cities Amarillo, Austin, Bryan, Dallas, Laredo, Lubbock, McAllen, Odessa, San Angelo and San Antonio.