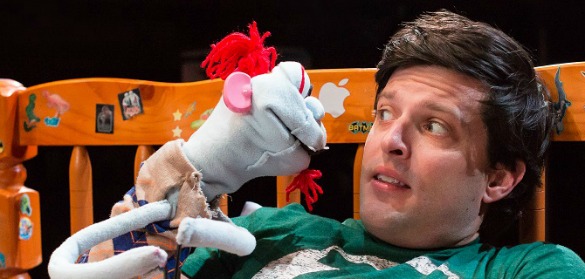 Houston native Robert Askins is the playwright behind Hand to God, a dark comedy set in his hometown of Cypress.
It tells the story of a young man involved in the puppet ministry at his church, when his puppet – named Tyrone – becomes possessed by the devil. It's a scenario The New Yorker described as "Sesame Street meets The Exorcist."
The play, which blends humor and grief, was nominated for five Tony Awards in 2015 and is in its Houston debut at The Alley Theatre through Sept. 18, 2016.
Askins tells us about the play and about his own experience with puppet ministry.
(Above: Actor Steve Pacek plays Jason and his unruly puppet, Tyrone. Image Courtesy: The Alley Theatre)