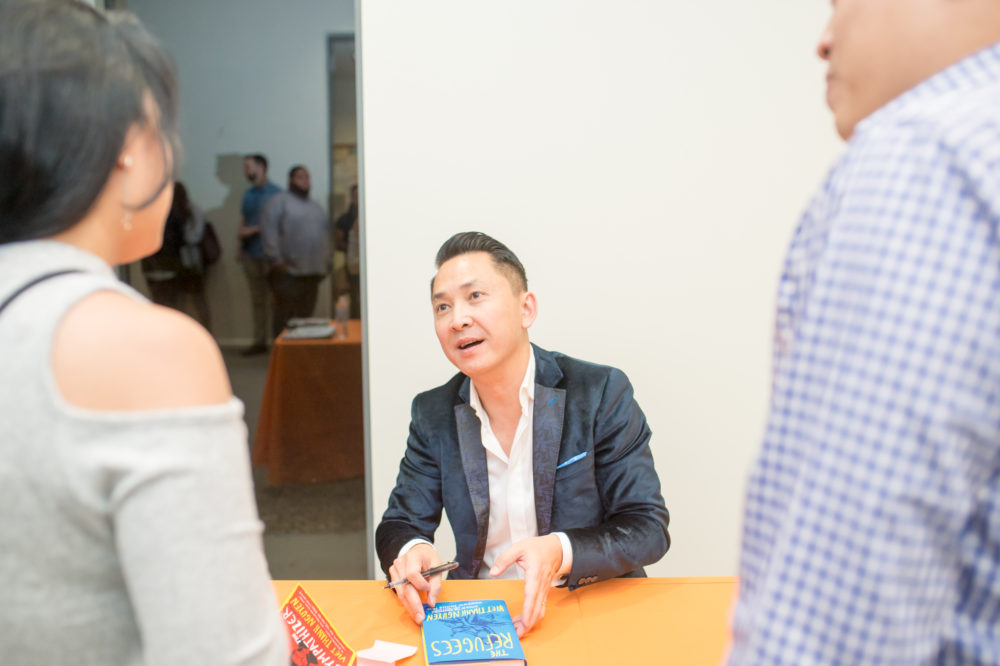 A Monday night speaking engagement for Pulitzer Prize-winning author Viet Thanh Nguyen, originally scheduled to be held at a Houston synagogue, was moved to another venue after he signed an open letter demanding "an end to the violence and destruction" in the war between Israel and Hamas.
A reading and conversation with Nguyen, as part of the Inprint Margarett Root Brown Reading Series, had been set to take place at Congregation Emanu El in southwest Houston. But event organizer Inprint, a Houston literary arts nonprofit, said the synagogue became unavailable over the weekend and Nguyen's appearance was moved downtown to Sarofim Hall at the Hobby Center for the Performing Arts.
"At this remarkably sensitive time in our community, it did not seem to be appropriate to have this Inprint program at Emanu El," Fredi Bleeker Franks, the executive director of the synagogue, said in a statement Tuesday to Houston Public Media.
Nguyen did not immediately respond Tuesday to a social media message seeking comment about the venue change, which first was reported by the Houston Landing. Inprint executive director Rich Levy, in a statement Tuesday to Houston Public Media, did not address the reason for the switch but said Inprint is "incredibly grateful" to the Hobby Center for the Performing Arts and its staff for hosting an event that included 700-plus attendees.
It marked the second time in less than two weeks that a Jewish organization scrapped an event involving Nguyen, who joined a group of 750 artists and writers from North America and Europe in calling for a ceasefire in Gaza as part of the Oct. 18 open letter, which was published in the London Review of Books. The 92nd Street Y, New York, in a statement to NPR about cancelling Nguyen's scheduled reading there, said, "As a Jewish organization we believe the responsible course of action right now is to take some time to determine how best to use our platform and support the entire 92NY community, so we made the difficult decision to postpone the October 20th event."
Hamas, which controls the Palestinian territory of Gaza and is considered to be a terrorist organization by the U.S. and Israel, attacked Israel on Oct. 7, sparking a war. The open letter signed by Nguyen and others says neither side "can ever be justified in targeting defenceless people" while specifically criticizing Israel for its actions in the conflict.
"We can only express our grief and heartbreak for the victims of these most recent tragedies, and for their families, both Palestinians and Israelis," the letter reads. "Nothing can retrieve what has already been lost. But the unprecedented and indiscriminate violence that is still escalating against the 2.3 million Palestinians in Gaza, with the financial and political support of Western powers, can and must be brought to an end. By cutting off vital electricity, food and water supplies; by attempting to displace by force over 1 million Palestinians from their homes, with no guarantee of return; and by carrying out continual airstrikes against civilians, including those who are attempting to evacuate, the state of Israel is committing grave crimes against humanity. Its allies, our own governments, are complicit in these crimes."
After his appearance at 92NY was cancelled, Nguyen wrote in an Oct. 21 Instagram post, "I have no regrets about anything I have said or done in regards to Palestine, Israel, or the occupation and war."
The event cancellation in New York reportedly led to staff resignations at 92NY, which halted the broader literary series that included Nguyen's planned engagement. The Margarett Root Brown Reading Series organized by Inprint does not appear to be similarly impacted as five more author readings are scheduled through April 15, according to information on the Inprint website, which shows that three of those events are scheduled to be held at Congregation Emanu El, with the other two planned for the Alley Theatre.
"We have no plans to cancel (the upcoming events)," Franks said. "We hope to continue our relationship with Inprint."
Earlier this month, before his reading events in New York and Houston were moved to other venues in those cities, Nguyen spoke to Houston Matters about "A Man of Two Faces," his new memoir about immigrating to the United States from Vietnam. Nguyen, 52, won the 2016 Pulitzer Prize for Fiction for his debut novel, "The Sympathizer."