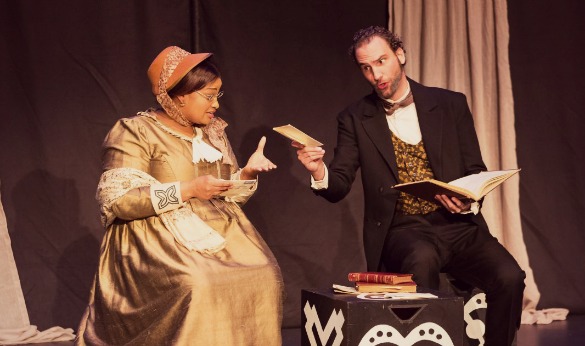 When members of
Houston Grand Opera
perform tonight (May 4, 2016), it won't be on the Wortham Theater Stage. Instead, it'll be inside a courtroom full of lawyers.
News 88.7 arts and culture reporter Amy Bishop has more on the opera, called What Wings They Were: The Case of Emeline. It's based on an historic Harris County Court case.
Then, last year we learned about a similar case that preceded Emeline's. We revisit what Harris County District Clerk Chris Daniel told us about Nelly Norris, who twice had to fight in the courts against efforts to re-enslave her. Court documents in the county archives shed light on the once-forgotten case, and Daniel says such court records are "the last frontier in history."
(Above: Gwendolyn Alfred portrays Lucy, and Christopher Besch portrays Peter Gray in the opera 'What Wings They Were: The Case of Emeline.' Photo: Lynn Lane)
MORE: Nelly Norris: Freed Slave Fights Attempts to Re-Enslave Her (Houston Matters, Feb. 26, 2015)