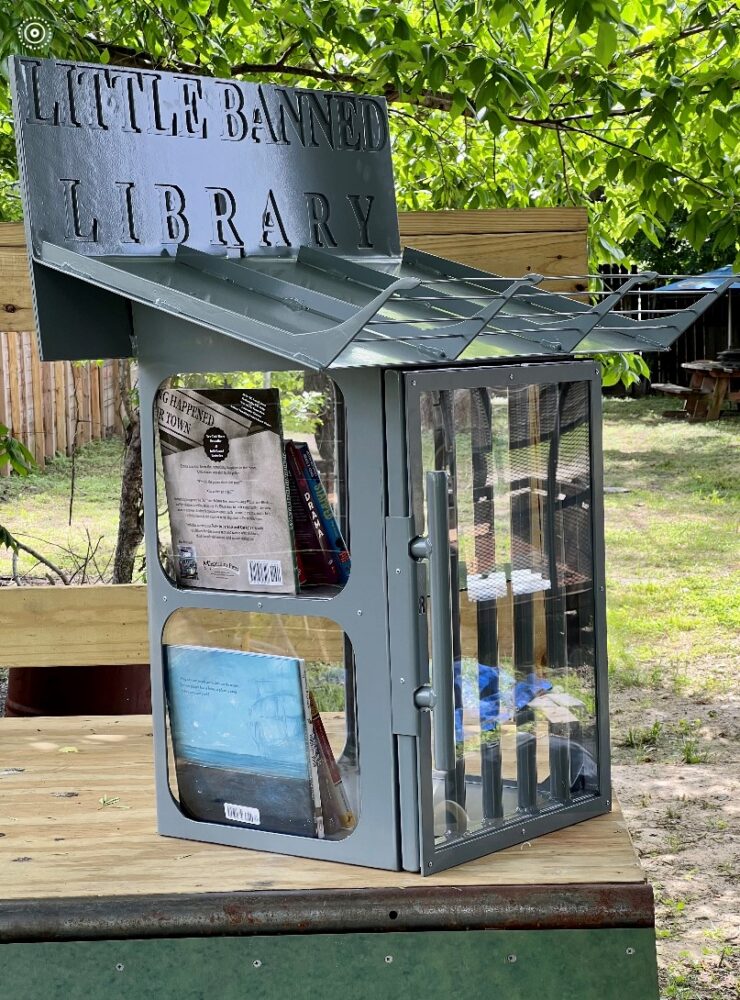 More and more often in recent years, books that touch on topics such as racism, gender identity and sexuality have been determined not to have a place in Texas' public-school classrooms and libraries.
Those kinds of literary works will be more than welcome at a forthcoming community resource in Houston's Heights neighborhood, where youngsters and adults alike will be able to find a collection of books dedicated to those issues.
The "Little Banned Library," a take on the popular Little Free Library installments, is expected to debut this week at the southwest corner of Heights Boulevard and 11th Street. It will feature titles that have been removed from libraries or curriculum at public schools in Texas, where books were temporarily or permanently banned a total of more than 800 times between July 1, 2021, and June 30, 2022, according to a list compiled by literature and human rights nonprofit PEN America.
Heights resident and real estate developer Jennifer Clements, who came up with the Little Banned Library idea along with her husband, Glenn, said their aim is to push back against attempts to whitewash history and the movement to restrict or limit access to certain kinds of books, which has swept across the Houston area as well as the state and country at large.
"It's better to say something now before it's an epidemic," she said. "The last thing we need to do is discourage people to think for themselves right now."
American classics such as George Orwell's "1984" and Harper Lee's "To Kill a Mockingbird" along with "And I Still Rise" by late poet and civil rights activist Maya Angelou – the latter of which was challenged by administrators in Houston-area school district Klein ISD in 2021 – are among the titles that will initially appear in the Little Banned Library. It will operate much like a Little Free Library, in which passersby can take out books they want to read and restock the collection with others.
Unlike most Little Free Library installments, the one coming to the Heights is made out of metal instead of wood. And as a play on the "banned" theme, it was designed to resemble a prison cell and even has a spring-loaded door that slams shut.
The book box was constructed by Heights resident Cameron Cozac, who is friends with Glenn Clements and owns a welding and fabrication company called Cetafab. He said he lives close to the Little Banned Library site and will be keeping a close eye on it in case someone tries to damage or vandalize it.
Security cameras also will be watching the Little Banned Library, which has drawn mixed reactions from community members as word about it has spread. Cozac and Jennifer Clements said most of the feedback has been supportive, with some having donated books for the forthcoming installation, but the idea also has been met with criticism.
"I had heard a little about the book banning and all and assumed it was some sort of wedge issue that no one really carried about," Cozac said. "Now, starting this project, I understand people really care about it."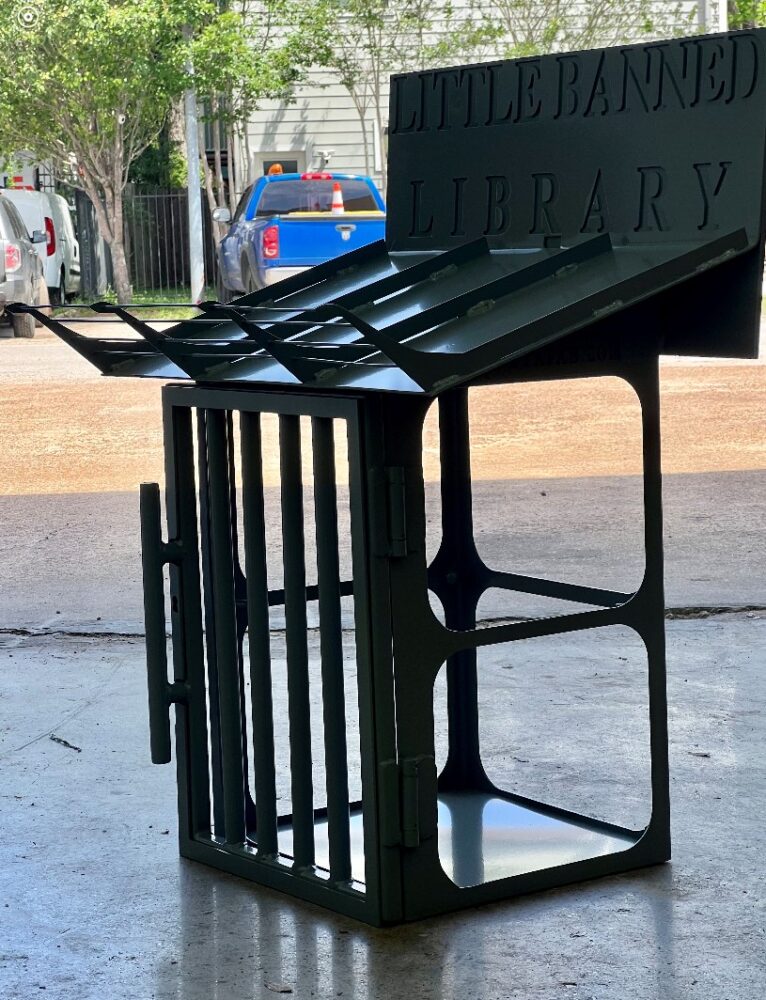 Unchallenged and uncontroversial books will be welcome at the Little Banned Library, according to Clements, who said she and her husband plan to monitor it at least twice per week to ensure it does not contain books that are hateful or pornographic. Clements said she is not including two books she had ordered for the library – "Gender Queer" by Maia Kobabe and "Flamer" by Mike Curato – because she screened them and found they "just have too many actual depictions of sex acts for me to comfortable carrying them."
Clements said the Little Banned Library will be geared toward teenagers and tweens and, because it will be located in a high-traffic area at the intersection of two neighborhood thoroughfares, she does not expect many young children to visit it without adult supervision. She wants to be mindful of that possibility, though.
"I think for teen individuals, they could be really valuable books, but I can't guarantee they won't fall into tender hands," Clements said of the books she decided not to include. "If you're a 12-year-old and ride your skateboard around the neighborhood and come across our books, my hope is there's nothing in that library that would make a parent feel like, 'Oh my God,' unless they're just holding on to a lot of radical beliefs."
Cozac said he and the Clementses already have discussed the possibility of standing up more Little Banned Library installments, with residents in other parts of Houston having expressed interest in one. They also are considering adding a QR code to the book box in the Heights that would link to a list of titles that have been removed from public schools.
In the meantime, Jennifer Clements said she hopes the Little Banned Library will be well-received. As an indigenous person whose Cherokee heritage was not accurately or fairly represented in history lessons she was taught in school, she said she wants the installment to be a resource for others whose experiences might also be misunderstood or overlooked.
If a Houston-area teenager is dealing with racism, or they are struggling to be accepted by peers or family members, Clements said she hopes they'll be able to find comfort in one of the books and perhaps a reflection of themselves or their experiences.
"That might save lives," she said, "or at least save someone from being totally lost."