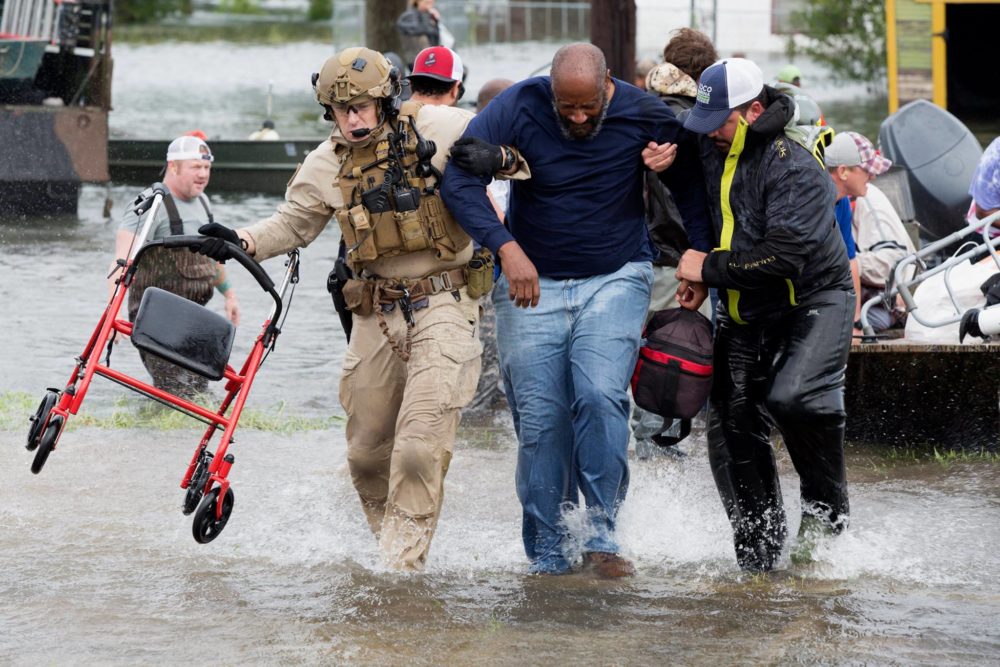 Every year, when late August rolls around, Kevin M. Fitzpatrick reflects on Hurricane Harvey and its aftermath. And his memories remain vivid and intense, even though he was not directly impacted and was not on the Texas Gulf Coast when the powerful storm made landfall and caused unprecedented flooding in the Houston region.
Fitzpatrick, a sociology professor at the University of Arkansas, visited Houston and other locales along the coast in the months after the 2017 storm to conduct research and interviews for a book he co-authored with a colleague. "Hurricane Harvey's Aftermath: Place, Race, and Inequality in Disaster Recovery" was published in 2020 and examines inequities in recovery and community support along racial, ethnic and socioeconomic lines.
"Very impactful," Fitzpatrick said of his experience. "I spent a lot of time talking to people right outside their homes that were destroyed. I do think about that every year."
Five years after Harvey, a number of literary works have been published that chronicle the hurricane, its impact on the region, recovery efforts and accounts of both heartache and heroism. Some books, like Fitzpatrick's, look at the storm through an academic lens, while there also are children's books, faith-based works and photobooks about the storm.
Here is a list of some of the Harvey-related books that have been published:
MEMOIRS
Against the Storm: A Harvey Story
Author: Greg Etzel
Year published: 2018
Breathing Again: A Hurricane Harvey Memoir
Author: Rachael Valka
Year published: 2018
Harvey Hit Here
Author: Mike Probst
Year published: 2018
Heroes, Hope, and High Water: Life Lessons in Turbulent Times
Author: Bill Baldwin
Year published: 2022
Hurricane Harvey Lowku
Author: Elaine Parker Adams
Year published: 2019
Hurricane Harvey, Houston and Heroism: Celebrating the Compassion, Caring and Goodness of Ethical Intelligence in Action
Author: John T. Opincar
Year published: 2017
Royal Resilience: Our Story of Surviving and Thriving After Hurricane Harvey
Author: Kendra Kinnison
Year published: 2018
SCHOLARLY WORKS
Hurricane Harvey's Aftermath: Place, Race, and Inequality in Disaster Recovery
Authors: Kevin M. Fitzpatrick, Matthew L. Spielak
Year published: 2020
More City Than Water: A Houston Flood Atlas
Editors: Lacy M. Johnson, Cherly Beckett
Year published: 2022
PHOTOBOOKS
Hurricanes Harvey, Irma, Maria and Nate
Author: Julia Sillett
Year published: 2018
Hurricane Harvey and His Sisters: Hurricanes of 2017
Authors: Various
Year published: 2018
FAITH-BASED BOOKS
God is Real: Faith, Hope, and Relief During Hurricane Harvey
Author: Maria Flores
Year published: 2019
Hurricane Harvey Aftermath: Satan's Gambit
Author: Howard Sutherland
Year published: 2019
Water Breaking Faith: The Aftermath of Hurricane Harvey's Path
Author: Lady Mary Hatter
Year published: 2018
CHILDREN'S BOOKS
Everything Is Going to Be All Right: A Book About Hurricane Harvey
Author: Susan Langlois
Year published: 2019
Hurricane Harvey
Author: James Doyle
Year published: 2017
Hurricane Harvey: Disaster in Texas and Beyond
Author: Rebecca Felix
Year published: 2018
Thank You, Hurricane Harvey
Author: Heather Spears Kallus
Year published: 2018
They Called Him Harvey: A Hurricane Harvey Story
Author: Jennifer Hayek, Landon Hayek
Year published: 2017