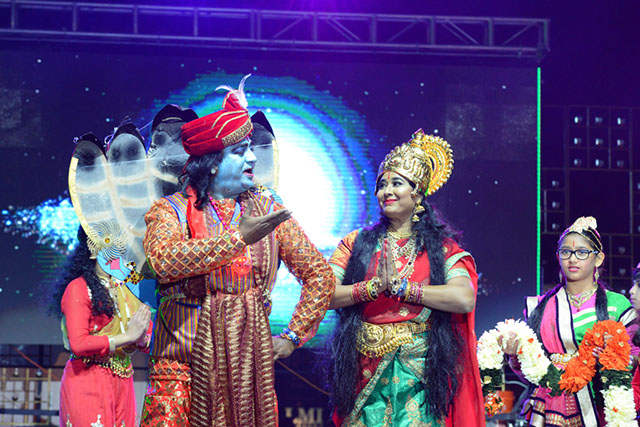 A local philanthropic organization will host its 12th Diwali-Dussehra Festival this Saturday at the Fort Bend Epicenter. Organizers say they expect the event to draw thousands of people looking to celebrate the two Hindu holidays.
The Shri Sita Ram Foundation will commemorate the two festivals on Saturday with vendors, dancing, a parade and activities for kids, such as face painting and a talent show. About 40 organizations plan to participate in the festival's parade, and the food court will include between 12 and 14 vendors.
Dussehra and Diwali are two holidays celebrating the triumph of good over evil, typically about 21 days apart.
The exact story behind the holidays varies from region to region in India, according to National Geographic, but centers on incarnations of the Hindu god, Vishnu, defeating an enemy. Buddhist, Sikhs and Jains also observe the holiday.
Arun Verma is the chairman of the Shri Sita Ram Foundation. He said there are about 1.4 billion people all over the world who celebrate Diwali. The holiday is usually celebrated around October or November, but changes from year to year, as it is based on the lunar calendar, instead of the Gregorian calendar, Verma said.
"It's kind of a festival of light which indicates victory of good over evil, light over darkness, knowledge over ignorance and universal brotherhood," he said.
This year, the foundation is highlighting the theme of universal brotherhood by flying flags from about 200 countries and inviting the 96 foreign consulates in the Houston area to attend.
The event will take place from 2 p.m. to 8 p.m. Pre-sale tickets are $12. The price of tickets goes up to $20 on the day of the event.
The festival was held at Sugar Land's Constellation Field last year, but organizers decided to move the event to the Epicenter in Rosenberg this year, as the venue can accommodate more people and is indoors.
Verma said organizers expect between 10,000 and 12,000 people to attend this year's festival.
"Bring the children, bring adults," he said. "Everybody is going to have a ball."