It is officially Rodeo Season and with over two million visitors a year, thousands of vendors, and nearly 34,000 volunteers, the Houston Livestock Show and Rodeo is one the most coveted competitions for the finest cowboys and cowgirls in the world.
Houston's National Cutting Horse Association-sanctioned competition is always a crowd favorite. Justin White is a professional horse cutter and trainer from Brenham, Texas. He says that unlike most rodeo events, this Western Horse Performance event isn't timed. The real competition is between the horse and the cattle.
In a typical cutting horse competition, a herd of 25 to 30 cattle are held at one end of the arena. Once a horse's name is called, it's rider will guide it into the herd toward the cow which the rider thinks will best challenge the horse's "cutting" ability.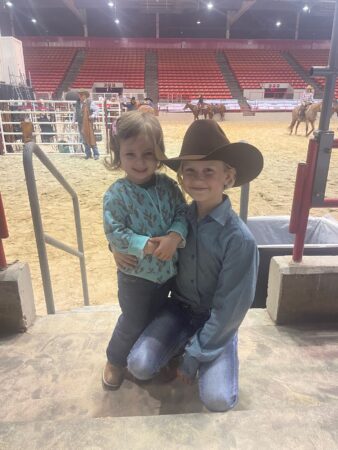 The horses are specifically bred to demonstrate their cow sensibility for this competition. According to the National Horse Cutting Association the sport dates to back to the 1920's. White explained how twice a year, in the spring and the fall, neighboring ranchers would join in a roundup to sort out their cattle that had drifted and mingled on the open range.
"All the big ranches all had a cutting horse to cut out of the heard. The cutting horse was always the best horse on the ranch and the best rider typically rode that horse and all the ranches got together and said why don't we have a competition to see who has the best cutting horse and here we are today."
10-year-old Sofie Bernhagen from Corsicana, Texas says she's trained for as long as she can remember.
"I used to be so scared but now I am getting there…'cause once I broke my arm because I was trotting around and didn't have the reigns…and tried on my jacket on the saddle and well, don't do that."
The Houston Livestock Show and Rodeo will run until March 19th. Tomorrow night's concert series kicks off with country artist Parker McCollum as the opener.